Intimate, engaging portrait of South African actor-domestic worker Mothiba Grace Bapela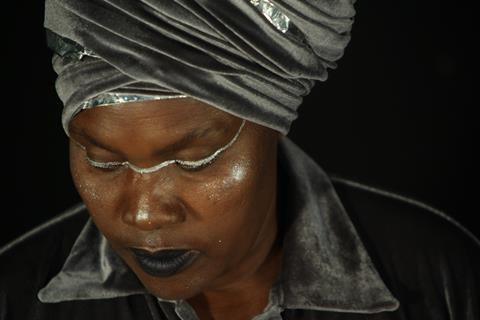 Dir: Lindiwe Matshikiza. South Africa. 2021. 90 minutes
Exit stage left RBG, enter stage right MGB. The late Ruth Bader Ginsburg would doubtless get along very well with Mothiba Grace Bapela, the friendly, fiery and inspirationally charismatic focus of South African actor-turned-director Lindiwe Matshikiza's feature-length debut One Take Grace. A mercurial, kaleidoscopic retrospective of a remarkable middle-aged woman's traumatically tough life, this South African production is an unusual proposition in that it's essentially an audience-friendly crowdpleaser which — held firmly together by the sheer force of its protagonist's personality — isn't afraid to incorporate myriad offbeat and experimental touches. An international premiere at IDFA should prove a sturdy springboard to extensive festival and small-screen play for this earnestly heartfelt paean to feminine persistence and working-class fortitude.
At nearly every turn Matshikiza and her collaborators deploy fresh and surprising stylistic devices to convey Bapela's experience
Now in her late fifties, Bapela has long toiled as a domestic cleaner — including a five-year stint as a maid in the USA — supplementing her income with occasional gigs before the cameras in television dramas, adverts and even the occasional film. But despite the title, such thespian endeavours are relatively marginalised in Matshikiza's screenplay; co-written with the protagonist herself and Masello Motana.
This emphasis is somewhat surprising given the fact that Motana and Matshikiza are both themselves actors of considerable renown (the latter's performance in Mandela: Long Walk To Freedom [2013] was nominated for a Black Reel award.) Rather, the film foregrounds Bapela's punishing daily work-schedule — she sports a tiny fish-eye camera to document such labours in first-person manner — her attachment to her sprawling, engaging, matriarchal family, and her close personal relationships with various geographical locations both rural and urban ("the city has wrecked me for forty years!").
Matshikiza spotlights several harrowing episodes in Bapela's turbulent life — she grew up in Apartheid-era SA — which helped forge her indomitable character. These include her rape by two ambulance-drivers as a 14-year-old, and her devastating brush with cervical cancer in middle age; closing sections showcase her establishment of a facility for fellow survivors of the disease.
At nearly every turn Matshikiza and her collaborators — and the film is clearly very much a warmly collective effort — deploy fresh and surprising stylistic devices to convey Bapela's experiences; creativity flows down multiple channels as her memory lanes are explored and recreated ("I've lived so many lives," she sighs.) Simple but effective hand-sketched animations by the director and Meghan Judge are used for the rape attack and its shattering aftermath; on-stage re-enactments abound, monologues and dialogues alongside theatrical and poetic vignettes which admiringly showcase Bapela's skills and commanding presence.
Editor Khalid Shamis, one of the more experienced contributors here, unfussily imparts an air of genial chaos to proceedings: footage evidently recorded over a period of several years is cut together with jazzy aplomb, the technical rough edges of the materials generally adding to rather than detracting from the overall effect. Taking their tone from the picture's exuberant heroine, the mode is energetic and a little messy, even veering towards the scattershot in the second half. Proceedings are crucially unified throughout by behind-the-scenes MVP Joao Renato Orecchia Zuniga's eclectic score and sound-design which combines songs, poems, musical improvisations, overlapping voices, instrumental experimentations and the breathy murmurings of Bapela herself.
Production company: Motherbox
International sales: Motherbox, makhe@motherbox.org
Producer: Lindiwe Matshikiza
Screenplay: Mothiba Grace Bapela, Lindiwe Matshikiza, Masello Motana
Production design: Noluthando Lobese
Editing: Khalid Shamis
Cinematography: Breeze Yoko, Lindiwe Matshikiza, Sifiso Khanyile, Mothiba Grace Bapela, Zen Marie, Mandlakazi Zilwa, Katlego Bapela, Karabo Sathekge, Nokubonga "Mothiba" Bapela
Music: Joao Renato Orecchia Zuniga