Josh Brolin, Miles Teller and Jennifer Connelly star in a thoughtful drama about real-life wilderness firefighters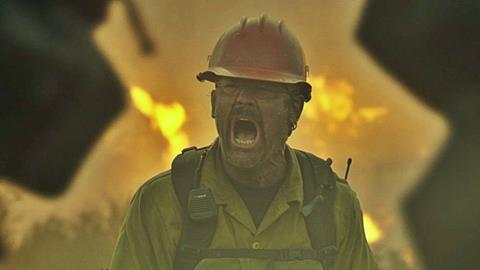 Dir: Joseph Kosinski. US. 2017. 133mins
A true-life drama with a sure sense of character and milieu, Only The Brave takes us into the world of a rugged, highly trained team of wilderness firefighters, and although the storytelling isn't particularly fresh, this is a thoughtful, well-observed look at community, heroism and addiction. Only The Brave proves to be an intriguing change of pace for Joseph Kosinski: the director of the spectacle-laden Tron: Legacy and Oblivion has this time, despite the occasionally harrowing fire sequence, made a subdued film that's more about people than effects. He's aided by Josh Brolin, Miles Teller and Jennifer Connelly, whose effortless authenticity helps keep the movie from drifting toward mundane male-bonding clichés.
Bravely pushes against film-making conventions to find the humanity within its heroes
Arriving October 20 in the US and November 10 in the UK, Only The Brave should appeal to viewers who sought out similar disaster films based on actual events, such as Deepwater Horizon. A starry ensemble will further boost visibility, especially with Jeff Bridges, Andie MacDowell and Taylor Kitsch heading the supporting cast. Still, like its title, this modest drama may be a little too anonymous to generate significant theatrical returns.
The film stars Brolin as Eric Marsh, the leader of an Arizona firefighting force which combats raging forest blazes, putting their lives on the line to save nearby towns from destruction. Happily married to Amanda (Connelly), a horse trainer who has learned to live with a man devoted to a dangerous job, Eric is greeted by a new recruit named Brendan (Teller), a junkie who is trying to turn his life around now that he has a baby daughter.
Inspired by the courage and sacrifice of the Granite Mountain Hotshots, who memorably battled a devastating fire in the summer of 2013, leading to numerous fatalities, Only The Brave spends the majority of its two-hour-plus running time embedding the viewer with these firemen, showing how they form a de facto brotherhood while balancing their potentially deadly work and their personal lives.
Although the film undoubtedly pays tribute to these men and their heroism, Kosinski refuses to deliver a simplistic portrait. Only The Brave's screenplay offers familiar types, but whether it's the casual rhythms of this macho group or the candid scenes between Eric and his wife as they negotiate for what they each want out of their relationship, writers Ken Nolan and Eric Warren Singer repeatedly dig a little deeper to find the revealing small details that define these characters so that we come to care about them once they're put into peril.
Brolin marshals plenty of no-nonsense authority as the Hotshots' chief, showing Eric to be a flawed but compassionate and smart leader who, we will learn, is haunted by a past he hasn't quite outrun. His scenes with Connelly have all the comfortable wear-and-tear of a loving but tense marriage, and it's a credit to the filmmakers and the Oscar-winning actress that Amanda is no bland movie wife. Rather, she's as complex and real a character as Eric, giving us plenty of compelling moments that have nothing to do with rampaging fires.
Playing the film's designated underdog looking for redemption, Teller provides Brendan with a frazzled, defeated air, slowly introducing hints of the resilience that will help the character set aside his addiction and finally find his place in the world. This kind of narrative arc can be rather rote, but Only The Brave navigates it rather gracefully, helped enormously by the unfussy grit Teller brings to the role.
Kosinski's résumé has thus far favoured sci-fi extravaganzas, which is why it is heartening to watch this filmmaker stretch himself by bringing intelligence and restraint to what could have easily been a mawkish male weepie. Only The Brave is rather wise about its lone-wolf characters — and it offers some fascinating glimpses into how they do their nerve-wracking work — and so when the impressively staged third-act tragedy strikes, there's more poignancy than usual with this sort of docudrama. Kosinski settles for a simplistic ending, and the film can't avoid certain narrative predictability, but for all its conventionality, it's also brave enough to push against those conventions to find the humanity within its heroes.
Production companies: Columbia Pictures, Black Label Media, Di Bonaventura Pictures, Conde Nast Entertainment, Relevant Entertainment
US distribution: Sony, www.sonypictures.com
UK distribution: Lionsgate, www.lionsgatefilms.co.uk
Producers: Lorenzo di Bonaventura, Michael Menchel, Erik Howsam, Molly Smith, Thad Luckinbill, Trent Luckinbill, Dawn Ostroff, Jeremy Steckler
Executive producer: Ellen H. Schwartz
Screenplay: Ken Nolan and Eric Warren Singer, based on the GQ article "No Exit" by Sean Flynn
Cinematography: Claudio Miranda
Production design: Kevin Kavanaugh
Editor: Billy Fox
Music: Joseph Trapanese
Website: www.onlythebrave-movie.com
Main Cast: Josh Brolin, Miles Teller, Jeff Bridges, James Badge Dale, Andie MacDowell, Taylor Kitsch, Jennifer Connelly