Buckle up for Michael Caton-Jones' raucous adaptation of 'The Sopranos'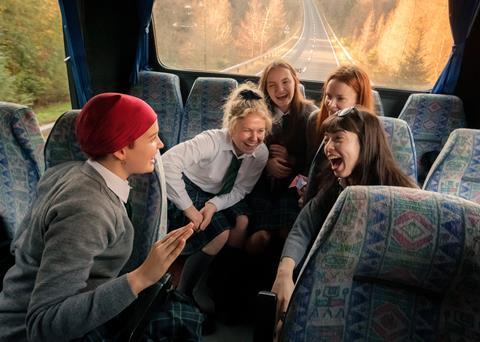 Dir. Michael Caton-Jones. UK. 2019. 100 mins.
Our Ladies is not for the mild-mannered: you'll need to strap in – or on, as they might say - for a long, raucous day with a filthy-minded Fort William girls' choir as they take the bus to Edinburgh to compete in a singing tournament in what is essentially a high-concept 1990s-set comedy. Energy levels hit the roof as the horny Catholic schoolgirls try to get laid before the bus boomerangs back home in time to hit the local club and 'cop-off' with some visiting seamen.
Changing attitudes during the two decades since the book was written have not been entirely kind to the 1998 ladette-themed source material
An initial voiceover makes it clear that Our Ladies is a period piece, set in the late 90s, and it has taken that long for Scottish director Michael Caton-Jones to bring it to the screen (a stage musical of Alan Warner's source novel 'The Sopranos' landed first). Alan Sharp, who collaborated on the script with Caton-Jones, passed away some six years ago. Yet even with all all the youth so vivaciously displayed onscreen, its attitudes do feel dated.
There are no parents in Michael Caton-Jones's film, and the sole adult is a nun, Sister Condron, played by Kate Dickie with her usual aplomb. Female sexual liberation is one thing, but more troubling is the fact that these sexually adventurous schoolgirls depicted are still essentially minors. Rotherham, #metoo and changing attitudes in the two decades since the book was written have not been entirely kind to the ladette-themed source material. It's hard not to wince sometimes, even amid all the lewd jokes and proud sexuality in the face of a no-hope future.
A cancer-stricken schoolgirl who wants her first sexual experience to be tied to a tree and whipped by a rosary simply isn't as funny as it once might have sounded, and even less so when it's actually enacted. Although it's all-female, the script lacks a woman's touch - unlike Derry Girls, which nails the subversive tone Our Ladies is striving so hard to hit.
A riff on Trainspotting in which men are either objects of desire or fun, Our Ladies has some punches to land, though. With a challenging backdrop – teenage pregnancy, poverty, limited aspirations – these childhood friends seize the opportunity awarded by Our Lady of Perpetual Succour's schooltrip to get their kicks in the big smoke. Caton-Jones offers a terrific soundtrack and some solid performances from a largely unknown, female cast. Supported by Sony, which will release it in the UK, Our Ladies should work well in Scotland, where the source material is familiar (Our Ladies has already been adapted by Lee Hall into a 2015 stageplay for the National Theatre called 'Our Ladies Of Perpetual Succour').
Caton-Jones digs deep into Fort William's picturesque setting and some gently humorous, if vulgar, dialogue as opposed to Derry Girls-style quick-fire bangers. He starts as he means to go on, with a rousing performance of 'Ever Fallen In Love With Someone (You Shouldn't Have Fallen In Love With)' from rising young Scottish star Marli Siu (Run) who provides lead vocals on may of the tracks adapted here.
There's a punkish air to proceedings as the girlfriends assemble at the school for their big day out. And Caton-Jones is clear that the film belongs in varying degrees to the unknown young cast, clearly having a great time – Eve Austin, Tallulah Greive, Abigail Lawrie, Sally Messham, Rona Morison and Siu. Six characters who each need an arc; several musical numbers; a day in Edinburgh and a night in Fort William – this is a busy film. Standouts are Siu as gifted singer Kyla; lead Orla, played by Tallulah Greive, who is a 'Lourdes miracle' after surviving leukemia; and Abigail Lawrie as Finnula, a tentative lesbian. But they're all good and give performances which are full of heart and conviction.
Dennis Crossan shoots Fort William and Edinburgh exteriors with a marked sensitivity, providing much more than the screenplay would seem to require. All the cards in the deck of life may be stacked against these ladies – even the most affluent amongst them is hiding a secret which may bring her low – but there's still a strong sense of national pride which comes across loud and clear in the way the film is so elegantly presented.
Production companies: Four Point Play, Sigma Films
International sales: Sony Pictures Releasing International
Producers: Laura Viederman, Michael Caton-Jones, Brian Coffey
Screenplay: Alan Sharp, Michael Caton Jones, from 'The Sopranos' by Alan Warner
Cinematography: Dennis Crossan
Production design: Tom Sayer
Editors: Istvan Kiraly, Tomi Szabo
Music: Roddy Hart, Tommy Reilly
Main cast: Eve Austin, Tallulah Greive, Abigail Lawrie, Sallie Messham, Rona Morrison, Marli Siu, Kate Dickie