A group of Rwandan schoolgirls come of age in a Belgian-run Catholic boarding school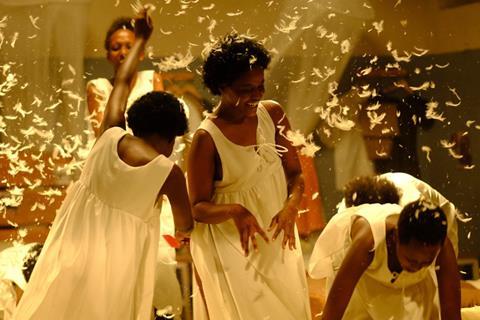 Dir: Atiq Rahimi. France, Belgium, Rwanda. 2019. 93mins
The irrational but terrifyingly real dangers of inter-ethnic racism are viscerally depicted Our Lady of the Nile: Rwanda 1973 (Notre Dame du Nil), an adaptation of Scholastique Mukasonga's award-winning 2012 novel, whose chapter headings — Innocence, Sacred, Sacrilege and Sacrifice — signal the increasingly bold demonisation of minority Tutsi by the Hutu population of Rwanda, fueling deadly rampages 20 years before the full-blown genocide that made headlines in 1994.
A surprisingly jazzy score provides interesting counterpoint to the increasingly unsettling atmosphere
Frightening, sometimes confusing but strangely captivating, this is an unusual history lesson shot with verve and laced with violence. Hard going but worthwhile, Afghanistan-born award-winning novelist Atiq Rahimi's (The Patience Stone) third feature – and his first based on outside material — may secure festival exposure after its Toronto premiere where it opens the Contemporary World Cinema section.
The title institution is a boarding school for girls dedicated to training Rwanda's female elite while also stuffing their heads with Catholic teachings transmitted chiefly by discipline-obsessed Europeans. Featuring a marvellous ensemble cast of young women, this is a cautionary tale about not heeding cautionary tales. Antagonisms can only fester and grow worse.
To an African girl in 1973, even one from a distinguished family where Dad is a minister or an ambassador, the teachings of the Catholic Church don't seem any more or less sensible than the potions concocted by a hill-dwelling elderly witch, or the theory that Egyptian Black Pharaohs once ruled Rwanda as concluded by louche white coffee grower, Fontenaille (an artfully leering Pascal Greggory), who almost single handedly represents the strange and decadent residue of colonialism. Then there's the news from abroad that white people eat weird stuff like caviar and foie gras at every meal. It's not hard to poke holes in most belief systems, as long as you're not mired deep inside them.
The girls' names themselves are a primer in imposing religion on African colonies: Gloriosa, Immaculée, Modesta. Tutsi are routinely called "cockroaches" by the majority Hutus. The very fact that the girls' supposedly flagrant physical differences are hard to tell apart is further proof of the stupidity of racial divisions. The institution tolerates Tutsi students, but has a strict quota. Certain students are overly fixated on what shape a Rwandan nose should be. While scrubbing the statue of the Virgin installed in 1953 on the hillside near the school complete with babbling brook, the dark tint of the so-called Black Virgin's face and hands starts to come off revealing white underneath. The girls observe, matter-of-factly, that the statue would be more beautiful if she were white.
Offering a respectful nod to Jean Vigo's classic of young men rebelling against instruction, Zero de Conduite, via a slow-motion pillow fight in a dormitory but this time all-female and joyful, these relatively pampered young ladies know not what awaits. After a peaceful overview of natural settings, the film begins with gutted ruins of buildings with nasty slogans written on the walls in what could be blood. Only later do we understand that these collapsing structures were once an envied academy where maintaining appearances reigned supreme. After all, the Queen of Belgium once visited the school, high up in the mountains and therefore closer to Heaven. But can Hell be far away?
Dialogue is mostly in French with some Kinyarwanda, and a surprisingly jazzy score provides an interesting counterpoint to the increasingly unsettling atmosphere.
Production companies: Chapter 2, Les Films du Tambour
International sales: Indie Sales sales@indiesales.eu
Producers: Dimitri Rassam, Charlotte Casiraghi, Marie Legrand, Rani Massalha
Screenplay: Atiq Rahimi, Ramata Toulaye-Sy, based on 'Notre-Dame du Nil " by Scholastique Mukasonga
Production design: Françoise Joset
Editors: Hervé de Luze, Jacqueline Mariani
Cinematography: Thierry Arbogast
Music: Aldo Romano, Henri Sexier and Louis Sclavis
Main cast: Santa Amanda Mugabekazi, Albina Sydney Kirenga, Angel Uwamahoro, Clariella Bizimana, Belinda Rubango Simbi, Ange Elsie Ineza, Kelly Umuganwa Teta, Pascal Greggory, Carole Trévoux