A group of American paratroopers are faced with zombie Nazis in this WWII horror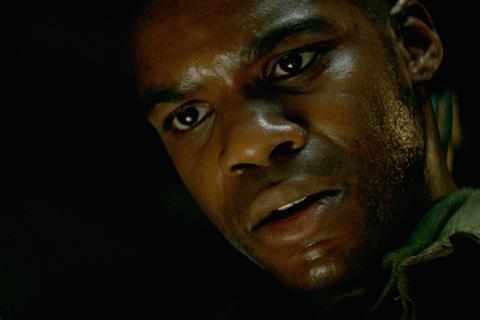 Dir: Julius Avery. US. 110 mins
As if the Third Reich wasn't diabolical enough, it's remarkable how often filmmakers add a fantastical or supernatural element to their Nazi villains – whether horror (The Keep), comic book adaptations (Captain America: The First Avenger, Hellboy), or the action adventures of the Indiana Jones films. So with its Nazi scientist trying to adapt a supernatural serum to create super soldiers, the war-horror hybrid Overlord isn't particularly original. But what it lacks in novelty, subtlety or character, it partially makes up in sheer abandon. This is a big, loud, violent, gleefully gory sledgehammer of a film with, crucially, a careful tongue in cheek.
Avery doesn't beat about the bush, throwing himself at the war and gore possibilities
With J.J. Abrams behind them and cross-genre appeal, sophomore director Julius Avery (Son of a Gun) and his largely unfamiliar cast could score points for being new kids on the block. And as more serious fare starts lining up for the awards season, there's room for a little mindless mayhem when the films opens in the UK on November 7 and the US on November 9.
On the eve of D-Day, a platoon of American paratroopers is dropped behind enemy lines. Their mission: to blow up a radio transmitter in the church tower of a Nazi-occupied French village. The opening sequence establishes the key players amongst the soldiers, as well as Avery's over-the-top intent. The volume and CGI are both on full blast as the fleet of warplanes roars over France and is buffeted by anti-aircraft fire, the men eventually having to parachute as their plane is torn apart. It's cartoonish but rambunctiously effective, and a signal to how the rest of the film is going to play.
The focus of the plot is African American rookie Boyce (Jovan Adepo), who is about to experience a unique baptism of fire. Leading the few survivors of the jump is taciturn veteran Ford (Wyatt Russell). They're joined by Tibbet (John Magaro), the routine motormouth irritant, and war photographer Chase (Iain De Caestecker).
In the village, feisty Frenchwoman Chloe (Matilde Ollivier) gives them shelter in her home, which she shares with a young brother and an unseen aunt, groaning like a monster in an upstairs room, one of the many failures of the experiments that are taking place on captured soldiers and villagers beneath the church. The Americans' task has become far more complicated.
Both Billy Ray (Shattered Glass, Captain Phillips, Secret in their Eyes) and Mark L. Smith (The Revenant) have produced more subtle screenplays. Here they've settled for largely stock characters and dynamics, which include the hardcore SS officer who chooses to turn himself into a monster to defeat the Americans (a scenery-chewing Pilou Asbæk) and the mad doctor and his hell-lab of abominations.
This kind of template demands both a bigger cast and more nuanced characterisations. The GIs on offer are glued to type, with the writers even cheating themselves when failing to build on Boyce's mention that his grandmother is Haitian (accompanied by what could be a voodoo charm around his neck). Nothing is made of the deformed aunt, who could have been a source of pathos.
Avery doesn't beat about the bush, though, throwing himself at the war and gore possibilities. There's good comic horror, particularly involving the fate of Chase, who would kill to be able to take photographs of what happens to him when given the serum; the impeccably sullen and no-nonsense Ollivier gets her Ripley moment with a monster; and there's a fun man-versus-monster climax in the lab, with a half-nod to Jaws. There's even some reasonably stirring, straightforward gun battle.
Cinematographers Laurie Rose and Fabian Wagner give the action an appropriately lurid hue, while Jed Kurzel's urgent soundtrack keeps the tempo lively, except for longueurs in Chloe's home as Avery, too, struggles to compensate for the lacklustre script.
Production companies: Bad Robot, Paramount Pictures
Producers: J.J. Abrams, Lindsey Weber
Screenplay: Billy Ray, Mark L. Smith
Production design: Jon Henson
Editing: Matt Evans
Cinematography: Laurie Rose, Fabian Wagner
Music: Jed Kurzel
Main cast: Jovan Adepo, Wyatt Russell, Pilou Asbæk, Matilde Ollivier, John Magaro, Iain De Caestecker, Bokeem Woodbine