Dir. Cosima Spender, UK/Italy, 2015, 92 minutes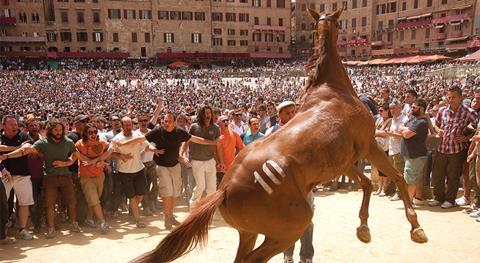 Palio observes the annual bareback horse races in the central square of Siena, in which a year's preparation is devoted to 90 seconds of perilous competition. The doc is a well-shaken cocktail of choreography, colour and corruption.
Spender has made a rare kind of documentary – muscular and refined, and a splendour for the eyes.
Revelling in the pageantry of the annual races, Cosima Spender's film should reach audiences for sport and fashion after a tour of festivals and an art house theatrical release. The market in tourism media could also be significant. Although the film is in Italian, much of it is silent, and its overwhelming imagery makes subtitles almost unnecessary. Jarringly violent at times, it could still be a family film - families pack the stands in Siena.
Palio at first seems to fit the documentary-template of busy preparation for any great event, the kind that's often commissioned by a marketing team. It won't hurt tourism in Siena, but it reveals much more than the city fathers would probably like. As the city girds itself for an event that, for cinematic purposes, is as much a costume spectacle as a horse race, two characters seize the foreground. Gigi Bruschelli, a Siena-born rider and hometown favorite who has finished first 13 times in 16 years, and Giovanni Atzeni, Bruschelli's former apprentice, who is viewed as an interloper for his Sardinian origins, and for his chances to topple an equestrian dynasty.
Siena becomes a vast runway for the silk livery which it has produced for these riders over centuries. The trim, attractive horsemen wear them well, posing like cocksure young aristocrats painted in the Renaissance by Bronzino, almost as elegant as the horses who come and go in graceful cutaway shots. When the traditional flags of city districts unfurl to celebrate centuries of heraldry , Palio, filmed stylishly by DP Stuart Bentley, can feel as much about clothing design and grooming as any recent fashion film.
Underneath that pageantry, there's intrigue that Spender and co-writer John Hunt don't skirt. The city districts which sponsor horses have been harbouring hatreds and rivalries for centuries, and the races offer moments to punish and shame the competition. Spender succeeds in getting the eminent Siennese to talk about the longstanding feuds. It's not Sicily – just well-tailored vendetta.
Much of Palio is not flattering, neither the rampant corruption in placing horse on the starting lines nor the accepted practice among riders of beating other riders and their mounts with the stiff whips that they carry. These jabs would get riders ousted from horse racing in the US and elsewhere, but in Siena they are part of the game.
Spender never lets the audience forget that the Palio is dangerous, even by the standards of a fiercely dangerous sport. Never far from her beguiling images of Siennese folklore is the course itself, with tight near-rectilinear corners, which ensure that some riders and horses will collide and fall. Spender doesn't spare you that. There are moments in Palio that get you thinking of the American auto extravaganza, Demolition Derby. Or is it an Italian equine version of Pamplona, in which local fatalism accepts that losers risk losing badly? Tradition decrees that horses which lose their riders are still qualified to win, but the film unfortunately does not show us the worst wounds of riders who fall. That leaves something for the imagination in a film that documents so much of its rich subject.
The tradition – not just indifferent to risk but welcoming it – shelters political intrigue but seems immune to political correctness.
Spender, granddaughter on one side of the abstract painter Arshile Gorky and on the other, of the poet Stephen Spender, has made a rare kind of documentary – muscular and refined, and a splendour for the eyes.
Production companies: Archimedia, Corner Films, Memo Films
International sales: Altitude Films mikerunagall@altitudefilmsales.com
Producers: James Gay-Rees, John Hunt
Executive Producer: Francesco Melzi D'Eril
Screenwriters: John Hunt, Cosima Spender
Cinematographer: Stuart Bentley
Editor: Valerio Bonelli
Composer: Alex Heffes
Cast: Gigi Bruschelli, Giovanni Atzeni, Silvano Vigni, Andrea de Cortes, Renato Romei