Charlie Hunnam and Rami Malek star in this remake of the 1973 prison drama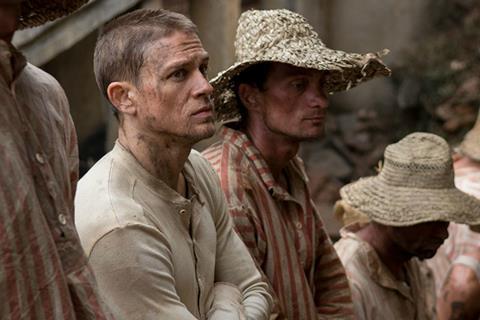 Dir. Michael Noer. Serbia-Montenegro-Malta. 2017. 133m.
The remake of Papillon doesn't lack for potential metaphorical riches, yet this brutal, bruising film never quite connects with its deeper themes, resulting in a story full of suffering but not enough transcendence. While director Michael Noer emphasizes the physical and emotional toll of a years-long incarceration, many viewers may rightly wonder why they should endure this beautifully-shot, occasionally affecting ordeal.
Papillon works best as an unexpected companion piece to Hunnam's superb work in The Lost City of Z
Premiering in Toronto, Papillon may have a difficult commercial road ahead of it. Outside of Pacific Rim, Hunnam has failed to ignite the box office, and the subject matter doesn't inherently guarantee major grosses. Those familiar with the 1973 movie might be intrigued, but tempered reviews won't help drive interest.
Taking over the roles once played by Steve McQueen and Dustin Hoffman, Charlie Hunnam and Rami Malek exude a wary bond that soon grows closer. Hunnam stars as Henri Charrière, whom everyone calls Papillon and on whose memoir the film is based. Living in Paris in the early 1930s, he's a charming thief who is wrongly convicted in the murder of a pimp. Sent to a penal colony in French Guiana for a life sentence, he befriends fellow prisoner Louis Dega (Malek), who wants to help him escape.
The original film, directed by Franklin J. Schaffner, contrasted McQueen's stoic, determined Papillon with Hoffman's bookish, scheming Dega. The disparity in their personalities isn't quite as strong here, but Noer (Key House Mirror, Northwest) builds the drama around the characters, who don't initially know if they can trust each other. Eventually, however, they become close allies in a shared mission to hold onto hope despite the cruel prison conditions.
Several iconic scenes from the original are duplicated in the remake and, as in the Schaffner film, Noer bludgeons the audience with the sheer horribleness of these characters' lives — a fate made even crueller by the fact that Papillon is innocent. Prison movies are often heavily symbolic, speaking to the resilience of the human spirit and serving as a metaphor for the inner obstacles that leave us all shackled in some form. This Papillon touches on those themes intellectually, but rarely are they felt on a visceral level.
Unintentionally, the remake works best as an unexpected companion piece to Hunnam's superb work in The Lost City of Z, a very different true story about a man who goes on a gruelling quest and is reborn in the process. But Hunnam hasn't been given as engaging a character in Papillon, and although the actor's sculpted physique and focused eyes suggest a rugged individual whose will cannot be broken, the movie reduces Papillon to a sympathetic but unknowable cipher.
Malek develops a warm rapport with Hunnam, which underlines the loving, brotherly connection that grows between them. Papillon becomes Dega's protector, and Malek's tenderness is quite touching, especially when the two men reunite after Papillon endures a two-year stint in solitary confinement. As time passes, and the characters struggle to accept that escape is probably impossible, the film builds to a finale that strives for emotional catharsis. But because we've never really gotten to know these men, the impact is merely superficial.
Working with cinematographer Hagen Bogdanski, Noer captures the island prison's lush landscape, which is ironically juxtaposed with the torment they experience there. When Papillon enters solitary confinement, Papillon turns his tiny jail into the man's personal purgatory, playing with light and shadow in the dank cell. And some of the supporting players add texture to the proceedings — particularly Yorick Van Wageningen, who is wonderfully snide as the merciless warden hell-bent on crushing Papillon's rebellious streak.
Production companies: Papillon Movie LLC, Joey McFarland Productions, Ram Bergman Productions, Fishcorb Films
US sales: CAA, filmsales@caa.com
International sales: Capstone Pictures, CM@CapstonePictures.com
Producers: Joey McFarland, David Koplan, Ram Bergman, Roger Corbi
Executive producers: Martin Hellstern, Yan Fisher-Romanovsky, Joshua D. Maurer, Kevan Van Thompson, Danny Dimbort, Christian Mercuri, Terence Chang, Samuel Hadida
Screenplay: Aaron Guzikowski, based upon the books Papillon and Banco by Henri Charrière, based upon the 1973 screenplay Papillon by Dalton Trumbo and Lorenzo Semple Jr.
Cinematography: Hagen Bogdanski
Production design: Tom Meyer
Editors: John Axelrad, Lee Haugen
Music: David Buckley
Main Cast: Charlie Hunnam, Rami Malek, Yorick Van Wageningen, Roland Møller, Tommy Flanagan, Eve Hewson