The survivor of a Parisian terrorist attack finds her life forever changed in Alice Winocour's hopeful drama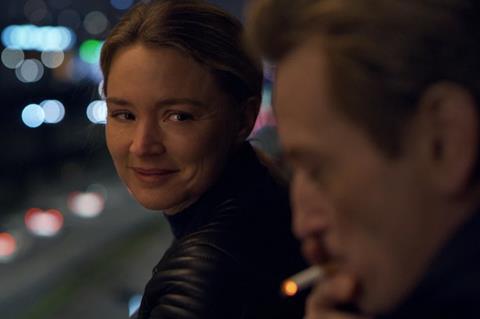 Dir/scr: Alice Winocour. France. 2022. 103 mins
For a film which follows a woman coping with the aftermath of a horrendous terrorist attack in a busy Paris brasserie, Alice Winocour's Paris Memories is unexpectedly light in tone. It doesn't shy away from the life-changing (and for some, life-ending) impact of the experience: for Mia (Virginie Efira) it's as if the attack effectively pressed a reset button on her life up until that point. But the film does emphasise what one character describes as "the diamond in trauma", the bonds and connections which are forged between fellow survivors. This decision to seek out the sun rather than just the clouds, to focus on resilience and healing won't be for everyone, nor will it represent the experience of all victims of terrorism. However it's worth mentioning that the film was initially inspired by the experiences of Winocour's brother, a survivor of the Bataclan attack.
Winocour's preoccupation is not so much with the event itself
To a certain extent, this hews to the trajectory of Isaki Lacuesta's Bataclan drama One Year, One Night, with Nahuel Perez Biscayart and Noemie Merlant - a film which played in Berlin Competition in February and is still awaiting international release. This fourth feature for Winocour and her third to play in Cannes (following Augustine in 2012 and Disorder in 2015; she also co-wrote 2015's Mustang), Paris Memories might have packed more of a devastating emotional punch had Winocour dwelt wholly on grief. But her choice to also explore hope makes the picture a more accessible and potentially commercial proposition than it might otherwise have been. This picture should enjoy healthy interest on the festival circuit and has theatrical potential – the appealing combination of Efira and Benoît Magimel, as fellow attack survivor Thomas, should add to the film's attraction.
Winocour's preoccupation is not so much with the event itself – we see feet and guns rather than the men wielding them, and the attack is shown mostly from Mia's perspective, prone on the floor, her face pressed against shattered glass. With much of the action unfolding outside of the frame, expressively structured sound design plays a crucial role in this particular scene and elsewhere in the film, helping us navigate Mia's emotional landscape and the flood of sensation that she experiences in the moments when the flashbacks crowd in on her.
The film mostly deals with the period from three months after the event onwards. Mia returns to Paris after having spent time with her mother, and tries to piece together her memories of the night. At first, it's like trying to reassemble a broken mirror, each fragment reflecting something which is both fleetingly familiar and at the same time alien. But then she connects with a support group for survivors and bereaved relatives and finds sympathetic souls who will hold her hand through the process.
This image – the touch of a stranger's hand at a moment of need – becomes a central focus of the film and preoccupation for Mia, who gradually realises that she was not alone during the attack. There was a man with her, a chef with a tattoo who clasped her hand and reassured her. It becomes essential for Mia that she discovers his fate before she can move on with her life. And that life has an entirely different trajectory to the one she led before – her relationship with Vincent (Grégoire Colin), atrophies; instead, she connects with Thomas, their shared experience, their physical and emotional scars, providing an instant and intense bond, and a degree of hope for the future.
Production companies: Dharamsala, Darius Films
International sales: Pathé, sales@patheinternational.com
Producer: Isabelle Madelaine, Emilie Tisné
Screenplay: Alice Winocour, Marcia Romano, Jean-Stéphane Bron
Cinematography: Stéphane Fontaine
Editing: Julien Lacheray
Production Design: Margaux Remaury, Florian Sanson
Music: Anna von Hausswolff
Main cast: Virginie Efira, Benoît Magimel, Grégoire Colin, Maya Sansa, Amadou Mbow, Nastya Golubeva Carax