Dir/scr Sofia Exarchou. Greece/Poland. 2016. 100 mins.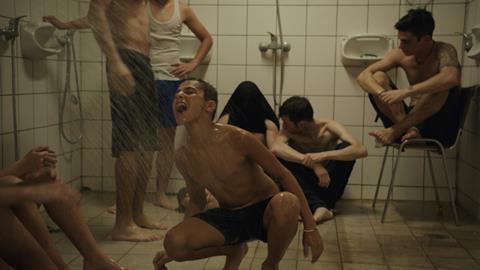 The spirit of Harmony Korine and Larry Clark looms large in this spiky Greek drama about dispossessed youth, set in a location that is a potent symbol of the country's recent economic and social implosion: Athens' Olympic Park, site of the 2004 Games. With an estimated cost of €9 billion, today it's a rusting, weed-strewn, vandalised wasteland.
Park is good on how degraded, depressed communities enact rituals of coercion which victims and oppressors seem to take with a measure of fatalism.
There's a raw, boisterous but also self-destructive energy looking for release in the cluster of bored youngsters aged from around 14 to 21 who hang out in this sad, hungover relic of the Olympic spirit (or the Olympic folly). Exarchou embeds this stymied life-force in the film's uneasy rhythms; this is a story which refuses to settle on camaraderie or violence, love or cruelty, for very long.
It's a tough watch, not always in a good way: at times, the film can feel just a little too workshopped, both from a script and acting perspective. It's a little formulaic in its edgy arthouse postures, which include roving, available-light handheld camerawork and a cast consisting largely of non-professionals. But stay the course and Park delivers a corrosive portrait of a lost generation, an unsettling dystopia that is also a kind of national psychodrama. Festivals are an obvious destination; after its Toronto premiere, tour dates include San Sebastian and London.
There's a pitbull in the story; rented out for money as a stud, it belongs to Markos (Gvenatadze), a crop-haired street kid who seems to have a brotherly relationship with older chancer Dimitris (Kitsos), though we have no evidence they're actually from the smae family. Both hang out with a bunch of other lads and a few lasses in a series of dilapidated sports facilities, identified by an opening caption as the Olympic Village in Athens. Amidst damaged bleachers, training pools half-filled with green water where oil drums float, and abandoned changing rooms, the boys act out male rituals, some of which verge on hazing. Two of the younger members of the group are forced to race each other barefoot on jagged gravel; the winner (in a rare lapse of heavy-handed symbolism) is crowned with a makeshift laurel wreath.
Mostly, Park wears its decline-of-Greece metaphors unobtrusively. When Dimitris finds work in a scrappy marble yard run by his alcoholic mother's boyfriend, Exarchou spares us statues of gods and heroes. He starts a relationship with Anna (Vlagkopoulou), one of the girls who hangs out on the edge of the boys' group, a relationship that begins with rough sex and moves towards some kind of tenderness. She's a former gymnast who bears the scars of falls from the parallel bars (skin is another running theme – lacerated, wrinkled, flushed with drink). Now, rather than turn somersaults for the crowds, she's reduced to twerking for the boys, her contortions reduced to a party trick.
Park is good on how degraded, depressed communities enact rituals of coercion which victims and oppressors seem to take with a measure of fatalism. The film's central character, Dimitri, thanks also to Kitsos' unfiltered performance, is a compelling mix of tough guy and bewildered loser. Dingy beach resorts where foreigners come for cheap booze-filled holidays populate the film's second section, in which Anna fades into the background. Dimitri parties with them, but (unlike Anna) he's an outsider, painfully conscious of his pariah status – something that will gradually turn to violence.
Production companies: Faliro House, Neda Film Production
International sales: Stray Dogs, nathan@stray-dogs.com
Producers: Amanda Livanou, Christos V. Konstantakopoulos
Cinematography: Monika Lenczewska
Editors: Yorgos Mavropsaridis, Sofia Exarchou
Production designer: Pinelopi Valti
Music: The Boy
Main cast: Dimitris Kitsos, Dimitra Vlagkopoulou, Enuki Gvenatadze, Lena Kitsopoulou, Yorgos Pandeleakis, Thomas Bo Larsen