Dir/scr: Avi Nesher. Israel, 2016, 112 mins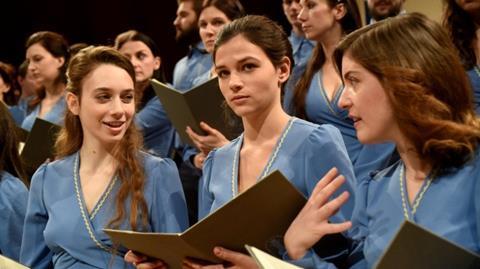 Wartime tragedy haunts two generations of a Jewish family in Past Life. The first in a planned trilogy on the theme of the past, Avi Nesher's film is based on the true story of classical composer Ella Milch-Sheriff and her late sister Michal Milch-Avigal. Their quest to discover the truth about their father's life offers enough heartfelt emotion to offset the director's flair for the melodramatic. The result is an absorbing, solidly satisfying middlebrow drama.
The film gains texture and complexity from some of the undercurrents bubbling below the main story
Further festival exposure should follow the Toronto world premiere and Past Life seems likely to strike a chord with audiences previously attracted to recent tales of coming to terms with the past from Wakolda to The People Vs. Fritz Bauer.
Nesher has taken his inspiration from Baruch Milch's autobiography Can Heaven Be Void? and begins in the West Berlin of 1977 as soprano Sephi Milch (Joy Rieger) performs at her first international concert. Afterwards, she is accosted by an older woman who accuses her father of being a murderer. The woman's son apologises for her behaviour. He is renowned choral composer Thomas Zielinski (Rafael Stachowiak).
At home in Israel, Sephi tells her sister Nana (Nelly Tagar) what happened, setting in motion a process that will see them questioning their father's version of his past and attempting to discover what really happened to him in Poland during the Holocaust.
The initial set-up of Past Life feels clunky, but once we are back in Israel and the sisters reluctantly confront their dour, domineering father Baruch (Doron Tavory) it settles into a more confident, convincing phase. The sisters seek out their father's old acquaintances, desperate to discover if he might have blood on his hands. They gradually piece together a life they knew little about. One contact memorably offers his version of an old proverb, saying "the parents ate sour grapes and the children have rotten teeth".
As the investigation continues to uncover guilty secrets and troubling revelations, the film gains texture and complexity from some of the undercurrents bubbling below the main story. Nana is a fiery liberal journalist who questions everything and is constantly at odds with a deeply patriarchal society as embodied by her father and a husband who constantly flirts with Sephi.
When Nana is diagnosed with a cancerous tumour, she believes that she is paying the price for the sins of her father. As Sephi works towards composing her own music and advancing her performing career there is also a sense of her finding her own voice both personally and professionally.
Nesher also reminds us that 1977 was the time of the peace talks between Israel and Egypt. The two countries striving towards understanding and forgiveness magnifies the same issues facing this one family.
The sense of period is unobtrusively established throughout in small details from a background television report on the peace talks to a city wall adorned with posters for Saturday Night Fever. Understated in some aspects, Nesher has a tendency to overstate in other areas. The race against the clock to discover a vital missing diary in an impossibly cluttered archive feels designed to artificially heighten tension. The father's decision to tell his side of the story to the sisters by recalling from memory his wartime diaries and reading an instalment each week stretches dramatic credibility, even though it might well be true. Equally, the decision to paint Zielinski as a sinister figure with muddled motives seems a clumsy attempt to wrong foot the audience's expectations.
Nesher does secure strong, contrasting performances from his leads with Nelly Tagar all fire and vinegar as the angry Nana and Joy Rieger capturing a sense of the anguish experienced by Sephi as she dares to question the certainties of her world and challenge a figure as formidable as her physician father.
Production companies: Metro Communications, Artomas Communications, Ars Veritas, Sunshine Productions
International sales: Bleiberg Entertainment sales@bleibergent.com
Producers: David Milch, David Silber, Avi Nesher, Moshe Edery, Leon Edery, Ruth Cats
Cinematography: Michel Abramowicz
Editor:Isaac Sehayek
Production designer: Eytan Levi
Music: Cyrille Aufort
Main cast: Nelly Tagar, Joy Rieger, Doron Tavory, Evgenia Dodina, Tom Avni