Bollywood emerges victorious from a troubled time with Shah Rukh Khan returning to the big screen as a Bond-like action hero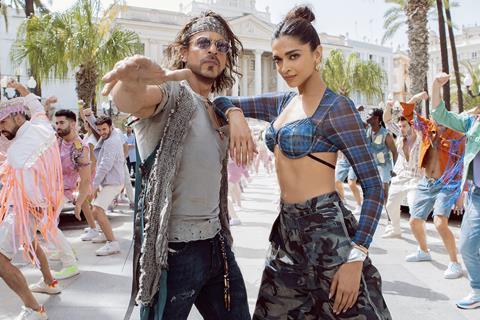 Dir: Siddharth Anand. India. 2023. 146mins
Much like its three predecessors in the YRF Spy Universe series of action thrillers — EK The Tiger (2012), Tiger Zinda Hai (2017) and War (2019) — Pathaan pivots on a wafer-thin plot; this time involving an exiled intelligence agent returning to take on a terrorist organisation. It's a chaotic, protracted, wild ride that takes the audience across global locations and through past and present, but the amped up scale, imagination and audacity, the spectacular action set-pieces, clever writing and in-your-face charisma of its stars including Shah Rukh Khan in a long-awaited return to the big screen make it, in Indian parlance, paisa vasool - a film well worth the price of admission. And that will come as a relief to an embattled Bollywood.
Star Shah Rukh Khan, otherwise known for his romantic persona, shows off his bare chest and rippling muscles and, in the process, scorches the screen as a full-blown action hero.
A lot is at stake when it comes to Pathaan, produced — like the previous titles in the series — by leading production house Yashraj Films. The Hindi film industry has struggled over the last few years, with big budget films failing to make a mark at the box office and political baiting by conservative fringe groups. As the reportedly $30m-plus Pathaan opens worldwide (with both Hindi and Tamil and Telugu versions screening within India) hopes are high for its prospects, although success will largely rely on audiences turning up on India's Republic Day holiday and the following long weekend. It's Shah Rukh Khan's first major role since Aanand L. Rai's Zero in 2018, and that should help. Plus, there have already been multiple controversies to keep it in the public eye, including the colour of a bikini worn by SRK's co-star Deepika Padukone.
In keeping with the occasion of the release, Pathaan sports a suitably patriotic heart with the Indian tricolour fluttering in some scenes and the salutation of Jai Hind ("Victory to India") punctuating a few conversations. The film is also very much in line with the unbridled masculine narratives currently dominating Indian mainstream cinema: SRK may be best known for his romantic on-screen persona but he falls in line here, showing off his bare chest and rippling muscles and, in the process, scorching the screen as a full-blown action hero.
He plays exiled intelligence agent Pathaan, brought back on duty to take on rogue agent Jim (John Abraham) who is running a private terrorist enterprise called Outfit X and is armed with a biological weapon of mass destruction, a virus called Raktbeej (a reference to a demon in Hindu mythology who supposedly self-perpetuates with every drop of his blood that falls on the ground).
But while there's plenty that puts Pathaan in the league of James Bond movies — including excellent action sequences, stunning global locales (UAE, Turkey, Russia, Siberia, Italy, France, Afghanistan and Siberia) and Deepika Padukone's novice Pakistani Inter-Services Intelligence agent Rubina Mohsin — Pathaan himself isn't simply smart and suave. He cries, he gives into love and cracks silly jokes about getting his long hair shampooed at the hairdressers. The robbery of a Moscow vault is punctuated, for example, with a silly but satisfying reference to SRK's psychopath act in the popular film Darr (1993).
Pathaan plays safe with its stance — or the lack of it — on the contentious issue of Article 370 of the Indian Constitution, which granted special status to the state of Jammu and Kashmir. Yet its nationalistic spirit comes underlined with grace and dignity. Pathaan's adversary might be from Pakistan but the film underscores that a few bad men don't embody an entire nation. An orphan left behind by his parents in a cinema hall, Pathaan finds a proxy family on one of his missions in Afghanistan. His heart is Indian, but he belongs to the world — a welcome return to the simplistic but humanistic nationalism of Hindi cinema.
Most enjoyable, however, are the meta moments on the plight of Bollywood and the trinity of Khans: SRK, Salman and Aamir. There is, for instance, an extended reference to the Japanese art of kintsugi — fixing broken pieces of pottery with gold to create an even more beautiful and precious work of art. In the film, it is used to discuss bringing together injured, unwell and retired agents to form a new unit called Joint Operations and Covert Research. Yet it could also be a reference to Bollywood itself; a hope that it may come out stronger and more resilient after its ongoing trial by fire. After a long time, Shah Rukh Khan has given Bollywood a reason to smile.
Production company: Yashraj Films
Distribution: Yashraj Films helpdesk@yashrajfilms.com
Producer: Aditya Chopra
Screenplay: Shridhar Raghavan, from a story by Siddharth Anand and dialogue by Abbas Tyrewala
Cinematography: Satchith Paulose
Production Design: Rajat Poddar
Editing: Aarif Sheikh
Music: Vishal Dadlani, Shekhar Ravjiani, Sanchit Balhara and Ankit Balhara,
Main cast: Shah Rukh Khan (SRK), Deepika Padukone, John Abraham, Dimple Kapadia, Ashutosh Rana