A hapless outsider dreams of celebrity in Nick Gillespie's broad black British comedy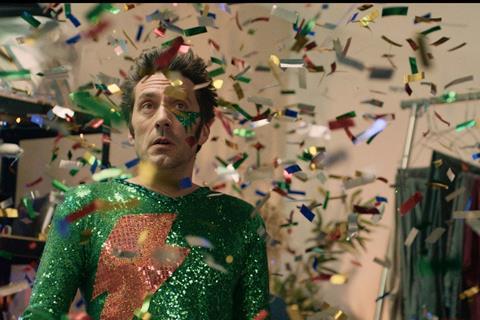 Dir. Nick Gillespie. UK. 2021. 95 mins
The distorting force of social media approval on an already vulnerable mind is explored in this broad black comedy. Sad sack Paul (Tom Meeten) dreams of winning a national talent show, but is thwarted on the way to the auditions by the actions of five individuals. Tipped over the edge by the death of his beloved Mum, he sets out for revenge. Paul Dood's Deadly Lunch Break is a bit of a blunt instrument of a film, which takes on several open-goal themes – talent competitions, live streaming and bullying, both online and in real life – but fails to make much of a coherent statement about any of them. However a game cast of British comedy stalwarts and splashes of gleefully over-the-top gore might titillate some genre audiences.
A game cast of British comedy stalwarts
This is the second feature from director and co-writer Nick Gillespie; his debut was the horror picture Tank 432. A long-time collaborator of Ben Wheatley (most recently, he was DoP on In The Earth), Gillespie shares with Wheatley an eye for the absurdity of parochial Britain and a taste for violence. While there may be an overlap with the younger end of Wheatley's audience, Paul Dood's Deadly Lunch Break lacks the cinematic impact of much of his collaborator's work, and is perhaps better suited to small screen exposure. Thematic similarities (and inevitable comparisons) between this tale of a hapless outsider who dreams of celebrity and Todd Phillip's The Joker are unlikely to do this film any favours.
Lugubrious of face and gangly of limb, Meeten is adept at conveying the extreme social discomfort of his character. But the casting doesn't quite ring true – Meeten has a striking screen presence (which was used to great effect in Gareth Tunley's The Ghoul). Even clad in a sequinned jumpsuit, with glittery stars glued to his face, he doesn't fully convey the extreme victimhood which makes Paul Dood a target for the thoughtlessness and malice of other people.
One of Paul's main tormentors is Bruce (Jarred Christmas), his co-worker in a charity shop located in a dispiriting shopping centre. Bruce delights in livestreaming the pranks that he plays on Paul; Paul meanwhile is livestreaming pretty much every aspect of his mundane existence. Remarkably, people seem to watch: a stream of emojis and asinine comments scroll up the side of the frame. Paul's most loyal viewer is the shopping centre cleaner Clemmie (an under-used Katherine Parkinson). And his most enthusiastic fan is his wheelchair-bound mother (June Watson), who toils over matching Mum and Son lurex costumes on her sewing machine.
On the day of the auditions, Paul wouldn't dream of turning up without Mum in tow, but thanks to a jobsworth railway worker (Steve Oram) and a territorial wrangle over a disabled ramp, they miss two trains and decide to walk instead. Paul's attempt to buy water for his mother is thwarted by the proprietor of a failing Japanese restaurant (Johnny Vegas). Then a taxi is snatched from them by a priest and his assistant (Kris Marshall, Alice Lowe). But the final (and for his mother, fatal) humiliation is at the hands of the talent show host Jack Tapp (Kevin Bishop) who claims that being trapped in a house fire as a child was a more pleasurable experience than witnessing Paul's audition (a mangled version of Philip Oakey and Giorgio Moroder's 'Together In Electric Dreams').
Slapstick and samurai swords bring robust physical comedy to the film's final act, although the picture is far less successful is in harnessing the virtual aspect, which is approached with a naivety which is increasingly jarring as the violence mounts.
Production companies/international sales: Belstone Pictures, getintouch@belstonepictures.com
Producer: Finn Bruce
Screenplay: Brook Driver, Matt White, Nick Gillespie
Editing: Tom Longmore
Cinematography: Billy J Jackson
Production Design: Laura Little
Music: Dan Baboulene
Main cast: Tom Meeten, Katherine Parkinson, Kris Marshall, Alice Lowe, Mandeep Dhillon, Johnny Vegas, Steve Oram, Craig Parkinson, Kevin Bishop, Pippa Haywood