A female bodybuilder preparing for competition is forced to contront her past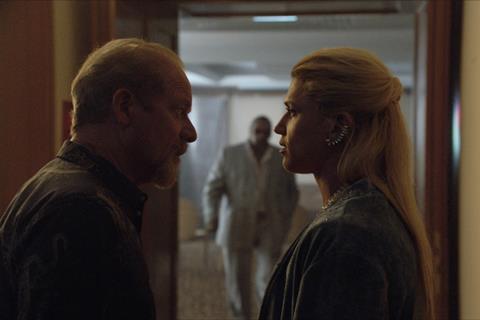 Dir: Elsa Amiel. Fr-Switz. 2018. 83mins
Elsa Amiel's debut feature Pearl is not without promise, even if the undernourished story plays second fiddle to the fetishistic allure of the competitive bodybuilding community in which it is set. There are, however, still enough interesting elements and background colour to attract further festival exposure.
Elsa Amiel seeks to bring a fresh eye to genre conventions
Amiel has been an assistant director to the likes of Bertrand Bonello, Noémie Lvovsky and Mathieu Amalric. Her first feature makes good use of striking Swiss bodybuilder Julia Föry, who cuts a formidable figure as Lea Pearl. Four years of dedicated training have allowed her to create a muscly, mountainous frame and a new identity for a woman once called Julia. Now, she is about to compete in the Heaven Contest at the Eden Palace hotel.
Amiel is clearly fascinated by the bodybuilding world and what it takes to become a world class contender. Her camera lingers over the toned, taught flesh on display, caressing bodies that have been sculpted by hard work and extreme self-discipline. We witness all the pumping iron, bronzing, posing and performing that is required of those at the very top.
Coach Al (Peter Mullan) belongs to the domineering, hard taskmaster school of trainers that stretches from an imperious Anton Walbrook in Red Shoes (1948) to an intense Vincent Casell in Black Swan (2010). He has trained Pearl to be the best, and is prepared to do anything that will secure victory. He even casually undertakes sex with Lea to make her sweat out the last few precious grammes needed to make her weight category. Al walks with a cane, and his frailties create a fragment of sympathy for a man surrounded by those straining towards physical perfection. Mullan's performance is typically uncompromising and the abusive relationship between coach and star pupil is decidedly creepy.
As the clock ticks down to the big event, Pearl is visited by former lover Ben (Arieh Worthalter) and six year-old Joseph (Vidal Arzoni); the son she has not seen in four years. Then, on some level, Pearl becomes a throwback to a classic "women's melodrama" or Joan Crawford vehicle from Hollywood's Golden Age, with a strong female character being confronted by the sacrifices she has made along the way and obliged to consider what truly matters to her as a woman and a mother.
Amiel seeks to bring a fresh eye to genre conventions with the sour, sharp-edged relationship between coach and competitor and the vaguely hallucinatory immersion in the bodybuilding world. Yet a trim running time and a sketchy approach to the relationships and back stories leaves the film feeling underdeveloped. Peter Mullan brings utter conviction and weight to the role of the success-focused coach, Vidal Arzoni bubbles with personality as the neglected son Joseph and Julia Föry proves to be a capable if slightly inexpressive performer as Lea. The combined talents keep you involved in the shifting dynamics of a story that lacks the dramatic heft to make a bigger impact.
Production companies Unité de Production, Bande à Part Films,KNM.
International sales MK2 Films intlsales@mk2films.com
Producers Caroline Nataf, Bruno Nahon
Screenplay Elsa Amiel, Laurent Larivière
Production design Valérie Rozanes
Editing Sylvie Lager, Caroline Detournay
Cinematography Colin LévÊque
Music Fred Avril
Cast Julia Föry, Peter Mullan, Agata Buzek, Vidal Arzoni