An inspirational tale which fails to take flight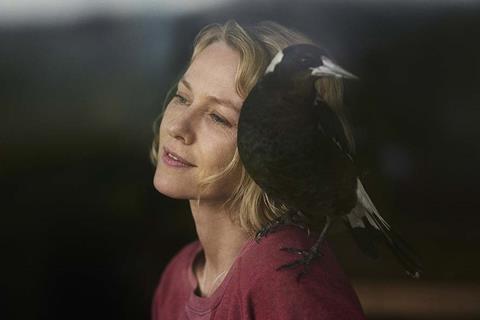 Dir: Glendyn Ivin. Australia. 2020. 95mins.
In the sentimental drama Penguin Bloom, an Australian woman with a broken back begrudgingly befriends a bird that can't fly, setting in motion a too-tidy metaphor for two characters longing to soar. Naomi Watts gives a suitably sensitive performance, but although the film is based on actual events, director Glendyn Ivin's genteel approach resuts in this potentially poignant tale feeling like just another inspirational film about overcoming personal hardship — albeit one with far more magpie than is the norm.
Heartfelt but predictable story beats
A two-time Oscar-nominee, Watts will be the main draw, especially for audiences seeking an unabashed tearjerker. Penguin Bloom launches out of Toronto, and the film's novel riff on the boy-and-his-dog story could help attract attention. But viewers may walk away just as interested in learning more about Sam Bloom, the nurse and avid surfer who Watts brings to life.
As Penguin Bloom begins, tragedy has befallen the Bloom family: Sam (Watts) has suffered a serious fall while on holiday, leaving her in a wheelchair unable to feel anything below her chest. Raising three young boys and married to the supportive Cameron (Andrew Lincoln), she has a hard time motivating herself to get out of bed — after all, the active lifestyle she once cherished now seems gone forever.
Based on the book by Cameron Bloom and Bradley Trevor Greive, the film then makes room for a new addition to the family: a small magpie the boys discover on the beach that seems unable to fly. Despite Sam's objections, the rest of the Blooms take to the bird, naming her Penguin and treating her like a beloved pet.
Because Sam is initially deeply annoyed that this animal is in her house, it's a foregone conclusion that not only will she come around to appreciating Penguin, she'll eventually form a bond with the bird, seeing in the creature a fellow broken soul. Once that narrative path becomes clear, Penguin Bloom never really surprises, delivering a series of heartfelt but predictable story beats in which Sam learns to rebuild her self-esteem and embrace life again — even finding new ways to enjoy the ocean, which has always been her home away from home.
Watts is often adept at communicating her characters' fragile emotional state, and she's quite touching as a woman who tries shielding the depth of her anger and grief from her family lest it explode uncontrollably. But Ivin (Safe Harbour, The Cry) wraps the proceedings in a protective gauze that keeps the story's interesting rough edges from cutting too deeply. Instead, Penguin Bloom labours to give Sam a smooth trajectory from crushing despair to spiritual rebirth — complete with watery dream sequences and overly precious song choices. (One of her boys strums an acoustic cover of the Beatles' "Blackbird.") Along the way, what goes missing is the specificity of Sam's recovery, which is buffed to such a bland, professional polish that Penguin Bloom becomes indistinguishable from dozens of other similar films.
While nobody in the cast puts a foot wrong, there's still a lack of spark to the ensemble. Lincoln is dutifully noble as Cameron, while Jacki Weaver is the umpteenth version of the nagging matriarch, hovering over her daughter Sam as if being overprotective now can save the woman from further tragedy. Playing Sam's eldest son Noah, who blames himself for his mother's accident, newcomer Griffin Murray-Johnston has soulful eyes and an unassuming manner, which work well for depicting a child quietly eaten up by guilt and shame.
But special kudos go to Paul Mander, Penguin Bloom's magpie trainer, who utilised several birds to produce Penguin's performance. Considering how many scenes there are between just Sam and Penguin, it's impressive how organically integrated the bird is in the central drama, especially because the animal must shoulder much of the film's thematic weight. In fact, with her shrieking wail and comically ungainly walk, Penguin emerges as Penguin Bloom's funniest, most lively figure. Unlike her human costars, she's not reined in by the film's glossy earnestness.
Production companies: Made Up Stories, Jam Tart Films, Broadtalk
International sales: Endeavor Content, ecfilmsalesinfo@endeavorcontent.com
Producers: Emma J. Cooper, Bruna Papandrea, Steve Hutensky, Jodi Matterson, Naomi Watts
Screenplay: Shaun Grant and Harry Cripps, based on the book by Cameron Bloom and Bradley Trevor Greive
Production design: Annie Beauchamp
Editing: Maria Papoutsis
Cinematography: Sam Chiplin
Music: Marcelo Zarvos
Main cast: Naomi Watts, Andrew Lincoln, Jacki Weaver