Dir/scr. Maha Haj. Israel. 2016. 90mins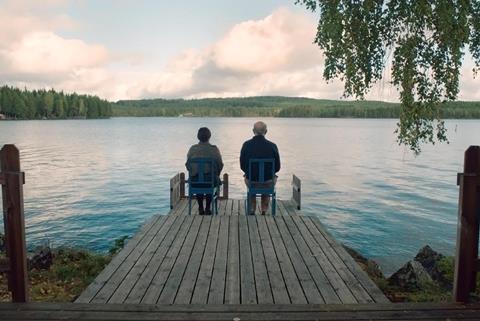 Slight but charming, Personal Affairs (Omor Shakhsiya) touches on the inescapable melancholy of modern life, but is as graceful as a tango dance in the process. Although the feature debut of writer-director Maha Haj is more of a gentle sigh than a tightly plotted film, this comedy-drama gives its emotions and themes room to breathe in its episodic explorations of a Palestinian family coming to grips with their different circumstances, never forcing anything and always demonstrating a relaxed confidence.
Haj weaves in commentary about how Palestinians learn to coexist alongside Israelis, the characters often feeling trapped, yearning to break free.
Premiering in Un Certain Regard at Cannes, Personal Affairs may prove too niche to attract much theatrical business, especially since the film features a largely of non-professional cast. But a healthy festival life seems certain, with sympathetic reviews and decent word-of-mouth from adult audiences sure to help.
Nabeela (Sana Shawahdeh) and Saleh (Mahmoud Shawahdeh) are an elderly married couple living in Nazareth, Saleh frustrated by how distant Nabeela has become. Their son Hisham (Ziad Bakri) tries to convince them to visit him in Stockholm in order to renew their bond, while their other son, Tarek (Doraid Liddawi), who resides in Ramallah, must confront his fear of commitment when his girlfriend of three months, Maysa (Maisa Abd Elhadi), wants to get serious.
Throughout Personal Affairs, Haj weaves in commentary about how Palestinians learn to coexist alongside Israelis, the characters often feeling trapped, yearning to break free. This is perhaps most poetically expressed in another subplot, which concerns Nabeela and Saleh's very pregnant daughter, played by Hanan Hillo, and her blue-collar husband, played by Amer Hlehel, who unexpectedly is asked to audition for a film.
But Personal Affairs never drifts too deeply into metaphorical waters, letting its cultural observations wash over the viewer rather than becoming a deluge. A perfect example of Haj's understated technique is demonstrated by a quiet motif of Hisham coming out to stand on his balcony, which prompts his female Swedish neighbour to conveniently find a reason to go back inside and ignore him. Is she bigoted or shy? Haj never says, but we register how subtly alienating the repetition is for him.
Amidst a cast heavy with non-pros, it's perhaps unsurprising that seasoned young actress Abd Elhadi (Habibi Rasak Kharban) is a standout, transforming Maysa from a slightly clingy girlfriend to a woman who finds her backbone when Tarek starts taking her for granted. Her assertiveness is one of the film's most seductive surprises, particularly when Maysa and her lover decide to engage in an impromptu tango in the most unlikely of places.
Haj also elicits likable performances from her first-timers, but her real casting coup may be drafting Sana and Mahmoud Shawahdeh, friends of the filmmaker, to play this silently unhappy couple. With their tightly-controlled, inexpressive faces, they have the same kind of deadpan whimsy one expects in a Roy Andersson film. Equally, however, the actors convey the resignation and discontent that have eaten away at their marriage for too many years. Personal Affairs makes good comic use of their pokerfaced stillness, although the film's unexpectedly touching final sequence suggests that Haj can capably balance between bittersweet and wry.
Production companies: Majdal Films, Sophie Dulac Distribution, Isreal Film Fund, Other Israel Film Festival, JRY Clinic, Yellow Dawn Production
International sales: Films Boutique, simon@filmsboutique.com and info@filmsboutique.com
Producer: Baher Agbariya
Cinematography: Elad Debi
Editor: Véronique Lange
Music: Habib Shehadeh Hanna
Main cast: Amer Hlehel, Doraid Liddawi, Mahmoud Shawahdeh, Sana Shawahdeh, Hanan Hillo, Maisa Abd Elhadi, Ziad Bakri, Jihan Dermelkonian