Beatrix Potter's bunny hops back into cinemas after a year's delay at a fast and furious pace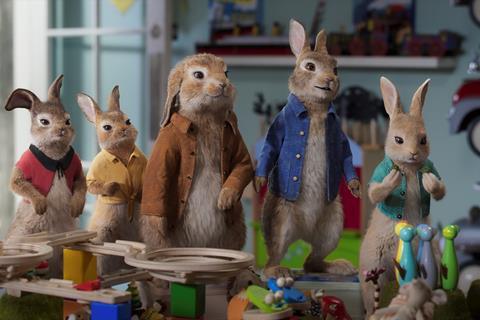 Dir/scr. Will Gluck. Australia/India/US/UK/Canada. 2021. 93 mins.
2018's Peter Rabbit turned Beatrix Potter's anthropomorphised bunny into a CGI/live-action box office sensation, sending $350m in worldwide theatrical revenues in the direction of Sony. The inevitable sequel has been put on hold over and over again as the studio waits for cinemas to reopen, while the film itself doubles down on its boisterous and frenetic interpretation of a beloved character. Children initially entertained will come hopping back for Peter Rabbit 2: The Runaway, but this family-friendly franchise still offers little for anybody accompanying them. Hopping into Australian cinemas on March 25 ahead of Easter, Peter Rabbit 2 is currently scheduled for May 21 in the UK, and the US on July 2. But despite Rose Byrne and Domhnall Gleeson returning among the live-action cast, joined by David Oyelowo, and James Corden, Margot Robbie and Elizabeth Debicki back in voice roles, the second time definitely is not the charm.
So much about Peter Rabbit 2 has been minted from a stock-standard template that it could tell any character's tale
Writer/director Will Gluck clearly heard the criticisms lobbed his initial feature's way, ranging from Corden's overdone vocals to the movie's commercialised tone. Co-scripting here with Patrick Burleigh, he inserts gags about both problems into Peter Rabbit 2's knowing narration (by Robbie as the skittish Flopsy), with a key subplot focusing on Byrne's Bea — Potter, obviously — being asked by Oyelowo's money-hungry publisher to turn her quaint book about Peter's rural life into chase-fuelled adventures starring rabbits in jeans and sneakers. While bluntly self-aware, the approach verges on scolding, rebuking the first film's naysayers by calling them out in the middle of more gleefully slick and manic chaos.
Peter Rabbit 2's repeated attempts to chide its predecessor's detractors do at least parallel Peter's story, which sees him grapple with being labelled the garden's bad seed. After Bea and the uptight Thomas McGregor (Gleeson) marry, the jacket-wearing bunny tries not to fall afoul of his former nemesis-turned-surrogate human father, but is still badged a mischief-maker. Then, during a trip to Gloucester, he meets Barnabus (Lennie James). In the Dickensian elder rabbit and his light-fingered gang, Peter finds a lack of judgement; however, he soon follows them into morally muddy territory.
As well as inspiring high-energy set pieces, Peter's rebellious city stints push him down a soul-searching path, as he is forced to decide whether to defy or embrace his naughty reputation. But the broad life lessons that spring amid the cookie-cutter heist antics are never as textured as Thomas' journey. Previously saddled with playing a cartoonish villain, Gleeson wears vulnerability well in Peter Rabbit 2, as a man also grappling with identity issues.
Still, Gleeson, a committed Byrne and a debonair Oyelowo cannot bolster a movie that never manages what the Paddington films do so well. Bringing a children's favourite to life with vividly realistic visuals and appealing production design simply proves superficial when it lacks the heart and charm that has endeared its source material to readers for more than a century. Indeed, so much about Peter Rabbit 2 has been minted from a stock-standard template that it could tell any character's tale — if capitalising upon brand recognition was not such a motivating factor. The perky song cues, hyperactive pace, sassy attitude and overplayed jokes all owe far more to the current family-friendly film-making format than they do to Potter, her bucolic stories and her floppy-eared hero.
Production companies: Animal Logic Entertainment, Olive Bridge Entertainment
Worldwide distribution: Sony
Producers: Will Gluck, Zareh Nalbandian, Catherine Bishop, and Jodi Hildebrand
Screenplay: Will Gluck and Patrick Burleigh
Editing: Matt Villa
Cinematography: Peter Menzies
Production design: Roger Ford
Music: Dominic Lewis
Main cast: Rose Byrne, Domhnall Gleeson, David Oyelowo, Elizabeth Debicki, Margot Robbie and James Corden.