An attempt to modernise Beatrix Potter falls flat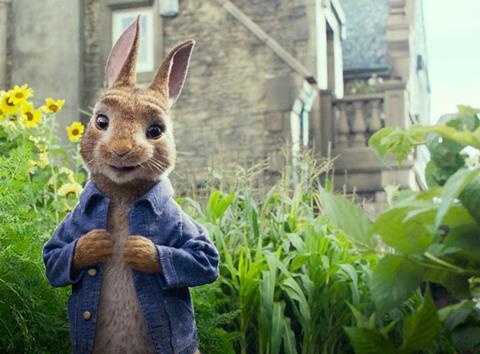 Dir: Will Gluck. US. 2018. 94mins
Stuffed with slapstick and fuelled by an energetic soundtrack, the GGI/live action feature Peter Rabbit is sure to appeal to the youngsters at which is it aimed. Yet, in attempting to inject the classic Beatrix Potter tale about a mischievous bunny with a modern anarchic sensibility, it lacks the innocent charm that made the original books so timelessly appealing.
Screenwriters Rob Lieber and Will Gluck (who also directs) have clearly aimed to do what Paul King did for Paddington, but have fallen somewhat short
The film releases in the US on February 9 through Sony, where American audiences may not be as familiar with these characters, although a cast headed by Rose Byrne, Domhnall Gleeson and voice actors James Corden, Margot Robbie and Daisy Ridley may help. Opening in the UK on March 16, just ahead of the Easter holidays, Peter Rabbit should do better on home soil, both with adults who remember the stories with fondness and youngsters who will respond to the cute, highly-marketable protagonists.
As imagined by creator Beatrix Potter, Peter, who first appeared in The Tale of Peter Rabbit in 1902, is a flop-eared, jacket-wearing bunny whose attempts to steal the vegetables of crotchety gardener Mr McGregor threaten to see him suffer the same fate as his father, who ended up in a pie. Over a century on, Peter's antics pale in comparison to modern children's adventures, and so it's perhaps unsurprising that an attempt has been made to make him more exciting — an overhaul which includes violence, wild house parties and explosions.
There's also a much-younger McGregor, city boy Thomas (Gleeson), who inherits the house and garden after his elderly great-uncle (a cameo from Sam Neill) croaks it atop the carrots after a run-in with Peter (voiced by a somewhat flat James Corden). With control-freak Thomas determined to get the place in order, he and Peter, who is helped by his sisters Flopsy (Margot Robbie), Mopsy (Elizabeth Debicki), Cotton-tail (Daisy Ridley) and fall-guy cousin Benjamin (Colin Moody), engage in a battle for territory that soon escalates into all-out warfare.
This territory extends beyond the garden to McGregor's neighbour Bea (Rose Byrne) — obviously Potter herself but never explicitly referenced as such — who cares for the rabbits and paints beautiful pictures of them. Orphaned after losing both parents (a plot device which deviates from the books, in which only Peter's father dies) the animals view Bea as a surrogate mother. Peter's feelings for her go deeper, however, and fuel his violent conflict with Thomas; at one point, Peter celebrates the fact that he seems to have killed his rival. As the film goes on, his motivations play less like a maternal bond and more like a bizarre love triangle.
The film also reduces the character of Potter herself from trailblazing self-publishing author to a cutesy English rose who treats the rabbits like children and embarks on a speedy soft-focused romance with McGregor. "My two boys getting along perfectly," she simpers after foisting a reluctant Peter into Thomas's arms. And, of course, it's her beatific affections which see both Thomas and Peter come to realise, and attempt to overcome, their own character flaws.
Screenwriters Rob Lieber and Will Gluck (who also directs) have clearly attempted to do what Paul King did for that other great British brand, Paddington, but have fallen somewhat short. Told from a decidedly American point of view, in which the British countryside is full of chocolate box cottages and well-meaning yokels, the screenplay veers between the schmaltzy and the chaotic. Garden rakes, explosives and electric fences impart a never-ending litany of injury to both humans and rabbits; all played with a flippant humour at odds to the emotional fallout from the death of Peter's parents.
And, while the Paddington films assume the audience is in on the joke, and embrace wholeheartedly the notion of a walking, talking bear, Peter Rabbit is self-aware to the point of cynicism about its source material, and itself. "This is right on the edge of believability," says Peter himself at one point. It's less a knowing wink and more a beat over the head and, instead of giving the film an edge, ends up stealing some of the original magic.
Technically, the CGI is impressive, and the actors do a solid job of interacting with their animated co-stars. The poppy soundtrack keeps things moving along, and production design is endearing, if surprisingly twee given the film's determination to modernise.
Production companies: Animal Logic Entertainment, Olive Bridge Entertainment
Distribution: Sony
Producers: Will Gluck, Zareh Nalbandian
Executive producers: Doug Belgrad, Jodi Hildebrand, Catherine Bishop, Susan Bolsover, Emma Topping, Rob Lieber, Jason Lust, Jonathan Hludzinski
Screenplay: Rob Lieber, Will Gluck
Cinematography: Peter Menzier Jr
Editor: Christian Gazal, Jonathan Tappin
Production Design: Roger Ford
Music: Dominic Lewis
Main cast: Domnhall Gleason, Rose Byrne, James Corden, Margot Robbie, Daisy Ridley, Elizabeth Debicki, Sam Neill, Sia