Dirs: Yoav and Doron Paz. Israel. 2009. 86mins.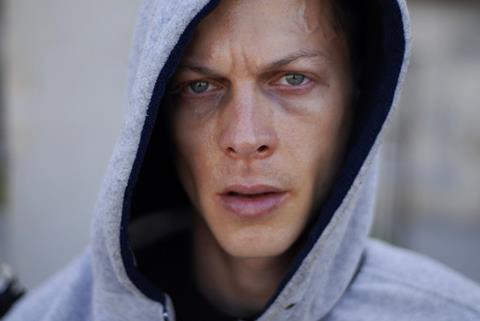 After suffering a nervous breakdown in public, a young computer programmer decides to cut himself off from the rest of the world in this ambitious low-budget debut feature from the two sons of film-maker Jonathan Paz. Offbeat enough to attract the attention of specialised art houses and festival programmers, this strict allegory may have trouble attracting a wider audience, however.
Referencing the tendency for young people to opt for virtual company over human contact, Phobidilia gains additional significance in an Israeli context
Wainblum (Ofer Shechter) decides to sever ties with the rest of the world after his public collapse and shuts himself inside his small rented apartment, living on takeaway food, internet sex and the TV. Years later, Grumps (Shlomo Bar Shavit), an agent for the landlord and a resilient old bird who survived the Holocaust, breaks into his isolation and attempts to evict him. Meanwhile, Daniela (Baumwald), a cheerful, lively young cable TV saleswoman, becomes fascinated by the haggard charm of the mysterious young man, trying to draw him out of his shell - and almost succeeding.
Wainblum and Daniela have a real dinner followed by real sex, but ultimately, when he has to step out of his refuge, he panics and flees back in fear. At home, the conflict with Grumps escalates.
Written almost like a TV single-hander - with two additional characters intruding occasionally – Phobidilia relies on Israeli TV heart-throb Ofer Shechter in an atypical role to carry it all, a task that may be just a bit too heavy, at the present time, for his slender shoulders.
The tiny ground floor flat and its fenced-in, minuscule garden in which the entire film was shot, reflect the chaotic existence of the protagonist. The art department evidently worked overtime to fill every spare square inch available for the benefit of a roving cinemascope camera which noses into every corner.
True to the title's suggestion, the script, adapted by Izhar Harlev with the Paz brothers from his own novel, delivers a phobia, in this case agoraphobia, combined with a touch of misanthropy. But its interest lies elsewhere. Clearly referring to a tendency for young people to opt for virtual company over human contact, Phobidilia gains additional significance in an Israeli context.
Much has been said there about a new generation which refuses to participate in the country's complicated existence and share responsibility for its future, and even more about the generational confrontation between those who created the State of Israel – survivors of the Holocaust era – and a younger set who reject the twisted traumas of the Diaspora and look at life in a completely different manner. But these issues, though duly mentioned in the film, require a deeper and more complex approach than anything the Paz brothers offer here.
While Shechter's performance seems unaware of the metaphoric burden Wainblum carries, Bar Shavit, one of the staples of Hebrew theatre, in a haunting performance, is far more conscious of it, while Baumwald brings in a brief but welcome breeze of fresh air into what is otherwise a pretty heavy-handed affair.
To sign up for Screen's weekly Reviews Newsletter with all the week's new releases, international openings and full festival reviews delivered free to your mailbox every Friday, please click HERE
Production company
Artza Productions
International sales
Bleiberg Entertainment
(1) 310 273 0003
Executive producer
Shai Eines
Screenplay
Izhar Har-lev
Yoav Paz
Doron Paz
Based on the novel by Har-lev
Cinematography
Nitay Netzer
Production design
Orly Hummel
Editors
Simon Herman
Rotem Shamir
Main cast
Ofer Shechter
Shlomo Bar-Shavit
Efrat Baumwald
Efrat Dor