Dir. Elizabeth Banks. US, 2015. 115 mins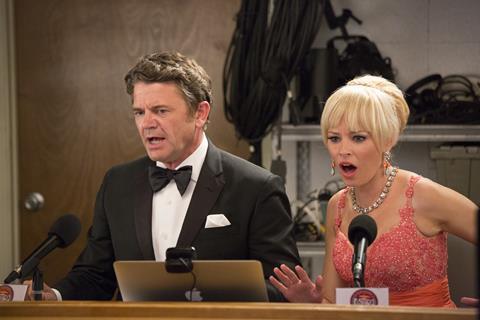 Elizabeth Banks makes her directorial debut with the cheerfully undemanding Pitch Perfect 2, a sequel to Universal's Glee-full 2012 hit about a college group of female a cappella singers called The Barden Bellas.
Visually Pitch Perfect 2 is no-frills; there's a distinct lack of production spend on display, with a single establishing shot of Copenhagen.
As with the first, Banks also produces and co-stars, but Pitch Perfect 2 has less of song to sing and more of a repeat chorus to hit - hard - as the film bounces fairly plot-lessly from one rambunctious song and dance set-piece to the next.  As with Pitch Perfect, the actresses – Anna Kendrick, Rebel Wilson and Banks herself, joined this time by Hailee Steinfeld – are the film's real charm, alongside those show-stopper a capella sequences, choreographed again by Aakomon Jones. Kay Cannon returns on writing duties (she adapted the original from the book by Mickey Rapkin).
Female-centric audiences who gave Pitch Perfect its sleeper hit status with a $112m worldwide theatrical take in 2012 (from an estimated $17m budget) should return for a second helping and be broadly accepting of the film's relaxed approach to dramatic tension, while a big international rollout on May 15 (counter-programming to Mad Max: Fury Road) is designed to secure new converts.
Pleasantly entertaining, Pitch Perfect 2 scrabbles for a raison d'etre, however, hoping that goodwill from the first show, coupled with a few raunchy gags and cameo appearances, will be enough to get by in the post-Glee age. The film certainly has a fanbase, being one of the top ancillary titles in 2013 with $135m across formats, on top of a triple-platinum soundtrack (Jesse J has already released the first hit from 2's soundtrack, Flashlight).
No pressure then, for Banks, who was the force behind Pitch Perfect and directs here for the first time (after several shorts).
The laughs are mostly provided by Banks herself, extending her own role in the aca-commentary box alongside the extremely non-PC John Michael Higgins, not to mention Rebel Wilson, returning as Fat Amy. The film starts out with 'Muffgate': performing a routine involving Pitbull's Timber at New York's Lincoln Centre, Fat Amy is lowered from the ceiling in a cat suit which splits, exposing her vagina to President Obama on live TV (amusingly spliced into the audience).
The Barden Bellas are now in disgrace, banned from domestic competition and only able to redeem themselves if they win the World Championships, to be held in Copenhagen. This has never been achieved by an American team before, and they must face down a robotically-perfect German troupe called Das Sound Machine in order to rehablitate themselves.
The girls are in senior year, however, and ready to spread their wings: Beca (Kendrick) wants to make her own music and stop performing songs and routines written by someone else (her internship in a recording studio gives an opportunity for her to remix Snoop Dogg in an amusing rendition of Winter Wonderland). Her romance with Jesse (Skylar Astin), continues, but Banks barely has time to register it.
All the Barden Bellas must face the fact that it's time to leave the safety of the fictional Barden University, and think about growing up – for Fat Amy, that means possibly accepting her attraction to Adam DeVine's Bumper.
To leave the door open to a sequel for Universal - should 2 work out - fresh-faced Hailee Steinfeld (True Grit) enters the fray as a 'Legacy' Bella – her mother (Katy Sagal) once sang for the troupe.
As she is nearing 30 now, it's easy to believe that it's time for Anna Kendrick to leave frat house parties behind, and Steinfeld is fresh-faced and sweet in a way that might bring in younger crowds. Brittany Snow, as Chloe, is the controlling leader who finds it more difficult to move on, but Pitch Perfect 2 briskly ushers her towards the exit. Banks proves herself a safe pair of hands with a studio tent-pole, although visually Pitch Perfect 2 is no-frills; shot mostly in Louisiana, there's a distinct lack of production spend on display, with a single establishing shot of Copenhagen.
The film stakes its reputation on the riff-off set pieces, and certainly delivers (especially in the National A Cappella Laser Ninja Dragon League, featuring the Green Bay Packers. Choreographer Aakomon Jones provides all the dance excitement of the original, while some of the songs covered are unexpected (Lollipop, Tsunami, Uprising, for example), arranged again by Ed Boyer.
Production companies: Gold Circle Films, Brownstone Productions
Contact: Universal Pictures
Producers: Elizabeth Banks, Paul Brooks, Max Handelman
Executive producers: Scott Niemayer, Jason Moore
Screenplay: Kay Cannon
Cinematography: Jim Denault
Production design: Toby Corbett
Editor: Craig Alpert
Music: Mark Mothersbaugh
Main cast: Anna Kendrick, Rebel Wilson, Hailee Steinfeld, Elizabeth Banks, Adam Devine