Singing sensations the Bellas return for a third adventure that fails to hit the high notes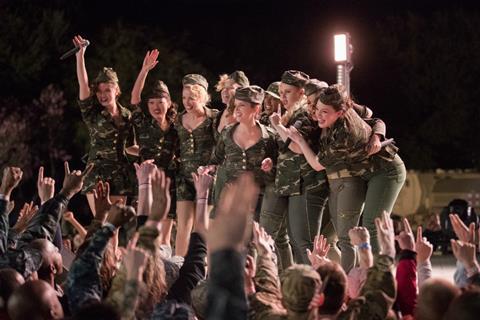 Dir: Trish Sie. US. 2017. 93mins
Even the catchiest number eventually gets stale over time. Pitch Perfect 3 tries to send the Bellas out on a high note, but this thin sequel shows the strain of stretching a likeable premise to its breaking point. There's still some pleasure to be had in hanging out with this snarky, sappy ensemble but, for a movie that preaches the importance of moving on, this very much feels like a cautionary tale about what happens when filmmakers try to cash in one too many times on past success. Even the snazzy a capella renditions of ubiquitous pop hits have lost their crackle.
As if sensing that the novelty is gone, Pitch Perfect 3 tries to compensate by super-sizing the implausibility and sentimentality
Opening in time for Christmas in the UK and US, this Universal release brings back a cast that includes Anna Kendrick, Rebel Wilson and Hailee Steinfeld. Pitch Perfect 3 won't be the only musical in theatres — Hugh Jackman's The Greatest Showman also looms — but the audience that turned up for Pitch Perfect 2 ($288 million worldwide) should still be vocal in their support.
Set a few years after the last instalment, Pitch Perfect 3 finds Beca (Kendrick) struggling with adulthood in a job she detests. Quitting impulsively, she learns that she and the rest of the Bellas have been invited to perform overseas on a USO tour. Happy to reunite with her beloved college friends and put her life on hold, she quickly gets into hijinks with crass Amy (Wilson), thoughtful Emily (Steinfeld) and perky Chloe (Brittany Snow).
Director Trish Sie (Step Up All In) gives the material the right amount of irreverence, adopting the same lightly self-mocking tone that was on display in 2015's Pitch Perfect 2. The new film is proudly aware of how ludicrous it is — at one point morphing into a full-on spy-thriller — and the sunnily silly plot mostly functions to get the Bellas to their next song-and-dance number or comedic set piece. Yet, it's impossible to miss the film's wheezing tone. Wilson can still deliver the occasionally shocking quip, and Kendrick remains a master of deadpan reaction shots but there's an awful lot of busyness disguised as madcap tomfoolery.
The laboured feel is evident with the introduction of some bland new love interests for the Bellas, and it's especially notable in the form of John Lithgow as Amy's estranged gangster father. Brandishing a knowingly broad Australian accent, the veteran actor hams it up but doesn't get many laughs — and the same goes for John Michael Higgins and Elizabeth Banks, who reprise their roles as the world's most obnoxious TV commentators.
What ought to remain sterling, however, are the Bellas' musical performances, which have always been the series' selling point. The songs can still pop — the tight choreography and confident delivery of Britney Spears' "Toxic" is the movie's highlight — but more often, they're merely pedestrian, echoing what was so fresh about the earlier films without springing many surprises or eye-popping visuals.
As if sensing that the novelty is gone, Pitch Perfect 3 tries to compensate by super-sizing the implausibility and sentimentality. Sie lays out a pretty hackneyed star-is-born scenario in which Beca must decide whether she's meant to be an artist or if she's going to settle for a more mundane existence. In addition, the film hints that these recent college graduates are facing a crossroads as they enter a workforce that offers them little fulfilment, envisioning this USO tour as one grand send-off for the Bellas before adulthood sets these women on divergent paths.
The way these glib conflicts are set up couldn't be goofier, but they're no less preposterous than the circumstances that lead to an action-thriller sequence involving fight scenes and massive explosions. It used to be that the most unbelievable thing about a Pitch Perfect film was the fact that the Bellas could afford their gorgeous matching outfits; five years after the original became a sleeper sensation, the franchise is now firmly set in a cotton-candy fantasy world.
Production companies: Gold Circle Entertainment, Perfect World Pictures, Brownstone
Worldwide distribution: Universal Pictures, www.universalpictures.com
Producers: Paul Brooks, Max Handelman, Elizabeth Banks
Executive producers: Jason Moore, Scott Niemeyer, David Nicksay
Screenplay: Kay Cannon and Mike White, story by Kay Cannon, based on the book by Mickey Rapkin
Cinematography: Matthew Clark
Production design: Toby Corbett
Editors: Craig Alpert, Colin Patton
Music: Christopher Lennertz
Website: www.pitchperfectmovie.com
Main Cast: Anna Kendrick, Rebel Wilson, Hailee Steinfeld, Brittany Snow, Anna Camp, DJ Khaled, John Lithgow, Hana Mae Lee, Alexis Knapp, John Michael Higgins, Elizabeth Banks