Dirs. Jorge Blanco, Javier Abad, Marcos Martinez. UK/Spain/US. 2009. mins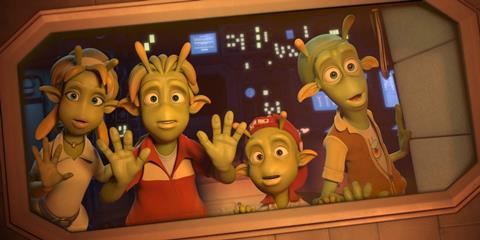 Independently and internationally produced CG animated comedy Planet 51 has the visuals to compare with bigger budgeted Hollywood studio offerings but not the storytelling spark. This lightweight but good looking first feature from Spain's Ilion Animation Studios will appeal to kids more than older family members, suggesting mid-level rather than top tier box office returns and strong video and TV performances.
The only voice performer allowed to cut loose is John Cleese
The toon, produced by Ilion with the UK's HandMade Films, gets a wide US release (with a PG rating) this weekend (November 20) through Sony's TriStar. With three other studio-distributed animated offerings in the marketplace in the run-up to next week's Thanksgiving holiday Planet 51 will need Sony's muscle to help it compete.
Independent distributors which have acquired rights from HandMade are set to release the film between now and Christmas in most other major territories. As with studio animations, international prospects look particularly good.
The planet of the title is home to a race of little green people who live happily in a world reminiscent of small town 1950s USA, with picket fences and barbecues and sci-fi movies about scary alien invaders.
When cocky human astronaut Capt Charles 'Chuck' Baker (voiced by Dwayne Johnson) unexpectedly lands his space ship on what he thinks is this uninhabited planet, the locals fear the worst and send their army, headed by crazed General Grawl (Gary Oldman), to capture the invader. To help him return to Earth, Chuck enlists the help of open minded teen Lem (Justin Long), Lem's would-be girlfriend Neera (Jessica Biel) and his wacky friend Skiff (Seann William Scott).
Writer Joe Stillman, who previously co-wrote Shrek and Shrek 2, packs the action with sub-plots and incidental characters, and inserts a moral about fearing the unknown. But a lot of the material feels flimsy and derivative – Chuck's robot helper, for example, is an obvious Wall-E/R2D2 clone — and the script lacks the polish and punch often given to bigger animated projects by writing teams.
Most of the comedy is undemanding slapstick aimed at kids, though there are a handful of movie allusions that might raise some smiles with adults.
Director Jorge Blanco and co-directors Marcos Martinez and Javier Abad – all making their feature debuts after careers with Ilion's video game sister company Pyro – keep things moving swiftly but don't vary the pace or allow much drama to develop.
The animation is impressively detailed and realistic, with some nice backgrounds and clever details. Yet the retro sci-fi look seems to be emulating other CG projects rather than going for anything distinctive and the character designs are mostly pretty bland.
The voice performances, too, are more generic than inventive. Johnson is unrecognizable as astronaut Chuck, as is an American-accented Oldman as the villainous General Grawl. Long is quite appealing as the hapless Lem.
The only voice performer allowed to cut loose is John Cleese, who has fun with his relatively small role as mad scientist Professor Kipple.
To sign up for Screen's weekly Reviews Newsletter with all the week's new releases, international openings and full festival reviews delivered free to your mailbox every Friday, please click HERE
Production companies
HandMade Films International
Ilion Animation Studios
US distribution
Sony Pictures Releasing
Intl sales
HandMade
Producers
Ignatio Perez Dolset
Guy Collins
Screenplay
Joe Stillman
Cinematography
Gonzalo Rueda
Production design
Julio Munoz Romero
Editor
Alex Rodriguez
Music
James Brett
Main cast
Dwayne Johnson
Jessica Biel
Justin Long
Seann William Scott
Gary Oldman
John Cleese