Tense psychological drama about a driven young pianist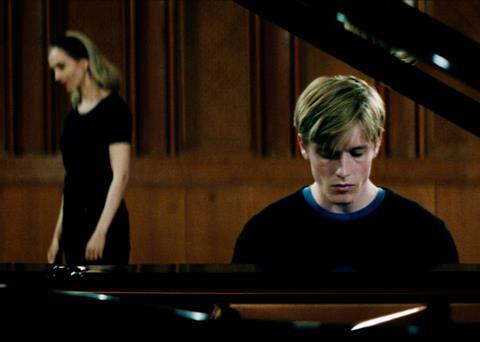 Dir/scr Sabrina Sarabi. Germany. 2019. 95 mins
The hunger to succeed places unbearable pressure on a promising young pianist in Prelude, a debut feature from writer/director Sabrina Sarabi which offers variations on Whiplash before taking a darker path.The level of technical accomplishment, the focus on the mental health of a young man and the intense central performance from Louis Hofmann should all combine to earn the film festival attention, although it could prove too dour and unflinching to achieve commercial appeal.
Prelude increasingly heads towards the paranoia of a 1960s Polanski classic
Hofmann has been a talent to watch since his international breakthrough in Land Of Mine (2015). He rises to the challenge of carrying a film, making a sympathetic figure of a driven 19 year-old at the mercy of ambition and insecurities. David (Hofmann) is a talented pianist who arrives at a music academy that seems as gloomy and sinister as the dance academy in Suspiria. He's an earnest, solitary figure, devoting himself to practice and performance. His icy teacher Professor Mattusek (Ursina Lardi) seems determined to undermine him, destroying his confidence rather than trying to build it. She always seems to be walking behind him in the rehearsal room, out of focus but menacing and predatory. The slightly superior smiles that occasionally flicker across her otherwise deadpan features add to the sense that she delights in his discomfort.
It is only as the film progresses that we come to realise that we are sharing David's perspective on events. Mattusek could equally be a less forbidding figure trying to teach David that he is one among many rather than someone outstanding.
Over the course of the film, "wunderkind" David tumbles into an affair with the captivating, aloof Marie (Liv Lisa Fries) and embarks on an increasingly childish rivalry with fellow student Walter (Johannes Nussbaum).
Throughout the film we gain a sense of how the pressure builds on David to deliver on his promise. Rehearsing becomes an eight-hour a day obsession. His joints ache, his shoulders hurt and there are few outlets. At a party, he dances alone, stripping naked as he achieves a kind of frenzy lost in electronic music that is worlds away from his classical repertoire.
Prelude increasingly heads towards the paranoia of a 1960s Polanski classic or the complicated, toxic relationships in some of Nic Roeg's finest work. The excellent sound mix uses the noise of an incessant ping pong match, a dripping tap and the tyranny of a metronome to convey what David is feeling in his head.
Increasingly, we are encouraged to question what is real and what is imagined. Is Walter really such a treacherous rival? Is Marie treating his feelings with callous indifference or is it the other way around? Did some of the key events we witness even happen?
The question of how this will all resolve itself remains intriguing but the film's glum, doom-laden third act moves towards an all-too predictable conclusion.
Production company: Weydemann Brothers Gmbh, WDR Westdeutscher Rundfunk, SWR Südwestrundfunk
International sales: Weydemann Brothers info@weydemannbros.com
Producers: Markus Kaatsch, Jakob Weydemann, Jonas Weydemann
Production design: Vanessa Locke
Editing: Hannah Schwegel, Jan von Rimscha
Cinematography: Max Preiss
Music: Felix Rosch
Main cast: Louis Hofmann, Liv Lisa Fries, Johannes Nussbaum, Ursina Lardi