Dir: Mira Nair. Uganda/South Africa. 2016. 124mins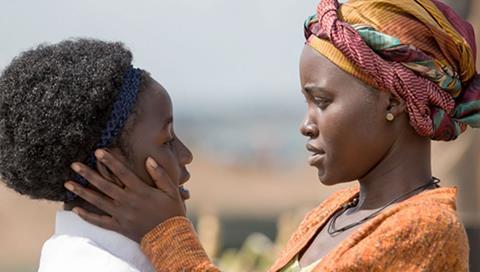 Queen Of Katwe tells a potentially touching story in the stodgiest of ways, its recounting of the journey of a young Ugandan chess prodigy sensitively rendered but also far too formulaic. Perhaps it's simplistic to say that director Mira Nair has fashioned a good-looking but Disney-fied version of actual events, and yet the studio's predictably uplifting-at-all-costs blandness slowly but methodically drains the material of its richness.
Queen Of Katwe is too dramatically tidy, each step of Phiona's remarkable path neutered of drama until it seems preordained.
Premiering in Toronto, Queen Of Katwe is set to arrive in US theatres on September 23. The presence of David Oyelowo and Oscar-winner Lupita Nyong'o will spark interest, as will the story's sports-movie framework. But outside of the family-film crowd, Disney may have a tough time wrangling audiences to this true-life tale.

Set in the impoverished Ugandan community of Katwe, the film introduces us to Phiona (Madina Nalwanga), a young, vivacious girl who lives with her siblings and widowed mother Harriet (Nyong'o) in the mid-2000s. She soon meets Robert (Oyelowo), who has a passion for chess that he wants to pass along to the local kids. Discovering that Phiona seems gifted at the game, he encourages her to enter competitions, in large part because he wants her to think about escaping a world in which she can't even afford schooling.

Based on a 2011 ESPN The Magazine profile, Nair's first feature since The Reluctant Fundamentalist is a tasteful, sympathetic look at people learning to cope in difficult circumstances. That's even truer for a young girl like Phiona, who faces resistance asserting her independence simply because she's a girl. (When Robert opens his chess program to Katwe's children, the boys insist she has no place competing against them. Quickly, she's the best of the group.)

But these precise cultural observations start to feel like mere grist for what is ultimately a familiar underdog story. With Robert serving as her mentor and her mother playing the unsupportive parental figure who thinks she should face reality and give up on her dream, Queen Of Katwe is too dramatically tidy, each step of Phiona's remarkable path neutered of drama until it seems preordained.

Oyelowo's kind-hearted performance stands out. Strict but also silly, Robert is more like a goofy older brother to Phiona than a coach, and indeed the characters' interactions outside of the de rigueur scenes of preparing for tournaments are among the film's best moments. And yet Robert — like just all chess coaches in the history of cinema — is quick to use every aspect of the game as a metaphor for life, an on-the-nose narrative device that's overdone no matter how much the actor invests in his speeches.
Newcomer Nalwanga is very likable, holding her own alongside her more-experienced co-stars.

As for Nyong'o, she's got the unenviable task of portraying a stern mother who comes to realise how special her daughter is. The Oscar-winner fills in Harriet's blanks — showing how her stubbornness is born from a fear of not raising her little girl's expectations too much in a society with few opportunities. Revealingly, Queen Of Katwe's most moving sequence occurs during the end credits when the actual individuals come and stand by the actors who portray them. Only then do we get a piercing sense of real-life hardship and struggle that the film too often soft-pedals for feel-good comfort.
Production companies: ESPN Films, John B. Carls Productions, Cine Mosaic, Mirabai Films
Worldwide distribution: Disney, http://movies.disney.com/all-movies
Producers: Lydia Dean Pilcher, John Carls
Executive producers: Will Weiske, Troy Buder
Screenplay: William Wheeler
Cinematography: Sean Bobbitt
Production design: Stephanie Carroll
Editor: Barry Alexander Brown
Music: Alex Heffes
Website: http://movies.disney.com/queen-of-katwe
Main Cast: David Oyelowo, Lupita Nyong'o, Madina Nalwanga