Dagmar Manzel and Rolf Lassgard give award-worthy performances as a married couple grappling with old age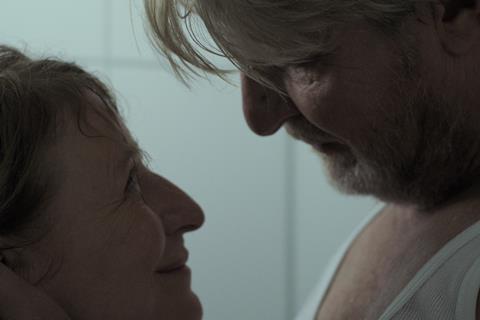 Dir: Wendla Noelle. Germany. 2021. 90 mins.
The infirmities and indignities of old age are examined and confronted with intelligent sympathy in Wendla Noelle's fiction-feature debut Quiet Freedom. Arriving nine years after Michael Haneke redefined the gerontocentric subgenre with Amour — not to mention Gaspar Noe's recent Vortex — this is a relatively conventional but competent and gently moving affair built foursquare around reliable veterans Dagmar Manzel and Rolf Lassgard's detailed work as long-time marrieds struggling to cope with the onset of their twilight years.

This is serious, downbeat material with only glimmers of optimism in the final reel
A world premiere in the Grosse Freiheit section of Hamburg restricted to domestic production — the section also includes (and even shares the name of) Sebastian Meise's current circuit hit, the similarly-titled The Great Freedom — should pave the way to decent arthouse returns in German-speaking territories. Elsewhere, it is a solid festival and small-screen proposition, Nikolai von Graevenitz's cinematography falling on the unobtrusive end of the visual spectrum. 


Like everything here, the camerawork is always at the service of the main performances. Having studied under Fatih Akin and Werner Herzog in her native Hamburg, Noelle went on to a brace of documentaries in 2007's The Chosen Ones and 2013 mid-lengther Make Me A Match. Here she displays evident rapport with her cast, giving Manzel and Lassgard room to etch convincing individual portraits and also display an authentic connubial connection (none of the supporting players are given much to chew on).
In their mid-sixties with a grown-up daughter Sarah (Anna Blomeier) living across the Oresund Bridge in Malmo, Juditha (Manzel) and Swedish-born Erik (Lassgard) still enjoy the physical sides of marriage — the film begins with the pair frolicking happily and sensually between the sheets. Major upheavals and developments follow in rapid succession as the bearishly ebullient Erik retires from his university teaching post and starts to experience health issues for the first time; Sarah reveals she is expecting her first child; and flinty Juditha's multiple sclerosis accelerates its symptoms, requiring her to (most reluctantly) use a wheelchair. "Don't turn me into a nursing case!" she defiantly pleads.
The script, by big-screen first-timer Greta Lorez, is most effective in the way it dramatises how both Juditha and Erik deal with their twin spirals of physical decline by means of stubborn denial, as illustrated by Juditha's insistence that she does not need a wheelchair and does not need diapers to combat the incontinence whose effects she finds so shaming. In a series of discrete episodes — given welcome momentum by Rune Schweitzer's brisk editing — we observe how Juditha and Erik's steady disintegration places a heavy strain upon their relationship, even to a potentially catastrophic degree, and how tiny pleasures can sustain the life-force amid encroaching gloom.
This is serious, downbeat material with only glimmers of optimism in the final reel — having pledged to his wife that the pair will recreate a sailing holiday of their earliest days together (the "big promise" of the original German-language title), Erik ends up making the trek alone, coming to terms with what he realises to be a dereliction of his husbandly duties. 


Like everything else in the picture, this climactic sequence is handled with tact and carefully modulated reticence. Indeed, there are times when the harshness of the picture's underlying theme — the taxing toughness of one's senior years — has its rougher edges smoothed out to an excessive degree. Overall there's a touch of beigeness about the enterprise, typified by Nina Mueller and Max Schneider's breathy, gentle-toned, marginally overused score, which ultimately prevents the blandly-titled Quiet Freedom from matching the vivid intensity of its award-worthy central performances. 

Production company: Tamtam Film
International sales: Pluto Film, info@plutofilm.de
Producers: Andrea Schuette, Nikola Bock, Dirk Decker
Screenplay: Greta Lorez

Production design: Iris Trescher-Lorenz
Editing: Rune Schweitzer

Cinematography: Nikolai von Graevenitz
Music: Nina Mueller, Max Schneider

Main cast: Rolf Lassgard, Dagmar Manzel, Anna Blomeier