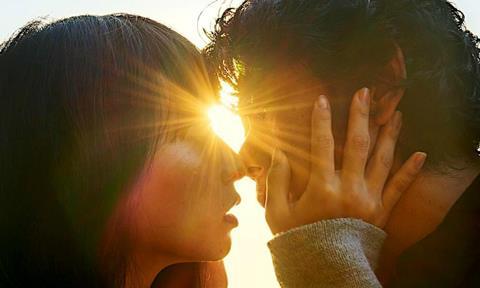 Dir/scr: Naomi Kawase. Jap/Fr. 2017. 101 mins.
Naomi Kawase uses the tentative connection between a partially-sighted photographer and a woman who writes film audio descriptions in this finespun exploration of beauty, impermanence and loss. Typically delicate and as gentle as a balm, the film's well-intentioned earnestness will not endear it to the more cynical end of the audience spectrum. But fans of Kawase's small scale personal dramas will respond to the film's wistful tone, as well as the plaintive prettiness of the photography.
Frequently bathed in honeyed magic-hour light, with a pleasingly diffuse and gauzy quality, the film looks terrific
Perhaps a little too mild-mannered to enjoy breakout arthouse success, the film should nonetheless be of interest to distributors in territories with an appetite for decorous Japanese cinema. The picture's use of disability as a device - respectful and heartfelt in approach, if not formally ground-breaking - could also be a selling point. Festival interest will undoubtedly follow the film's Cannes premiere, Kawase's fifth film to debut in a competition slot.
Through a series of discussions with blind advisors, Misako (Misaki Ayame) is crafting an audio description of a film for the benefit of visually impaired audiences. She reads along with the movie in her clear, chiming voice, and the panel feed back with conciliatory observations and delicately-worded tips for improvement. All except one. Nakamori (Nagase Masatoshi), once a world-famous photographer until a degenerative disease stole away his sight, is abrasive and blunt. His criticism rings across the room like a slap.
Even as she recoils from him, Misako becomes fascinated with this stern man who once made a living capturing the beauty that is now denied him. Meanwhile, Misako is reconciling with loss in her own life. Still grieving a father who disappeared mysteriously several years before, she must now come to terms with a mother who is receding into a mist of dementia.
Sent to Nakamori's apartment to deliver a piece of magnifying equipment, Misako spontaneously describes the light in the room to him; he briefly softens at her words. But at the next discussion session about the audio commentary, they clash. He describes her work as "terrible for people who don't know the film"; she flashes back, accusing him of lacking the imagination to create an interior movie using her words.
Fate throws them back together, however, and she is on hand to help him at the moment when his last sliver of sight is consumed by his deteriorating condition. A curious, muted kind of bond develops between them. An intimate moment in which he 'sees' her face with his hands is more erotically charged than the kiss they later share.
Frequently bathed in honeyed magic-hour light, with a pleasingly diffuse and gauzy quality, the film looks terrific. Equally impressive is the subtly heightened sound design, which captures the buffeting of the world around Nakamori. So effective is the sculpting of the audio component that the overused score, an incessantly rueful piano motif, seems particularly grating.
The film's use of visual metaphors is also a little heavy-handed: a burning photograph of a man's eye and a collapsing sand sculpture ensure that we don't miss the Radiance's comment on the fragility of beauty.
Production company: Comme des Cinémas, Kumie
International sales: MK2 films intlsales@mk2.com
Producers: Naoya Kinoshita, Masa Sawada, Yumiko Takebe
Cinematography: Dodo Arata
Editor: Tina Baz
Music: Ibrahim Maalouf
Sound: Roman Dymny, Boris Chapelle, Olivier Goinard
Main cast: Nagase Masatoshi, Misaki Ayame, Fuji Tatsuya, Shirakawa Kazuko, Kanno Misuzu