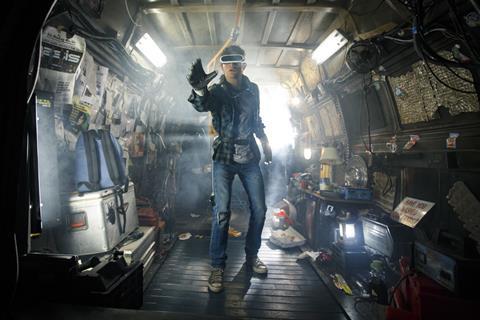 Dir. Steven Spielberg. US. 2018. 140 mins.
There's not quite enough skin in the game in Ready Player One, Steven Spielberg's adaptation of Ernest Cline's futuristic novel set substantially inside a virtual reality universe called the OASIS. And while there's no end of world-building in the set-up, there's still a disappointingly shallow feel to this artificial thriller in which avatars conjure up 'cheats' or weapons at will to escape fantastical situations without ever truly conveying a life-or-death urgency.
Ready Player One is a big, ambitious production which reflects Spielberg's continued appetite as a director. His last film, The Post – released mere months ago - was essentially set in a boardroom. Here he's flipped over to blend Tron with Charlie and The Chocolate Factory and cast his new 'muse' Mark Rylance as Willie Wonka by way of Steve Jobs. Ready Player One is something different for Spielberg, now 71, who has dealt with future 'reality' before, in 2002's Minority Report, but here targets the youth audience with a sci-fi family film which heavily references his own pop culture past.
CGI is best in small bursts, but Spielberg isn't in a rush to arrive at a conclusion
Settling in for a long ride (140 minutes), Ready Player One starts in a miserable Ohio in 2045, with society on the brink of collapse – another YA, dystopian vision in which Tye Sheridan, Olivia Cooke and other young misfits play poverty-stricken gamers devoted to maintaining the independence of the Oasis. They connect only inside the ever-expanding fantastical world where they either take on J-Pop-style avatars, with giant anime eyes, or larger-than-life visions of warriors they'd like to become.
The Oasis is suddenly up for grabs: its late, eccentric inventor James Halliday (Rylance) has buried the keys to his world and $3 trillion fortune inside the virtual universe itself. Gamers race each other by studying Halliday's life for clues to the three keys to the kingdom; the chases are an eye-popping blast of colour and adrenaline which mimic video games with swooping cameras and rapid-fire dissolves and rebuilds. They're impressive, but provide ever-diminishing returns – it's like standing behind a player, trying to see over their shoulder. This CGI is best in small bursts, but Spielberg isn't in a rush to arrive at a conclusion.
The lion's share of Ready Player One is set inside the Oasis, where the visual thrill attempts to compensate for the lack of humans in the frame. Outside, the world is contrastingly drab, with much use of headsets and gamer gloves. Unlike Minority Report, Ready Player One doesn't see Spielberg break new ground; he's willing to adapt current blockbuster tropes, with a team of heroes straight from the Marvel playbook and a villain (Ben Mendelsohn) without nuance or motivation past the corporate greed of his company IOI. Sheridan and Cooke's characters, the chaste teenage couple at the heart of Ready Player One, are also familiar. The film relies heavily instead on the visual wow-factor of the Oasis, and Halliday's obsession with 80s pop culture, which Spielberg turns into a film-literate homage to the era he first dominated.
As the real world in 2045 turns ever-uglier, its citizens obsess over a brighter past, allowing for the introduction of a "Zemeckis cube", for example, which moves the action inside the Oasis back six seconds (not every rule in the game here is quite so logical). It is also reflected in a score which takes in everything from Joan Jett to Joy Division and George Michael, films from The Breakfast Club, Ferris Bueller and the Iron Giant, and a T-Rex from Jurassic Park, a Mechagodzilla or a King Kong, Spielberg certainly has fun playing with a generous budget, and the audience is the beneficiary.
Sometimes, this referencing of the past is delightful: a video-game re-enactment around the sets of Stanley Kubrick's The Shining is both funny and thrilling. It's a lovely homage. But how much do you really want to think about Back To The Future when you're having a pretty mediocre present watching Ready Player One? This film, mostly shot in the UK, is technically suberb. But splitting the pleasures of virtual and reality, Ready Player One never fully satisfies on either front.
Production company: Amblin Entertainment
International distribution: Warner Brothers
Producers: Donald De Line, Dan Farah, Kristie Macosko Krieger, Steven Spielberg.
Screenplay: Zak Penn, Ernest Cline
Production design: Adam Stockhausen
Editing: Sarah Broshar, Michael Kahn
Cinematography: Janus Kaminski
Music: Alan Silvestri
Main cast: Tye Sheridan, Lena Waithe, Ben Mendelsohn, Mark Rylance, TJ Miller, Simon Pegg, Win Morisaki. Philip Zhao, Hannah John-Kamen