Louis Garrel takes on the role of Jean-Luc Godard for The Artist's Michel Hazanavicius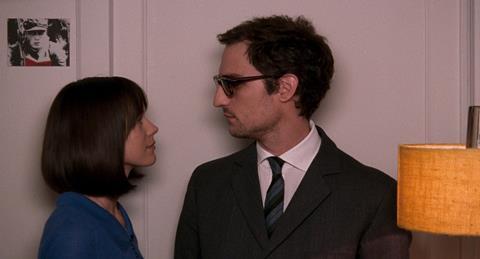 Dir. Michel Hazanavicius. France. 2017.107 mins
Arguably, more question marks hung over the prospect of Redoubtable than over any other film in Cannes this year. One reason was the idea of Michel Hazanavicius, director of the world-beating The Artist, seeming too mainstream a talent to take on a story about so radical and heavyweight a figure as Jean-Luc Godard. Another was that advance stills of Louis Garrel as Godard suggested the mother of bad hair days.
In many ways, the film is an act of impersonation, not least stylistically
And yet Redoubtable turns out to pretty much merit its title. It's a dazzlingly executed, hugely enjoyable act of stylistic homage, but also the poignant story of a dysfunctional marriage and an insightful recreation of a critical and contradiction-ridden period of modern French history. Only hardcore Godardians – a pretty unforgiving bunch – would reject it out of hand.
The film is the story of Godard's short-lived marriage to actress – and later novelist – Anne Wiazemsky, whose autobiographical work Un An Après (One Year Later) this is substantially based on. Much of the film is narrated in voice-over by Wiazemsky (Stacy Martin), who married Godard when he was 37 and she was 19, starring in his Maoist-influenced film La Chinoise. Divided into chapters, and largely set in the critical (for the couple and for France) year of 1968, the film traces their difficult relationship from La Chinoise until they split after collaborating on his radical 1970 film Vent d'Est.
Much of the film, admittedly, is centred on Godard – and on Garrel's magnetic performance – rather on Wiazemsky. She comes across some of the time as a bemused observer of her own experience; but this is in keeping with Wiazemsky's status as the inexperienced spouse of a major cultural star, and with the situation of women at a time when, despite other radical breakthroughs, machismo still reigned on the left. By the end, however, Wiazemsky has very much regained centre stage and emerged liberated and autonomous.
In many ways, the film is an act of impersonation, not least stylistically. Louis Garrel jettisons his usual, often distractingly narcissistic mannerisms to totally submerge himself in an evocation of Godard that isn't just imitation, despite certain vocal tics (lisp, sotto voce mutter, vaguely Swiss accent). But he compellingly and often very amusingly evokes a man tormented by self-doubt, political anguish and fear of ageing, combining melancholic vulnerability with streaks of buffoonishness (there's a neat running gag about JLG's propensity to break his glasses).
As for Stacy Martin, she doesn't remotely resemble Wiazemsky, but she neatly conveys a fragile coolness, and a keen intelligence that gradually emerges from behind the girlish inexperience.
Regarding the pastiche, DoP Guillaume Schiffman superbly channels the vivid palettes and precise compositions of Raoul Coutard's 60s camerawork, while Hazanavicius revels in his own versions of the disorienting visual, sonic and editing tricks associated with Godard – with the fourth wall taking numerous, very droll batterings. A soundtrack of largely period music sometimes misfires – Godardians and political purists may feel that a jazzily-scored recreation of the 1968 student uprising reduces modern history to nostalgic chic – but there's a brilliantly apposite use of Strauss's Four Last Songs in a domestic showdown modelled on Le Mépris.
Bérénice Béjo and Grégory Gadebois offer self-effacing but stalwart support as members of the couple's circle. After the critical drubbing meted out to Hazanavicius's last film, the earnest The Search (2014), he can take comfort in the fact that, even if his new film doesn't leave all viewers Breathless, he has absolutely no cause to say Hélas Pour Moi.
Production companies: La Classe Américaine, Les Compagnons Du Cinéma, Studio Canal
Sales agent: Wild Bunch, sales@wildbunch.eu
Producers: Michel Hazanavicius, Florence Gastaud, Riad Sattouf
Screenplay: Michel Hazanavicius, based on Un An Après by Anne Wiazemsky
Cinematography: Guillaume Schiffman
Production Designer: Christian Marti
Editor: Anne-Sophie Bion
Main cast: Louis Garrel, Bérénice Béjo, Grégory Gadebois, Stacey Martin, Micha Lescot