A German couple grapples with an overwhelming sensation of deja vu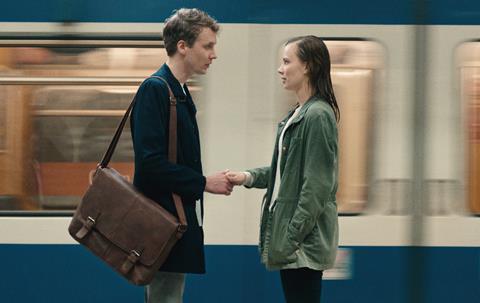 Dir/scr. Mariko Minoguchi. Germany. 2019. 111 mins
A supermarket employee grapples with a life-altering tragedy in Relativity, an everything-is-connected story which posits that for some couples, choices and paths are simply meant to be. There's an early fanciful, wistful air to writer/director Mariko Minoguchi's feature, yet, to the credit of lead actress Saskia Rosendahl (Never Look Away), it also offers significant emotional depth. After premiering at Filmfest München in June, a German release is slated for November, and further festival play is a possibility.
Minoguchi's script has an obvious trick up its sleeve, although that's its least interesting element
Relativity offers no shortage of reminders that time may not be as linear as we believe. "Have you ever met someone and felt like you've known them for a lifetime?" asks physics student Aron (Julius Feldmeier) in the film's opening scene. When Relativity shows how this sensation can feel in everyday life, it gives weight to what initially seems like whimsy. To get to the honest, affecting core of the movie, however, requires wading through the scene-setting twists and turns that fill its first third.
When he's not studying temporal symmetry, Aron spends his time with his lover, ice skater-turned-checkout worker Nora (Rosendahl), until his attempted heroics during a bank robbery tear them apart. He was fond of opining that they were destined to come together, while she thinks their relationship just arose by mere coincidence — a juxtaposition that plays on her mind as she attempts to move on. Then Nora meets Natan (Edin Hasanovic), who keeps popping into her life at unexpected junctures as Aron once did.
Relativity splits its time between Nora and Natan, stressing parallels in her aimless mourning and his own life-and-death troubles. This doting father is not only desperate to save his cancer-stricken young daughter, but determined to do whatever it takes to fund her treatment. As the film flits between its two perspectives, Minoguchi's script has an obvious trick up its sleeve, although that's its least interesting element. When it encroaches on Nora's headspace — and, more specifically, when it shows how memories of happier moments keep encroaching on her headspace — it finds a compelling example of the slippery nature of time, tapping into the wholly relatable, often grief-driven experience of spying echoes of the past on every corner.
Through evocative imagery and finessed pacing, cinematographer Julian Krubasik and editor Andreas Menn play a substantial part in aligning viewers with Nora's thoughts and feelings. When present-day events jump back to the past, the movie slides fluidly, allowing the audience to take stock of where they've just been taken. And, when the tale moves towards its ultimately foreseeable conclusion, the richness of Relativity's visual storytelling adds a texture to a narrative that begins to fade.
One laidback and hopeful, the other moody and brooding, Feldmeier (Babylon Berlin) and Hasanovic (You Are Wanted) each acquit themselves well enough; however, performance-wise, this is Rosendahl's film. Combining the verve of her turn in Never Look Away with the thorniness of her breakout role in Lore, she's a naturalistic ball of internalised conflict — and, fittingly, Relativity's constant centre.
Production companies: Trimafilm GmbH, BerghausWöbke Filmproduktion GmbH
International sales: Global Screen GmbH, info@globalscreen.de
Producers: Trini Götze, David Armati Lechner, Thomas Wöbke
Cinematography: Julian Krubasik
Editing: Andreas Menn
Music: Jack Ritchie
Production design: Francis Kiko Soeder
Main cast: Saskia Rosendahl, Edin Hasanović, Julius Feldmeier