Stellan Skarsgård and Nina Hoss headline Volker Schlondorff's rumination on long lost love, co-written by Colm Tóibín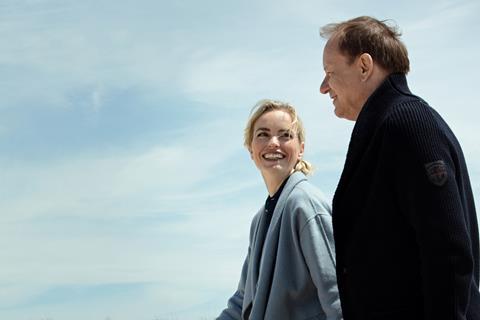 Dir. Volker Schlöndorff. Germany/France/Ireland. 2017. 106 mins
A writer in his sixties and the lawyer who was his lover nearly twenty years before reconnect when he visits New York on a book tour. But they find that they differ on the respective roles that they played in each other's narrative, and on the shape of the story to come. In Stellan Skarsgård and Nina Hoss, Volker Schlöndorff's study of romantic nostalgia has a pair of fine lead actors. However they struggle with the lethargic pacing and the material's somewhat maudlin approach to the past.
Always a very physically expressive actor, Stellan Skarsgård conveys the restless dissatisfaction of his character brilliantly.
Conservative in its filmmaking but heartfelt nonetheless, this is a picture which, with its literary and philosophical references, will hold most appeal for a mature audience. The name recognition of novelist Colm Tóibín (Brooklyn), who co-wrote the screenplay with Schlondorff, plus the arthouse credentials of Skarsgård and Hoss, should provide a marketing angle for festival screenings or even a theatrical release. However the film lacks the dynamism to become a word-of-mouth success. Intimate in its drama and handsomely styled in a crisp linen, Aran knitwear and windswept beaches kind of a way, the film might be best suited for television or other platforms.
Skarsgård plays Max, a novelist whose latest book is a not-even-thinly-veiled autobiographical account of the death of his father and the great regrets of his, Max's, life, both of them women. His philosopher father reveals to him on his deathbed that there are only two things that matter: the thing that you did do and regret, and the thing that you didn't do. Rebecca (Hoss) falls into the second category. They had a fling when she was an East German student in New York, shortly after the fall of the Berlin Wall. But the relationship foundered when Max flitted off around the world from woman to woman.
Now, in his autumn years, Max has become convinced that Rebecca was 'the one', his lost chance at happiness. Inconveniently, though, Max is married. His younger wife, Clara (Susanne Wolff) has been working in New York for a publishing company and is eager to share with him her experiences of the city. Wolff is charming in the role, but perhaps could have done with a few more scenes to bolster the character. As it is, Clara doesn't feel as fleshed out as she needs to be to work as the third corner of this relationship triangle.
Always a very physically expressive actor, Skarsgård conveys the restless dissatisfaction of his character brilliantly. He glumly knocks back a vodka shot in a bar with ironic pineapple lights and a clientele of carefree young media people. He's as twitchy as a recovering addict who has just realised he's around the corner from his dealer. When his telephone overtures to Rebecca are met with lukewarm disinterest, he goes to her office, intending to fling himself on her mercy.
His war of attrition works. Rebecca softens and invites him on a day trip to Montauk on Long Island, a place which hold memories for both. This opens the way for them to rake over their long-extinguished relationship in an overly wordy romantic autopsy. A lachrymose orchestral score accompanies throughout. What energy the picture had in New York's literary world dissipates as the film turns into the kind of conversation which is only really interesting for the two people it concerns.
Production company: Ziegler Film, Volksfilm, Pyramide Production, Savage Production
International sales: Gaumont Alexis.cassanet@gaumont.com
Producer: Regina Ziegler, Volker Schlöndorff, Francis Boespflug, Stéphane Parthenay, Conor Barry
Screenplay: Colm Tóibín, Volker Schlöndorff
Cinematography: Jérôme Alméras
Editor: Hervé Schneid
Production design: Sebastian Soukup
Music: Max Richter, Thomas Bartlett, Caoimhin O'Raghallaigh
Starring: Stellan Skarsgård, Nina Hoss, Susanne Wolff, Niels Arestrup, Isi Laborde, Bronagh Gallagher, Mathias Sanders, Malcolm Adams