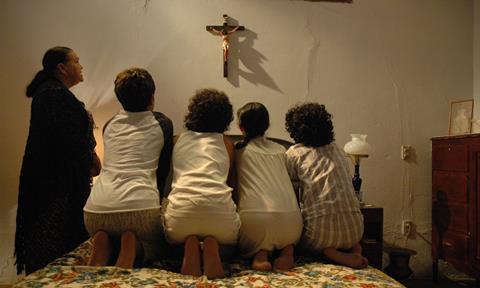 Dirs: Fernando Eimbcke (The Welcome Ceremony), Patricia Riggen (Beautiful & Beloved), Gael Garcia Bernal (Lucio), Amat Escalante (The Hanging Priest), Carlos Reygadas (This Is My Kingdom) , Mariana Chenillo (The Estate Store), Gerardo Naranjo (R-100), Rodrigo Pla (30/30), Diego Luna (Pacifico), Rodrigo Garcia (7th And Alvarado). Mexico. 2010. 100mins.
The 1910 Mexican Revolution, which overthrew dictator Porfirio Diaz, completely changed the structure of a feudal and theocratic society. A century later, despite the country's many problems, Mexicans are a justifiably proud people, and their film artists share their enthusiasm. Diego Luna and Gael Garcia Bernal's company CANANA and their producing partner Pablo Cruz are the main forces behind Revolucion, a portmanteau directed, for the most part, by the best and brightest of the post-Cuaron/Inaritu generation.
After his poorly-received debut feature Deficit, Gael Garcia Bernal delivers a well-made, substantial short about the dangerous confusion between symbols and the concepts behind them
With 10 episodes taking a state-of-the-nation snapshot over a brief-for-the-format 105 mins, Revolucion is that rarity: a mostly successful omnibus project that could be well received critically, should become a staple of the festival circuit, and stands a strong chance of modest commercial success in Spanish-language markets.
The two most impressive segments bracket the film. They are as different as night and day and point to the diversity of styles and scripts on display. Revolucion opens with The Welcome Ceremony, by Ferndando Eimbcke (Duck Season, Lake Tahoe). It is shot in black and white, takes place in a small Mexican village, and only obliquely addresses the subject of revolutionary homage. A small orchestra prepares a welcoming ceremony. Dry comic relief is provided by an off-key tuba player who just can't stop practicing. Ultimately no one arrives for the event, but this odd fellow persists anyway. The political metaphor is apparent.
The final short , 7th And Alvarado, is shot in seductive slow-motion and color, and set in Los Angeles. It is directed by experienced US-based film-maker Rodrigo Garcia, whose features include the upcoming Mother And Child. Mexican residents of one barrio, who walk in front of charmless stores, cell phones in hand, are suddenly joined by revolutionaries from a century ago on horseback, as if this were an episode of The Twilight Zone.
Surveying the empty legacy of their brave battle against formidable odds, their eyes express a mild melancholy that is devastating for the audience. That the film ends on such a note of realistic pessimism is the flip side of Eimbcke's optimistic musician, who sits alone, puffing away even when the screen turns black.
After his poorly-received debut feature Deficit (2007), set on a wealthy estate, with superficial twentysomethings flitting around mindlessly, Gael Garcia Bernal surprises here with Lucio, a well-made, substantial piece about the dangerous confusion between symbols and the concepts behind them. A grandmother is more concerned with her grandson's handling of a wooden crucifix, attaching a false gravitas to the thing itself rather than to the ideas it signifies, to the boy's potential detriment. The youth wins out, however, by skipping school in favour of venturing out to savour Mexico's unique natural beauty, standing and staring in wonderment. The piece oozes with healthy affection for the country, one that Garcia's exhausted revolutionaries would have approved of.
The most surprising short is wunderkind Carlos Reygadas's This Is My Kingdom, an assault not only on the viewer's senses — pounding music, overdone handheld visuals, shots of people celebrating mindlessly around a bonfire built around a car — but also on the Mexican character, as with the misanthropic Battle In Heaven(2005). In lesser hands, this would not be anything to write about, but that the cinematic genius who made the ethereal Japon (2000) and Stellet Licht (2007) would come up with such a literally unsightly segment disappoints, to put it mildly.
To sign up for Screen's weekly Reviews Newsletter with all the week's new releases, international openings and full festival reviews delivered free to your mailbox every Friday, please click HERE
Production companies
CANANA
IMCINE
Tequila Tres Generaciones
International sales
Celluloid Dreams
(33) 1 49 70 03 70
Producer
Pablo Cruz
Screenplay (in sequence)
The Welcome Ceremony: Fernando Eimbcke
Beautiful & Beloved: Patricia Riggen, Jorge Riggen
Lucio: Gael Garcia Bernal
The Hanging Priest: Amat Escalante
This is My Kingdom: Carlos Reygadas
The Estate Store: Mariana Chenillo
R-100, Gerardo Narajno, Mauricio Katz
30/30: Laura Santullo
Pacifico: Diego Luna, Gabriel Nuncio
Cinematography (in sequence)
Alejandro Cantu
Checco Varese
Lula Carvalho
Lorenzo Hagerman
Gerardo Barroso
Geronimo Denti
Gerardo Naranjo
Emiliano Villanueva
Patrick Murguia
Sean Coles
Main cast (in sequence)
Ansberto Flores Lopez, Jose del Rosario, Aguilar Hernandez
Adriana Barraza, Carmen Corral
Aldo Carpintero Bernal, Benny Emmanuel Mendoza Yirene
Cirilo Recio, Hector Cortes Barrientos
Monica Bejarano, Gerardo Trejo Luna
Noe Hernandez, Manuel Jimenez
Justo Martinez, Ignacio Guadalupe
Ari Brickman, Angeles Cruz
Paul Cabrera, Antonio De Haro