Critics Week opens with an enjoyable odd-couple drama starring Gerard Depardieu and Deborah Lukumuena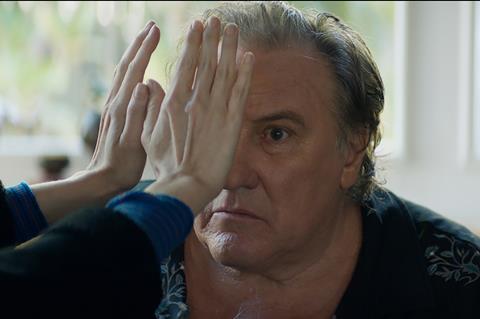 Dir/scr: Constance Meyer. France. 2021. 95 mins
Larger than life in all conceivable ways, Gérard Depardieu can be a disruptive, unsteadying presence in films which fail to cater to the fact that he brings generous helping of Depardieu to any role he plays. Constance Meyer's highly enjoyable Critics Week opener Robust not only takes this on board, it runs with it, casting Depardieu as George, an ageing French actor with a tendency to crash motorbikes and to embark on drunken misadventures. "France without meat isn't France," he grumbles at one point, which is possibly the most Depardieu thing that anyone has ever said. The film's secret weapon, however, is Déborah Lukumuena, supremely assured as Aïssa, the temporary security guard with whom George forges a grudging friendship.
Sharp writing, perceptively sketched characterisation, and a lovely, largely acapella score emphasise the very human aspects of this odd-couple friendship
It's the first feature from French writer/director Meyer, but her third time working with Depardieu, who starred in her award-winning 2016 short Rhapsody and her 2018 short Le Belle Affaire. But while Depardieu is certainly the selling point of a film which will be distributed in France by Diaphana and seems likely to catch the eye of arthouse distributors elsewhere, the picture is evenhanded in its approach. It is Aïssa, we realise, who is the more intricately drawn character and, in her own self-possessed way, the stronger personality. The unexpected dynamic of the friendship between them is at least as entertaining as George's boozy misbehaviour.
Petulant and needy, George has been infantilised by a lifetime of fame. His regular security guard, the long-suffering Lalou (Steve Tientcheu), is also his only friend, his assistant and his conscience. "Did you use the treadmill?" asks Lalou, eyeing George's immense girth. "I'm busy now," says George, through a mouthful of snacks. He's constantly comfort eating, meaty fists pounding walnuts open; grazing noisily at the craft services table during the rehearsals for his next film. But there's a void in his soul that all the biscuits in the world can't hope to fill.
Aïssa, meanwhile, seems rather more comfortable in her own skin. She's big, something that she uses to her advantage during the amateur wrestling bouts in which she competes. A casual relationship with Eddy (Lucas Mortier), a colleague, meets some, if not all, of her relationship needs. She takes pride in her job. She is, she explains patiently to George, exactly where she is meant to be. Lukumuena, who won a Cesar for Best Supporting Actress for her performance in Divines, brings an emotional solidity and strength to the role to match the character's physical power. Her measured dignity is a satisfying counterpoint to Depardieu's comically fractious presence.
Meyer wisely resists the temptation to include much in the way of life-changing learning moments. Both characters grow, but both remain largely the same people, for better or worse, that they were at the film's opening. And the picture is no less rewarding for the lack of a big meaningful emotional revelation. Instead, it leans on sharp writing, perceptively sketched characterisation, and a lovely, largely acapella score which emphasises the very human aspects of this odd-couple friendship.
Production company: Dharamsala
International sales: Indie Sales cchautant@indiesales.eu
Producer: Isabelle Madelaine
Cinematography: Simon Beaufils
Editor: Anita Roth
Production design: Julia Lemaire
Music: David Babin (BABX)
Main cast: Gérard Depardieu, Déborah Lukumuena, Lucas Mortier, Megan Northam, Florence Janas, Steve