Denzel Washington stars in director Dan Gilroy's follow-up to 'Nightcrawler'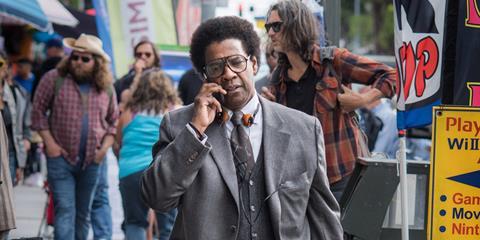 Dir/scr. Dan Gilroy. US. 2017. 129mins
Denzel Washington gives a terrifically off-kilter performance in Roman J. Israel, Esq., a fascinating and flawed character study that frustratingly can't meld all its ambitions into a coherent and satisfying whole. Writer-director Dan Gilroy presents the story of a profoundly peculiar attorney who responds to an unexpected moral crisis in a manner which is as unpredictable as anything else in this overlong, thoughtful film. As a result, Roman keeps us engaged, even charmed, by its scrappy spirit — even as it goes off the rails.
The audience may not be sure what to make of Roman, but Washington's commanding performance leaves no doubt that the Oscar-winning actor understands him completely
Premiering in Toronto, this Sony release goes out in the US on November 3, no doubt hoping for awards consideration. With a cast that also includes Colin Farrell and Carmen Ejogo, Roman will cater to adult audiences, but mixed reviews and uneven execution could limit the film's commercial prospects and word-of-mouth.
Gilroy, who previously made the Oscar-nominated Nightcrawler, introduces us to another idiosyncratic individual — albeit, one far less dangerous. Roman Israel (Washington) is a Los Angeles lawyer and long-time civil rights activist who is forced to find a new firm after his current company is dissolved. He meets George (Farrell), who heads a powerful criminal defence firm which hires him, believing that his idealism and activism can help attract a different, less affluent clientele.
What's especially rewarding about Roman is that we're never quite able to get a lock on its main character. Combative, passionate and socially awkward, Roman simply doesn't act like the people around him, and although he's extremely bright, it's unclear if he has emotional issues, is a savant or is simply extremely odd.
The audience may not be sure what to make of Roman, but Washington's commanding performance leaves no doubt that the Oscar-winning actor understands him completely. There's an internal logic to this lawyer's uncomfortable, prickly behaviour, and Washington conveys a vulnerability that's rare for him, giving us a portrait of a proud, anxious man who has advocated for the marginalised for so long that he views every situation as a potential battle.
For the film's first half, Gilroy lets the character slowly define himself, teasing out small details of Roman's life that serve as tantalising background. (For instance, why does he insist on wearing such beaten-up suits?) Roman often feels more like a profile than a tightly plotted affair, but Gilroy and Washington exude such curiosity and empathy for this hard-working, civic-minded attorney that we too get drawn into discovering what makes him tick. At the same time, the filmmaker explores the effectiveness of grassroots advocacy and the inequalities in the American criminal justice system, giving the viewer much to ponder beyond Roman himself.
Eventually, though, Gilroy has to introduce some narrative thrust, and it's here that Roman begins to wobble. A client charged with homicide has information on the actual shooter, a revelation that spurs Roman to make a decision that goes against his modest, virtuous demeanour. Washington hints at Roman's unexpected act earlier in the film, weaving it into the tapestry of a character who rarely reveals exactly what he's thinking. But even so, Roman doesn't entirely sell its protagonist's transformation, which makes it even harder to accept everything that follows after that surprising deed.
As a hotshot lawyer who is initially wary of Roman's high-minded ethics, Farrell skilfully plays a man who rediscovers his moral compass. And Ejogo brings an openness to her somewhat programmatic role of a young activist who comes to view Roman as a role model. The two characters could almost fall in love — if they weren't so far apart in age, and if Roman wasn't such a deeply unusual fellow.
Production companies: Columbia Pictures, Macro Media, Topic, Cross Creek Pictures, Bron Creative, The Culture China – Image Nation Abu Dhabi Content Fund, Jennifer Fox Productions, Escape Artists
Worldwide distribution: Sony Pictures, www.sonypictures.com
Producers: Jennifer Fox, Todd Black, Denzel Washington
Executive producers: Brian Oliver, Betsy Danbury, Charles D. King, Kim Roth, Poppy Hanks, Michael Bloom, Adam Pincus, Aaron L. Gilbert, Alex Lebovici, Steve Ponce, Derek Dauchy, Ben Ross
Cinematography: Robert Elswit
Production design: Kevin Kavanaugh
Editor: John Gilroy
Music: James Newton Howard
Main Cast: Denzel Washington, Colin Farrell, Carmen Ejogo, Lynda Gravatt, Amanda Warren