An Irish woman and her family find themselves facing homelessness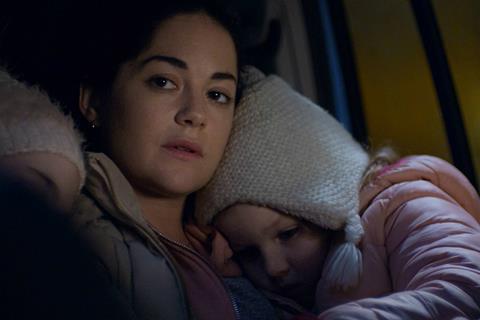 Dir: Paddy Breathnach. Ireland. 2018. 86mins
Director Paddy Breathnach ventures into Dardenne Brothers terrain with Rosie, a plaintive tale of a family struggling to stay afloat in the wake of becoming homeless. A modest, social realist drama, its air of familiarity does not diminish its impact as a heartbreaker. The reputation of Breathnach and screenwriter Roddy Doyle should attract further festival invitations following its Toronto premiere, and possibly some commercial interest.
The film unfolds over 36 hours and is notable for its sense of restraint
A cacophony of news headlines baldly establishes that Ireland has one of the highest rates of family homelessness in Europe. Soaring rents and low housing stock have created a growing crisis. One casualty of this crisis is Rosie (Sarah Greene). Rosie, her partner John-Paul (Moe Dunford) and their four children have rented the same house in Dublin for seven years. Once the landlord decides to sell, they struggle to find or afford an alternative. Now, they are adrift, slowly surrendering any sense of stability that might once have governed their lives.
John-Paul works as a kitchen porter, the older children attend school and proud Rosie is determined to keep up appearances. Her life is a small triumph of weary optimism over bitter experience. Every day she works her way through a council list of temporary accommodation trying to find somewhere to stay for a week, a few days or even one night. The endless telephone calls become a kind of mantra that starts with hope and ends in dejection.
The film unfolds over 36 hours and is notable for its sense of restraint. There is nothing in the family's plight that is made to seem extraordinary or melodramatic. These are just everyday individuals coping with a change of circumstances. Breathnach and Doyle stress that this is a tight knit family unit filled with love and affection. Their situation may be grim but there is humour, acts of solidarity and moments of rebellion. The adults are doing the best they can in a situation that goes from bad to worse as their world shrinks down to the car they own. The vehicle serves as a sanctuary, a place to store bags of clothes and toys and the one place they have to call their own.
Observed with sympathy, Rosie inexorably escalates the family's sense of desperation. Cinematographer Cathal Watters makes effective use of handheld close-ups to focus on Rosie and her frantic efforts to keep the family together. An accumulation of incidents and defeats increases the sense of life closing in on them. Stephen Rennicks' sentimental score sometimes feels at odds with an otherwise sober, sombre tale.
The naturalistic performances are impressive throughout, with Sarah Greene conveying the pressures on a woman striving to remain positive against all the odds. There is a strong sense of Rosie being just one more disappointment away from letting her anger and desperation break through a surface of weary resilience.
Production company: Element Pictures
International sales: Protagonist Pictures info@protagonistpictures.com
Producers: Emma Norton, Rory Gilmartin, Juliette Bonass
Screenplay: Roddy Doyle
Production design: Mark Kelly
Editing: Una Ni Dhonghaile
Cinematography: Cathal Watters
Music: Stephen Rennicks
Main cast: Sarah Greene, Moe Dunford, Molly McCann