Locarno's Golden Leopard winner is a sensually intimate character study tackling hot-button subject matter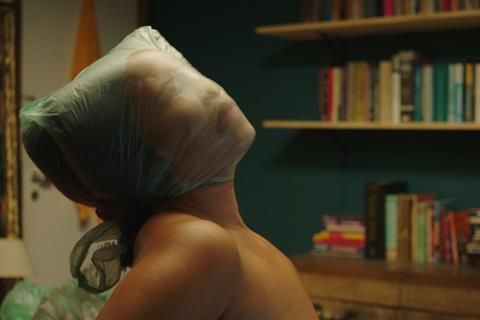 Dir: Julia Murat. Brazil/France. 2022. 100 mins.
A surprise winner of the Golden Leopard at Locarno — Brazil's first such triumph since Glauber Rocha's Terra em transe back in 1967 — Rule 34 is an intriguing and ambitious third feature from director/co-writer Julia Murat. A sensually intimate character study of Simone, a multifaceted, thirtyish Black woman in bustling Rio de Janeiro, it boasts a strong central performance by newcomer Sol Miranda that retains interest and sympathy throughout.
A picture which is itself incongruously content to remain stylistically conventional
The Locarno success will guarantee plentiful further big-screen exposure for a film which attempts to tackle several topical, hot-button issues simultaneously and is a sure-fire generator of audience discussion and future academic analysis. But while stimulating for the mind, this is far from a feast for the senses; indeed, the pervading TV-style flatness of Leo Bittencourt's visuals mean the film will lose little impact on the small screen. The frank handling of sexual matters, including BDSM and auto-asphyxiation, render it strictly a late-night, adults-only proposition for adventurous broadcasters.
Murat — whose first two feature-length films Found Memories (aka Things That Exist Only When Remembered, 2011) and Pendular (2017) achieved measures of international attention — kicks off Rule 34 in medias res as Simone titillates her online fans with masturbatory "cam" antics. It turns out that she is engaged in a 21st century version of working her way through college, funding her legal aspirations — she is training to be a public defender — through the proceeds from her page on the globally renowned porn website Chaturbate.
Structured as a series of mainly short, episodic vignettes, the screenplay (co-written with Gabriela Capello, Rafael Lessa and Roberto Winter) allows us to observe Simone at work, rest, study and play against an unfussily-sketched evocation of Rio. She is a proud feminist in a country which suffers from, we are informed, the world's fifth-highest rate of femicide (and where "a woman is killed every two hours"). Indeed, Simone is a Black woman fiercely conscious and critical of the effects of long-standing patriarchal structures. "You can hold an exhibition of me tied up to reiterate all the historical images that are attached to my body," she jokingly informs her BDSM-savvy BFF Nat (Isabella Mariotto).
An enthusiastic spare-time kickboxer, Simone takes part in a loose-ish menage a trois with her pals Coyote (Lucas Andrade) and Lucia (Lorena Comparato), all apparently bisexual to various degrees. By contrast, she seldom meets Nat in real life, but the pair maintain chatty closeness with regular video contact. Simone is thus very much a woman of her time, articulate and screen-addicted, self-questioning and closely engaged in social matters, keen to push the boundaries of her sexuality — even though this is a picture which is itself incongruously content to remain stylistically conventional.
In the film's second half, during which Lucas Marcier and Maria Berlado's poundingly intense score is increasingly deployed, Simone's experimentation leads her into "dangerous" zones of sadomasochism and asphyxiation (either auto- or in tandem with Coyote). She is urged towards the latter by her most avid online follower, whose handles are variations on "Mr Cock 2020"; the anticipation leading up to this shadowy figure's in-person assignation with Simone provides Rule 34 with its suspenseful climax.
The very last image, a 75-second shot in which Simone experiences and displays a convincing range of emotions as "Mr Cock 2020" impatiently pounds on her door, is by some way the strongest moment in the film. Miranda rises to this tricky challenge in a manner that recalls iconic final close-ups such as Garbo in Queen Christina, Bob Hoskins in The Long Good Friday and Mia Farrow in The Purple Rose Of Cairo.
Miranda's sensuality and empathy give Rule 34 (the legal-sounding title taken the dictum that says everything which exists will rapidly yield a porn equivalent) a crucial human dimension, leavening the script's didactic tendencies and its theoretical disquisitions masquerading as dialogue. "The relationship between the functionalist theory and that of criminal cultures is not one of reciprocal exclusion," notes Simone during a study session in her flat — the racket of Rio audible through her open window, and visible behind her sparkly pink dildo.
Production companies: Esquina Filmes, Bubbles Project

International sales: Esquina Filmes, producao@esquina.art.br
Producers: Tatiana Leite, Julia Murat

Screenplay: Gabriela Capello, Julia Murat, Rafael Lessa, Roberto Winter

Cinematography: Leo Bittencourt

Production design: Leticia Campos

Editing: Beatriz Pomar, Julia Murat, Mair Tavares

Music: Lucas Marcier, Maria Berlado

Main cast: Sol Miranda, Lucas Andrade, Lorena Comparato, Isabela Mariotto