Directors' Fortnight opens with Pietro Marcello's unusual period semi-musical drama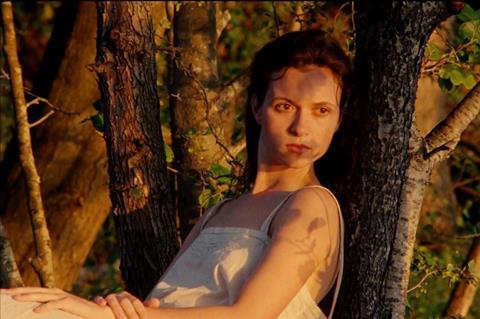 Dir: Pietro Marcello. France/Italy. 2022.100mins
A sometimes bucolic, sometimes harsh ode to soldiering on as a civilian after the horrors of the First World War, Scarlet (L'Envol) captures the simple pleasures and simmering resentments of life in a poor rural village in France from the late teens into the 1930s. Shot on film with the proud grain and pale colours of archive footage (snippets of which are smoothly incorporated), this leisurely and affecting tale, which opens the Directors' Fortnight in Cannes, is quietly rewarding thanks to an excellent cast whose faces we observe in frequent close-ups as their dirt-poor characters do their very best with scant resources.
The entire film can be read as an informal rebuke to the pace of modern life with its virtual pursuits, jittery impatience and information-based economy.
Choice vintage footage shows us cartloads of weary men in battered uniforms on country roads, peasants and oxen walking through fields. Especially in the early reels, Marcello demonstrates that the visual vocabulary of early cinema is still available to us and, in the right hands, a fine way to explore human emotions. Later the director's camera (he does his own framing) will linger on insects, individual leaves on trees, reflections in a stream; effective visual shorthand for how the world was shattered and recovering just a century ago and that life goes on whatever the poverty or sorrow.
At the heart of the tale is the relationship between a girl and her father, Raphaël (Raphaël Thiery) who, at the outset, we see limping across fields to eventually show up at the farm door of Madame Adeline (Noémie Lvovsky, marvellously earthy and kind). She introduces Raphaël to his infant daughter, Juliette. Raphael's wife died not long after the baby's birth but, it turns out, not for the reasons one might think.
Taciturn but decent, Raphaël has no idea why he gets stared at unkindly as he tries to settle in. As depicted here, it's hard to beat hostile French peasants when it comes to staring.
Madame Adeline can't pay Raphaël to do chores but lodges him and becomes a surrogate mother to adorable, curious little Juliette. In addition to being a skilled woodcarver, Raphaël plays the accordion and repairs a piano on which Juliette will develop her gift for singing and songwriting as she grows up. (The director himself wrote the poetic-in-the-popular-vein lyrics to several of the songs which crop up with increasing regularity.) The owner of a furniture and boat-building business begrudgingly adds Raphaël to his half dozen employees. Raphaël's late wife was appreciated by all, but everybody except Adeline and the neighbouring blacksmith and his wife seem to have something against him.
Juliette (played by three child actors before blossoming into striking newcomer Juliette Jouan) is singled out by the village teacher as smart enough to study in the nearest city. But Juliette wouldn't dream of leaving her father, who has branched out into making ingenious wooden toys after being let go from the wood mill under unfair pretences. So, unlike the director's startling adaptation of Jack London's Martin Eden, this isn't one of those movies where a diamond in the rough, through the miracle of education, moves out and up in the wider world. That said, an old woman with failing eyesight who lives in the woods and is given to prophecy (scruffy Yolande Moreau, playing her outsider earth mother role without irony) impresses upon proud independent Juliette that one day scarlet sails will appear and change her life.
There is a great emphasis on what can be accomplished with human hands such as woodworking or blacksmithing, playing a musical instrument or writing down musical notes. Although most of us are fond of indoor plumbing and penicillin, the entire film can be read as an informal rebuke to the pace of modern life with its virtual pursuits, jittery impatience and information-based economy.
Newsreels show us that in urban areas modern inventions are increasingly plentiful and consumerism for its own sake is starting to replace owning the bare necessities. When Madame Adeline's furniture is confiscated to cover her no-good absent husband's debts, it is just one of several nods to how females get a raw deal. An old woman who toils at the sawmill asks on payday why she earns less than the men do. Her boss finds the question slightly silly. "This can't go on much longer," she says. (Sorry lady — it turns out it can.) There are potent references to ancient healing arts and benevolent witchcraft.
We meet a drunken Jean (Louis Garrel), an aviator, after he has gambled away his plane. One day, flying as a duo in his friend's biplane, they make an emergency landing. Under the informal rules of fables and screenwriting, Juliette and Jean should end up together because they are the two most attractive young people in the movie. That may or may not be how things work out, but the suspense and yearning is nicely depicted.
Gabriel Yared's varied score is a plus.
Production Company: CG Cinéma
International Sales: Orange Studio, contact.orangestudio@orange.com
Producer: Charles Gillibert
Screenplay: Pietro Marcello, Maurizio Braucci, Maud Ameline, with the collaboration of Geneviève Brisac, based on Alexander Grin's 1923 Russian novella 'Scarlet Sails'
Cinematography: Marco Graziaplena
Production Design: Christian Marti
Editing: Carole Le Page, Andrea Maguolo
Music: Gabriel Yared
Main cast: Raphaël Thiery, Juliette Jouan, Noémie Lvovsky, Louis Garrel, Yolande Moreau