Harris Dickinson stars in this Sundance award-winning drama about a grieving 12-year-old who attempts to reconnect with her father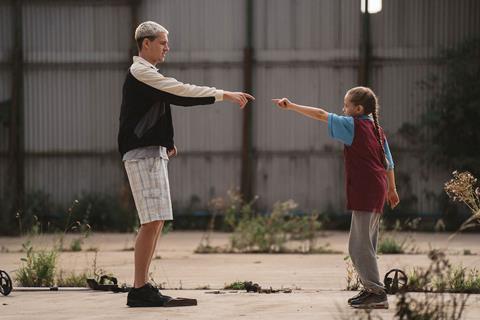 Dir/scr: Charlotte Regan. UK. 2022. 84mins
Following the death of her mother, a resourceful 12-year-old girl gives social services the slip and continues to live alone in their flat, somewhere on the fringes between London and Essex, until her estranged father makes an initially unwelcome reappearance in her life. To describe the feature debut from Charlotte Regan - which took the top prize in the World Dramatic section at Sundance - as an urban fairytale fails to capture just how unconventional and idiosyncratic is this tale of a father and daughter struggling to connect, with talking spiders and a scrap metal tower to heaven. Stylistically bold and youthful in approach, if sometimes a little uneven, it's a picture packed full of ideas and fizzing energy.
The restless energy of pre-adolescence is captured by Regan's filmmaking techniques,
North Londoner Regan (a Sundance Ignite fellow and 2020 Screen Star Of Tomorrow) started out directing micro-budget music videos for local rappers and subsequently progressed to a prolific short film career, developing a distinctive and individual voice. She returns to Sundance with feature debut Scrapper, having previously screened her short film Fry-Up (2017) in competition at the festival (it went on to be selected for Berlin's Generation 14plus.) Other notable short films include Dodgy Dave and the BAFTA-nominated Stand-by, which both screened at Toronto. Picturehouse Entertainment holds UK and Ireland rights to Scrapper, which could appeal to an adventurous younger demographic, but might present a marketing challenge when it comes to luring teens into cinemas for something as quirky as this blend of magical and social realism.
Living alone and under the radar after the death of her mother, Georgie (Lola Campbell) has everything she needs: a friend, Ali (Alin Uzun), a source of income (she's an adept bike thief) and her own, very personal, way of processing grief. What she doesn't need is a father. But she gets one anyway: her recently returned dad Jason (Harris Dickinson), who is 30 years-old but dresses and acts like an overgrown adolescent. Georgie is instantly suspicious of this feckless, peroxide-cropped stranger and his motives for belatedly re-entering her life.
The restless energy of pre-adolescence is captured by Regan's filmmaking techniques, some of which are more successful than others. The camera darts and skips with the haphazard attention span of a 12-year-old; jump cuts mimic the itchy social media scrolling finger of Georgie, who clings to her mobile phone – it contains snippets of footage of her mother that Georgie watches late at night, in moments of closely guarded privacy.
Less effective is a device in which characters talk directly to the camera about Georgie. Then there's the fact that the spider population of the otherwise spotless home (Georgie can't quite bring herself to vacuum up her arachnid flatmates) provides a sporadic narration, their words captured in video game speech bubbles. It's a giddily offbeat element that teeters close to wackiness, but somehow Regan pulls it off.
But for all the formal flourishes, the real meat of the story is in the tentative, blossoming relationship between Georgie and her dad. It's not, it has to be said, a dynamic that matches the raw emotional impact of the father-daughter relationship in Charlotte Wells' Aftersun. But Regan's playfulness has its own appeal, as she deftly positions Jason and Georgie as flipped mirror images of each other – one a child old before her time, the other an adult who is only just beginning to grow up.
Production company: DMC Film
International sales: Charades leonard@charades.eu
Producer: Theo Barrowclough
Cinematography: Molly Manning Walker
Production design: Elena Muntoni
Editing: Matteo Bini, Billy Sneddon
Music: Patrick Jonsson
Main cast: Harris Dickinson, Lola Campbell, Alin Uzun, Ambreen Razia, Olivia Brady, Aylin Tezel