Vanessa Redgrave delivers a thoughtful documentary on the global refugee crisis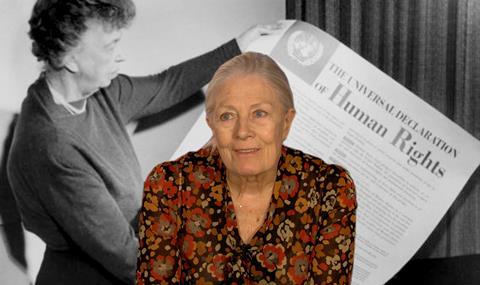 Dir: Vanessa Redgrave UK 2016. 74 mins
The personal and the political are carefully intertwined in Sea Sorrow, the directorial debut of veteran actor and human rights activist Vanessa Redgrave. Reflecting on the global refugee crisis, the 80 year-old Redgrave combines reportage, historical context, memoir and agitprop to create a thoughtful documentary that serves as a call to embrace a shared humanity with the vulnerable and displaced. A Cannes platform will raise the profile of a modest production that should find its audience at festival screenings and one-off events allowing further discussion of the issues it raises.
Sincere and wide-ranging but never hectoring
Sea Sorrow is a continuation of the recent work Redgrave has created with her producer/son Carlo Nero through their Dissent Projects and follows on from documentaries Wake Up World (2005), The Killing Fields (2011) and Bosnia Rules (2014). It is a response to the death of three year-old Syrian boy Alan Kurdi and to the belief that the British government was failing to take a fair share of refugees from around the world.
Initially, it has the feel of a more substantial television news report. Individual refugees from Afghanistan and Guinea tell stories of lengthy journeys to escape war-torn homelands and reach the safety of Europe. There is footage of rubble-strewn wastelands where once stood the homes of thousands, and scenes of London marchers proudly proclaiming that " Refugees Are Welcome Here".
Redgrave keeps everything simple and direct, fading to black between testimonies and creating links through close-ups of shimmering gold foil. Archive footage is used sparingly but effectively and includes Eleanor Roosevelt commending the Universal Declaration Of Human Rights in 1948.
The film gradually expands in scope and ambition. A wider understanding of the refugee issue is provided by contrasting the present with events during World War Two. Lord Alf Dubs recalls escaping from Prague as part of the Kinder Transport in 1939 and starting a new life in London. Redgrave remembers being a refugee in her own country when she was evacuated from London in 1940. Lest that period is seen as a golden age of compassion, Emma Thompson reads a 1938 letter from Sylvia Pankhurst expressing dismay at the British government's staunch refusal to accept two Jewish refugees, despite the assurance that she will provide for their welfare and they will not accept any paid employment.
In many respects, nothing has changed and the timeless nature of the issue is underlined again by a scene from The Tempest, performed by Ralph Fiennes, that gives the film it's title. Shakespeare's words are used to remind us that the calamity of exile can befall anyone.
Redgrave cites the Universal Declaration of Human Rights and the 1989 UN Convention on the Rights of the Child as cornerstones of protection for refugees and pays tribute to the valiant efforts of NGOs from Amnesty International to Safe Passage and Citizens UK. Her lifelong commitment to refugees is a constant theme from her efforts as a drama student in 1956 helping those who had fled Hungary to her more recent visits to the "jungle" in Calais and refugee camps in Beirut.
Sincere and wide-ranging but never hectoring, Sea Of Sorrow is a worthwhile attempt to shine a light on a complex issue and to find reasons for hope in a situation that seems eternally disheartening.
Production Company: Dissent Projects Ltd
International sales: Autlook salma@autlookfilms.com
Producer: Carlo Nero
Cinematographer: Andrew Dearden
Editor: Folasade Oyeleye
Featuring: Vanessa Redgrave, Emma Thompson, Ralph Fiennes