Seven filmmakers contribute to this anthology series that offers misty-eyed memories and highly personal stories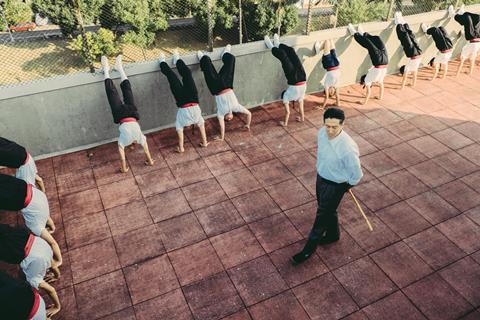 Dirs: Sammo Hung, Ann Hui, Patrick Tam, Yuen Woo-ping, Johnnie To, Ringo Lam, Tsui Hark. Hong Kong/China. 2020. 114mins
Seven directors unite to celebrate the city they love and the beauty of shooting on film in Septet: The Story Of Hong Kong. The brainchild of Johnnie To achieves an above-par batting average for an anthology film as it conveys a nostalgic ache for a settled land far removed from the current political turmoil. The magnificent seven lineup alone should be sufficient to attract festival programmers and cineastes around the globe following an official world premiere as the opening night at the Busan International Film Festival.
A film that remains appealing through all its changing moods and tones
The whirring of a projector and a countdown to the big picture starts a film with seven separate, self-contained stories. Directors born in the 1940s and 1950s offer misty-eyed memories and highly personal stories to reflect a Hong Kong marked by constant flux. Common ground in the jumble of tales is found in recurring themes of the bonds between generations, longing for the past, sorrowful partings and sweet reunions.
Sammo Hung provides a delightful curtain-raiser with Exercise, in which he recalls the discipline required for his childhood training in martial arts. A stern teacher presides over a strict daily routine that begins at 7am with a half hour of handstands. A cautionary tale that reinforces the importance of obedience, the short unfolds with an appealing fluidity. The sight of a class being put through their paces with an exhausting schedule of athletic backflips and flying kicks develops into a quasi-musical routine.
Ann Hui, the only woman among the seven, is in a sentimental mood with Headmaster, a warmhearted recreation of school days in 1961 and the memories that still linger at a reunion decades later. The sense of solidarity among staff and pupils, the life lessons dispensed by the headmaster (Francis Ng) and the kindly ministrations of Miss Wong (Sire Ma) all combine in an affecting little tale.
Patrick Tam's Tender Is The Night offers a brittle portrait of first love in 1980s Hong Kong. The happy young couple find their dreams shattered as Ivy Lu (Jennifer Yu) is obliged to leave with her family for a brighter future in England. Trying to make memories that may last a lifetime is the basis of an awkward final night, conveyed in a theatrical manner.
Yuen Woo-ping sets Homecoming in 1997 and secures a great performance from Yuen Wah as an elderly grandfather temporarily sharing his house with teenage granddaughter Samantha (Ashley Lam). An old-school martial arts expert, he is a steamed-rice-rolls traditionalist confronted by a McDonald's-loving younger generation. The bond that grows between them is sketched with good humour and affection.
Humour is prominent as well in Johnnie To's Bonanza as he follows three friends forever chasing easy fortunes during the dot-com boom and the seesawing property prices during the SARS crisis. To's contribution feels the most overtly political, depicting a city in which greed dominates.
The late Ringo Lam's Astray conveys a similar melancholy for what has befallen a city in which the site of the grand Queen's Theatre cinema is now home to a giant branch of the Gap. A man's return to the place he once loved leaves him bewildered by his inability to find familiar landmarks. His philosophy that "it's not hard to live happily" stands as a touching last word from Lam, who died in December 2018.
Tsui Hark ends the proceedings with a comical flourish in Conversation In Depth. Set in a mental hospital, it follows a grilling between a patient and a doctor in which the former is asked his name and responds by reeling off a roll call of Hong Kong film directors. Hui and Hark make brief appearances in an episode that adds a touch of whimsy to a film that remains appealing through all its changing moods and tones.
Production company: Milkyway Image
International sales: Media Asia Film Distributors, fredrick_tsui@mediaasia.com
Producers: Johnnie To, Elaine Chu, David Chen, Jimmy Hung, Cyrus Ho Kim Hing, Chiu Li Kuang
Screenplay: Sammo Hung, Au Kin Yee, Lou Shiu Wa, Melvin Luk, Patrick Tim, Yuen Woo-ping, Johnnie To, Yau Nai Hoi, Ringo Lam, Tsui Hark, Roy Szeto
Editing: Jimmy Hung, Mary Stephen, Patrick Tam, Allen Leung, David Richardson, Jeff Cheung, Tsui Hark
Cinematography: Chen Chen Li, Poon Han, Tam Wai Kai, To Hung Mo, Choi Man Lung, Cheng Chi Kin Julian
Production design: Albert Poon, Cyrus Ho Kim Hung
Music: Woody Pak, Charlotte Chan, Thomas Cheng, Thomas Lloyd Freeman, Li Ye
Main cast: Timmy Hung, Francis Ng, Sire Ma, Jennifer Yu