Eran Riklis takes a coolly professional approach to a Mossad potboiler starring Golshifteh Farahani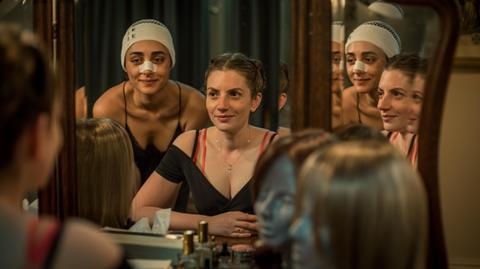 Dir/scr: Eran Riklis. Israel. 2017. 93 min.
To borrow a familiar idiom, Shelter never goes too far and doesn't go far enough. Mixing psychosexual chamber drama with international espionage, Eran Riklis' Hamburg-set spy thriller finds a Mossad agent forging an unexpected bond with a recently-turned asset when the Israeli special agent is sent to protect the Hezbollah turncoat as the latter recovers from extensive facial reconstructive surgery. As guided by the Lemon Tree and Dancing Arabs director's steady hand, this well-mannered potboiler never fully makes good on either the nervy or salacious potential of its central premise, resulting in a film that simmers when it should sizzle.
Riklis never fully commits to any single register
With a genre hook, a well-known cast including Golshifteh Farahani, and European financing, the film should nevertheless benefit from a wider international reach. To that end, the fact that the story mostly unfurls in English should only help matters along. But Shelter is not likely to share the same critical buzz that greeted Riklis' previous outings, and the film's proficient if unexceptional thrills are not likely to make it an outsized word-of-mouth hit.
Neta Riskin (recently of Joseph Cedar's Norman) is Naomi, a one-time top agent who has spent the past two years in grief-stricken retirement, mourning her husband - who was felled by a bullet meant for her. Commanding officer Gad (Lior Ashkenazi, fresh off the Ophir winning Foxtrot) soon sends her back into the field, dispatching her to a Hamburg safe house with a new false passport, a gun and a mission to protect a most valuable asset.
That would be Mona (Golshifteh Farahani), the Lebanese former spouse of Hezbollah leader Naim (Doraid Liddawi). After turning on her one-time partners, Mona has since gone under knife, emerging with a different face and the promise of a new life in Canada. That is, provided she can survive her two-week convalescence while her militant ex-comrades scramble to track her down and take her out.
An adaption of Shulamit Hareven's novel The Link, the film pings between paranoiac agitation in some scenes and knottier questions of identity in others. Sometimes Riklis will lean towards spy tension, following Naomi through the streets of Hamburg as she recognises she's being watched but unable to pinpoint by whom. Other moments veer more internal, finding Naomi quietly mesmerised by the cross around her neck, a token of her cover story that allows her a measure of subtle escape from the weight of real life.
Mona shares in that flight. Gliding around the nondescript apartment in a red silk robe with her new face still bruised and bandaged, Mona is the ghost of the person she once was and the chrysalis of the one she hopes to become. While actors Ashkenazi and Liddawi carry the espionage elements forward, many of the scenes between the lead actresses take on wholly different air, as the two leads bond over their shared sense of loss and their difficult ties with maternity.
But even there, Riklis never fully commits to any single register. While some of Mona and Naomi's interactions have a mutually therapeutic quality, others play like pages from the Brian De Palma textbook, as the two women navigate their unfixed identities by trying on a number of wigs and engaging in mutual – if ultimately chaste – seduction. "I feel blonde today," says Mona as she applies make-up to her supposed bodyguard. "Do you ever feel blonde?"
Though film tries to ape both The Parallax View and Persona, it does so in a muted manner that never reaps the distinct pleasures of any one style. The contemporary geopolitical resonances get lost amidst the genre twists and turns, while much the tense propulsion dissipates once the film moves into diluted De Palma mode, and then shifts anew into revenge-film territory. At a crisp 90 minutes, the film moves at a brisk clip without ever sticking around to linger. Shelter's chilly lensing and widescreen compositions reflect the coolly professional approach.
Production companies: Heimatfilm, Riva Film, Eran Riklis Productions and MACT Productions in co-production with ARTE France Cinema, ZDF-ARTE
International sales: Beta Cinema, beta@betacinema.com
Producers: Bettina Brokemper, Michael Eckelt, Antoine de Clermont-Tonnerre, Eran Riklis, Moshe Edery, Leon Edery
Screenplay: Eran Riklis
Cinematography: Sebastian Edscmid
Editor: Richard Marizy
Music: Yonatan Riklis
Main cast: Golshifteh Farahani, Neta Riskin, Doraid Liddawi, Yehuda Almagor with Haluk Bilginer, Lior Ashkenazi