In forgotten - and disputed - Nagorno Karabakh a new airport is a beacon for hope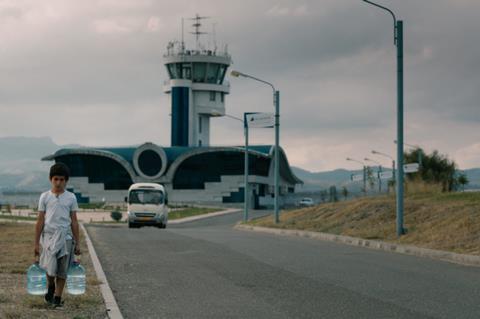 Dir/scr: Nora Martirosyan. France/Armenia/Belgium. 2020. 100mins
Nora Martirosyan has chosen an intriguing setting for her contemplative exploration of the relationship between place and identity, past and present. Her debut film plays out in landlocked Nagorno Karabakh, incorporated into Azerbaijan by the Soviet Union and now a self-declared republic run by ethnic Armenians and backed by the Armenian government. Through the experiences of a personable French auditor who travels to this still-disputed territory in order to assess the suitability of the airport for reopening, Martirosyan shines a light on a little-known community desperate to shake off the shackles of oppression and assert its independence.
Should The Wind Drop is fuelled by optimism
It's a fascinating story, and a contentious one. Nagorno Karabakh was caught up in a horrific war between Azerbaijan and Armenia between 1988-1994 and, after almost 30 years of relative peace, fighting erupted again earlier this year before an uneasy ceasefire was declared. The Ministry of Culture for Azerbaijan has been vocal in its opposition to the film, yet festivals including the cancelled ACID at Cannes, Tallinn and Thessaloniki have supported its screening. A nuanced central performance from Gregoire Colin and sensitive, accessible direction from Martirosyan should see it connect with discerning audiences; it is scheduled for a January theatrical release in France by Arizona Distribution, and streaming may enable it to cast its net further afield.
When Alain (Colin) arrives in Nagorno Karabakh's capital Stepanakert, he is exhausted by the eight hour drive from the nearest commercial airport. That extreme distance is not the only reason why locals are so desperate for him to greenlight their own airport, the grandly-named Stepanakert International. The ability to travel to farflung places such as Moscow and Paris, notes the enthusiastic airport director, will not only bring convenience, but also force the international community to acknowledge that the country exists.
So Alain finds himself shouldering not only the practical logistics of his job — the length of the runways, the amount of airspace for circling planes (made rather more complicated due to the area's violently contested borders) — but also the hopes of an entire community. As he gets to know the locals, including his vivacious driver Seirane (Arman Navasardyan) and straight-talking news reporter Karinee (Narine Grigoryan), he becomes increasingly conflicted, and Colin's performance softens from businesslike efficiency to troubled soul. Hearing stories of life during the conflict, during which the original airport was bombed into oblivion, he comes to realise the fundamental importance of this place. For a place physically shaped by past atrocities, it represents hope for the future.
Yet, it's not quite that simple and Martirosyan doesn't shy away from the dichotomous complexities of this new country forged on ancient land. This state-of-the-art facility, all gleaming chrome and plastic-wrapped lounge chairs, sits in the middle of a foreboding mountainous landscape scarred by nature and warfare. As the runway lights case their warm glow across the smooth tarmac, rural families attempt to work the haggard land alongside. The camera lingers on fences, borders, maps, physical boundaries that keep them segregated from the outside world. A charming young lad named Edgar (Hayk Bakhryan) steals water from the airport's empty bathrooms and sells it to locals in need. Any further potential the facility may bring is entirely alien, out of reach to them.
It's clear from Simon Roca's evocative cinematography, which often lingers on Stepanakert International in extended longshot, glowing like a beacon in the dark, that Should The Wind Drop is fuelled by optimism. The film is also a personal message from Martirosyan, who first visited Nagorno Karabakh in 2009 and has fallen in love with the country and its people. This is a place that exists, that has fought hard for its cities and schools, community and peace, and she conveys how it deserves to be on the map.
Production company: Sister Productions
International sales: Indie Sales info@indiesales.eu
Producer: Julie Paratian
Cinematographer: Simon Roca
Editing: Yorgas Lamprinos, Nora Martirosyan
Main cast: Gregoire Colin, Arman Navasardyan, Narine Grigoryan, Hayk Bakhryan