The arrival of a stranger in a small town may signify the coming apocalypse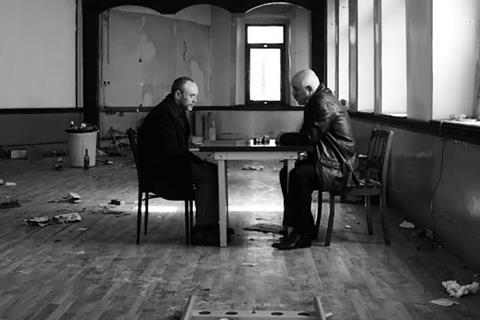 Dir: Tayfun Pirselimoglu. Fr-Gr-Tur. 2018. 119mins
The impending apocalypse fills a small community with existential dread in Tayfun Pirselimoglu's lugubrious political allegory Sideway (Yol Kenari). The moody monochrome look and gnomic manner create a film that is never less than intriguing even if it remains inscrutable. Modest festival interest should continue following screenings at Adana and Warsaw.
In confronting a crisis of faith, director Pirselimoglu invites comparisons with Ingmar Bergman and Lars von Trier
Sideway begins as a small band of men stand at the end of a stone causeway staring out to sea. Their faces are gnarled and full of character; their expressions speak of anxiety. They gaze at a liner on the far horizon that may be a sign that the end is nigh. There are many signals that seem to confirm the theory, from unexplained fires to power shortages and people who have gone missing. It could almost be Stephen King territory.
There is nothing that grounds the film in the present. Typewriters are used for reports and we see an old-school printing press. Nobody is ever named or identified in the film but collective interest focuses on a stranger (Tansu Bicer), who has been part of the community for only a few weeks. He seems an unassuming fellow, working in the local hotel, but his diffident manner allows others to read worlds of meaning into his actions. What does the strange mark on his back signify? Is he a saviour or a demon?
In confronting a crisis of faith, director Pirselimoglu invites comparisons with Ingmar Bergman and Lars von Trier. The notion of fear and paranoia gradually infecting a community is reminiscent of Michael Haneke's The White Ribbon. Cineastes should enjoy spotting the influences and probing the meaning of Pirselimoglu's fantasy on the madness of the modern world (what, for instance, should we read into the film's subtitle of 'For Whom Trump Of Doom Blows?').
The stark black-and-white cinematography from Andreas Sinanos, a regular collaborator of Theo Angelopoulos, adds to the film's chilly grandeur. Lingering fades-to-black are used for punctuation. The camera is often static but then gradually moves in on a scene or retreats slowly as if trying to figure out exactly what is being witnessed. Many viewers may feel the same way but even with its cryptic dialogue and elusive characters, Sideway is more of a bracing challenge than a wearying chore as Pirselimoglu invites us to reflect on the meaning of life in an age when it all seems so futile.
Production companies: Arizona Films Productions, Mitra Filmcilik
International sales: Bad Crowd, badcrowd@outlook.com
Producers: Vildan Ersen, Nancy Kokolaki, Nikos Moustakas, Tayfun Pirselimoglu
Screenplay: Tayfun Pirselimoglu, Vildan Ersen, Nikos Moustakas, Nancy Kokolaki
Production design: Natali Yeres
Editing: Ali Aga
Cinematography: Andreas Sinanos
Music: Nikos Kypourgos
Main cast: Tansu Bicer, Nalan Kurucim, Taner Birsel