China's surprise box office hit looks set for a steady run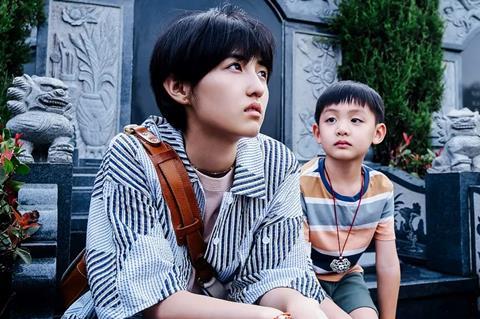 Dir: Yin Ruoxin. China. 2021. 127 mins
The ongoing conflict between traditional values and the pursuit of individual goals lies at the heart of Yin Ruoxin's affectingly sincere drama Sister. Taking a largely realist approach to matters of filial piety and gender bias, Yin and screenwriter You Xiaoying have gifted former child star Zhang Zifeng with a real acting showcase, playing an independent young woman suddenly thrust into the role of caregiver to her six year-old brother. While its familial themes may draw comparisons to Jia Ling's recent box office phenomenon Hi, Mom! (2021), the film actually has more in common with Better Days (2019) and A Little Red Flower (2020) in its deft mix of topical social commentary with just the right measure of touching sentiment.
Just the right measure of touching sentiment
Buoyed by a well-chosen release date during China's family-oriented Qingming Festival and a flurry of online discussion regarding patriarchal norms, Sister enjoyed a $52.8 million domestic opening weekend, sufficient to dethrone Hollywood blockbuster Godzilla vs. Kong. As it is generating overwhelmingly positive word of mouth, this relatively low-budget production should demonstrate strong legs in the weeks ahead. However, its director and star will soon be competing with themselves as their coming-of-age drama Farewell, My Lad, which was actually filmed before Sister, will be released on April 16. Opening in North America, Australia and New Zealand on April 22, Sister could pull in reasonable numbers. If its basic premise is already familiar from copious films and television series, the Chinese context may prompt interest beyond diaspora communities.
Always painfully aware that her parents would have preferred a son, nurse An Ran (Zhang Zifeng) has forged a life on her own terms and become distant from her family. But when her parents are killed in a car crash, she is expected to take care of her much young brother brother An Ziheng (Kim Darren Yowon), who was born after she went to university. Moving into the family home, An Ran must contend with the fragile emotional state of a sibling she barely knows while working hospital shifts and studying for a postgraduate exam.
Juggling responsibilities proves challenging and An Ran's temperament suffers as a result. Her relationship with boyfriend Zhao Ming (Liang Jingkang) becomes strained and she gets into terse public exchanges with Zhong Yong (Duan Bowen), the driver in the accident. Even with uncle Wu Dongfeng (Xiao Yang) occasionally dropping by to offer advice, An Ran mostly has to figure out caregiving on the fly and initially adopts a no-nonsense manner. An Ziheng's growing attachment causes her indifferent attitude to soften, but she still seriously considers putting her brother up for adoption to avoid sacrificing her career.
The film's main strengths are Zhang's excellent performance coupled with You's even-handed screenplay, which filters debate about the preference for sons over daughters in Chinese culture through the predicament of a young woman whose education has coincided with society making concessions to gender equality. Generational disagreements about the concept of family are given an airing in pointedly written arguments between An Ran and estranged relatives who are enraged by her practical approach to tragedy (sell the family home, find adoptive parents for An Ziheng). Zhang boldly shows how An Ran takes her frustrations with social norms out on a sibling who is incapable of comprehending such resentment while achingly conveying how steadfast resolve can give way to crippling indecision. It's a completely invested performance which adds resonance to scenes that seem cliché'd, particularly a belated emotional venting at a cemetery during a downpour.
The brother-sister bond which gradually develops gives the film strong universal appeal. Yin charts their shared ups and downs in episodic fashion, with Yowon's precocious knack for flitting from adorable to infuriating making the audience acutely aware of An Ran's increasingly fluctuating feelings. If some situations are predictable (meltdowns over food, a joyful school performance), they gain a sense of spontaneity from Zhang and Yowon's natural dynamic. In a charmingly casual supporting turn, Xiao dials down his usual broad comic persona yet still provides welcome levity as the kind of fundamentally well-meaning if somewhat unreliable uncle who is recognisable in any culture.
Since the outcome is inevitable after a certain point, Sister is a tad overlong at 127 minutes but still thoroughly rewarding. It's delicately shot in Chengdu by cinematographer Piao Songri who works with natural light to capture the melancholic tones of the humid summer season while a gently heart-tugging score by Gao Xiaoyang and Gai Tianxiang makes for an ideal accompaniment.
Production companies: Lian Ray Pictures, TR Movie, HG Entertainment, China Film Co.
International sales: Lian Ray Global Pictures, globalpictures@lianray.cn
Producers: Isabella Yin
Screenplay: You Xiaoying
Editing: Zhu Lin
Cinematography: Piao Songri
Music: Gao Xiaoyang, Gai Tianxiang
Main cast: Zhang Zifeng, Kim Darren Yowon, Xiao Yang, Zhu Yuanyuan, Duan Bowen, Liang Jingkang