Alex Schaad's witty, body-switching debut explores identity, gender fluidity and sexuality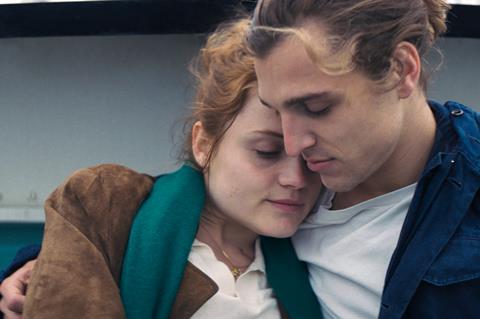 Dir: Alex Schaad. Germany. 2022. 103 mins.
A body-swap film with a difference, Skin Deep has more in common with Yorgos Lanthimos' The Lobster than any variation on Freaky Friday. Alex Schaad's spiky, good-looking debut feature takes a clever concept and develops it into a witty, provocative exploration of identity, gender fluidity, sexuality and the pursuit of happiness. A world premiere in Venice Critics' Week should earn it the profile that will start a chain of festival attention and arthouse interest.
Skin Deep plays like relationship counselling at its most extreme
Schaad's brother Dimitrij is the co-writer and co-star of a film that casts its spell from the opening shots, in which an elderly man discovers his father dead in bed. Except the figure we see in the bed is a young woman — and the elderly man is called Stella (Edgar Selke). So far, so mysterious.
We then meet Leyla (Mala Emde) and Tristan (Jonas Dassler) as they take a ferry to a remote island where they are greeted by Stella, Leyla's friend since university days. The beautiful skies and magic-hour light add to the impression of a location filled with possibilities. Cinematographer Ahmed El Nagar ensures that proceedings are bathed in a warm, golden glow. The enchanted island could be a setting for The Tempest, and the ensuing tale of shifting identities and fragile emotions has a distinctly Shakespearean feel.
Leyla and Tristan are shown to their accommodation — a loft apartment that resembles a production designer's dream assignment. It has the look of a theatrical setting with its wooden beams, harlequin-coloured glass doors and gilt-edged mirrors. No wonder Tristram has asked, "What is this place?"
An evening gathering of the oddball island residents encourages comparisons with the eccentricity of The Lobster. There is a raffle in which each number selected is held by a couple. Leyla and Tristan find themselves drawn to the loud, larger-than-life Mo (Dimitrij Schaad) and Fabienne (Maryam Zaree), who seems faintly amused by the whole business. They have been chosen for a ritual involving participants being given the gift of experiencing the world in someone else's body for the next two weeks. Not partner-swapping but body-swapping.
As the body-swap unfolds, the central couple start to gain very different perspectives on their relationship. Some of this is played for broad comedy — Mo is just as insufferably macho and boorish in Tristan's body, but now he has a six-pack to go with it. Tristan is just as reserved and uptight in Mo's fleshier body, but that softens Mo's harsh edges and makes him much more sympathetic. Leyla is weighed down by insecurity and unhappiness, but all those cares are lifted as she inhabits Fabienne's body. Is our outlook on life determined by the body we have?
Skin Deep plays like relationship counselling at its most extreme. People broaden their horizons, lose inhibitions, change and accept things they might never have countenanced in the past. The dizzying roundelay of role-playing presents a magnificent showcase for the versatility and flexibility of the actors.
All of the principals play at least one character but also variations of that character that are influenced and shaped by the temporary inhabitant of their body. When Tristan is inhabited by Mo, it allows Dassler to reveal a broad comic talent. When Mo is inhabited by Tristan, Schaad brings a more bashful, sensitive interpretation to the character. Emilie has the most challenging of gear shifts as Leyla constantly seems on the verge of a nervous breakdown until being take over by Fabienne. She is subsequently liberated and carefree when she inhabits the body of alcoholic sailor and island resident Roman (Thomas Wodianka).
It all sounds horribly confusing, but there is a clarity and confidence in Alex Schaad's approach. Following a couple trying to repair their relationship, Skin Deep becomes an unexpectedly emotional journey from a bright new talent with an assured touch.
Production companies: Walker + Worm Productions, Bayerischer Rundfunk, Donndorffilm
International sales: Beta Cinema, beta@betacinema.com
Producers: Tobias Walker, Philipp Worm
Screenplay: Dimitrij and Alex Schaad
Cinematography: Ahmed El Nagar
Production design: Bartholomaus Martin Kleppek
Editing: Franziska Koppel
Music: Richard Ruzicka
Main cast: Mala Emde, Jonas Dassler, Dimitrij Schaad, Maryam Zaree