Dir. Fabienne Berthaud, France, Germany 2015. 100 mins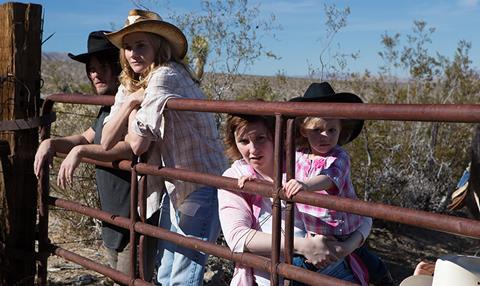 The third collaboration between director Fabienne Berthaud and Diane Kruger after Frankie (2005) and Lily Sometimes (2010), Sky is a low-key, loosely-structured portrait of a woman in search of herself. The themes of emancipation, self-discovery and rebirth are interesting enough but the plotting often fails to convince and the character's meandering journey through a less glamorous side of America doesn't add much extra colour to a slightly drab tale. Theatrical prospects are slender for a film that will largely depend on the box-office pull of Kruger to attract audiences.
Sky is a low-key, loosely-structured portrait of a woman in search of herself.
Sky begins as a modern road movie with echoes of the Rossellini classic Journey To Italy (1954). Romy (Kruger) and her husband Richard (Gilles Lellouche) are driving through California on holiday from their daily cares in Paris. As they drift through smoky bars and grubby motels, there is clearly tension in their relationship. The boorish Richard just wants to have fun whilst Romy has retreated into the role of disapproving killjoy. She can no longer even bear the touch of the man she has been married to for the past eight years. Flirting with two women in a bar, Richard reveals that they no longer sleep together and that Romy is unable to have children. A further argument forces Romy to run for her life but in her flight lies the possibility of reinvention.
Sky flirts with various genres beyond the road movie. Romy's actions are reminiscent of a film noir femme fatale and the moody shots of sinister motels and dark highways hint at some nightmare David Lynch scenario. There is even the possibility this might stray into the raw emotions of a John Cassavetes film as Romy arrives in Las Vegas and struggles to find her feet. The reality is much more mundane as we follow Romy's uncertain progress through her new life.
One of the issues with Sky is that the shifts in plot and tone don't always ring true. Romy is happy to have renounced love and embraced her status as a free women. "I don't know where I'm going," she asserts. "But I know I'm going to get there." Oddly, after an unremarkable one night stand with laid-back park ranger Diego (Norman Reedus) she has fully committed herself to a new relationship with him. It's hard to see the attraction.
Sky looks attractive enough with cinematographer Nathalie Durand capturing the contrast between the blood orange skies of a sunny California day as well as the dimly lit interiors of night time Edward Hopper diners. The eclectic cast includes a one-line appearance from Lou Diamond Phillips as truck driver Duane, a small role for Joshua Jackson as a kindly police officer and Lena Dunham as Billie, a cheerful, gap-toothed trailer park mother with an assembly line of pregnancies to her name.
Kruger is largely muted as Romy in a film that doesn't make a big melodrama out of all the events that befall her. She does gamely don a bunny girl outfit to traverse the streets of Las Vegas with portly Elvis Presley impersonators hoping to persuade passing tourists to part with money for the dubious pleasure of having their photo taken with them. Odd scenes in this manner capture a sense of the tawdry despair beneath the surface dazzle of the city of lights but there just aren't enough of them to really add that extra grit to Sky.
Director: Fabienne Berthaud
Production Companies: Le Bureau Films, Pandora Filmproduktions GmbH
International sales: The Bureau Sales rh@lebureaufilm.com
Producers: Gabrielle Dumon, Bertrand Faivre
Screenplay: Fabienne Berthaud, Pascal Arnold
Cinematography: Nathalie Durand
Editor: Pierre Haberer
Production design: Christian Kastner
Music: Francois-Eudes Chanfrault
Main cast: Diane Kruger, Norman Reedus, Gilles Lellouche, Lena Dunham, Joshua Jackson