A yeti attempts to prove the existence of humans in Warner Bros' latest animation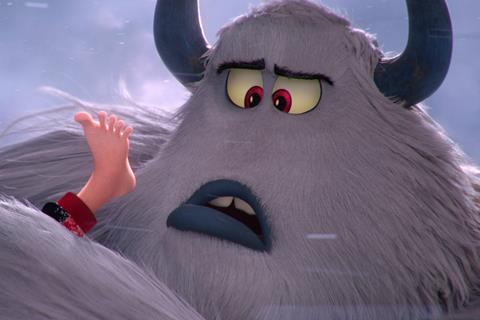 Dir. Karey Kirkpatrick. US. 2018. 96 mins
As the product of another mythical creature inspiring another upbeat musical animation,Smallfoot treads firmly in the footsteps of DreamWorks' Trolls. While the title of Warner Animation Group's latest film also alludes to tiny critters, this zippy, heart-on-sleeve effort actually focuses on a Himalayan community of ape-like yetis, who all fear the fabled hairless beasts rumoured to live below. It's a playful inversion of the bigfoot legend, cautioning against unthinking compliance, championing curiosity and encouraging putting oneself in another's shoes (or feet). Still, this all-ages affair is as blunt as it is busy; children will warm to the movie's ceaseless energy, but parents might take longer to thaw.
Smallfoot's heavy-handed messaging and by-the-numbers approach thunder like an avalanche
That's unlikely to freeze the feature's box office prospects, thanks to both a high-profile voice cast featuring Channing Tatum, James Cordon, Zendaya and Common, and to canny timing. Smallfoot arrives in Australia on September 20, the US on September 28 and the UK on October 12, with only The House with a Clock In Its Walls and Goosebumps 2: Haunted Halloween as child-friendly competition. Neither horror-focused offerings will skew quite as young, nor package ostensibly fearsome elements in such a cheery, peppy, pop song-filled manner.
Shaggy and sweet rather than imposing and scary, like all of his fellow 18-foot yetis, Migo (voiced by Tatum) is preparing to take over an important job. As his father (Danny DeVito), grandfather and ancestors have before him, he'll fling himself through the air via catapult and ring the village's enormous gong; an act the community believes awakens a glowing snail that lights up the sky each morning. The mountaintop society is insular, dutiful and blissfully beholden to beliefs inscribed on stones, with not asking questions their first and most important rule. The high and mighty Stonekeeper (Common) even raps one of the film's intrusive songs about it, 'Let It Lie'.
Similarly, it is decreed that diminutive humans, which the yetis call 'smallfoots', are purely imaginary; daring to suggest otherwise is cause for banishment. When Migo has a fleeting encounter with a strange, small entity — a human TV host, Percy (Corden), desperately trying to spice up his flagging animal show — he informs the village, is branded a liar and cast out.
Luckily, he's not alone, receiving assistance from a secret Smallfoot Evidentiary Society led by Meechee (Zendaya), the Stonekeeper's daughter. Determined to prove that he truly saw a smallfoot, and bolstered by his new friends (including LeBron James, Gina Rodriguez and Ely Henry as other yetis), Migo slides down the slope to shatter some folklore.
Writer/director Karey Kirkpatrick (Over the Hedge) and co-helmer Jason Reisig (a supervising animator on Trolls) keep the mood breezy and bouncy as yetis and humans alike confront their prejudices and endeavor to see another perspective. The filmmakers are working with a script by Kirkpatrick and Clare Sera (Blended), fleshing out a screen story by producers John Requa and Glenn Ficarra (Whisky Tango Foxtrot), which was based on the book Yeti Tracks by Despicable Me creator Sergio Pablos. Yet, despite the names involved — Bad Neighbours' Nicholas Stoller and The Lego Movie's Phil Lord and Christopher Miller also earn executive producer credits — Smallfoot's heavy-handed messaging and by-the-numbers approach thunder like an avalanche.
That also extends to the animation, which blends Frozen's cool palette with The Lorax's oval-centric style. A few specific touches add interest, such as a plane crash that nods to North by Northwest's iconic scene and sight gags that aim for Looney Tunes-esque physical comedy, but the overall visual package remains generic.
With his songwriter brother Wayne, Kirkpatrick also penned the movie's tunes, which are hectic more than lively, as the film's worst musical moment — a grating karaoke rendition of 'Under Pressure' — demonstrates. But Smallfoot's overall vibe remains amiable, especially for young viewers. Its best inclusion is a simple, effective joke about communication and perception: while the yetis emit a daunting growl to human ears, our chatter sounds like nonsensical squeaking to them.
Production company: Warner Animation Group, Warner Bros. Pictures, Zaftig Films
Distributor: Warner Bros.
Producers: Bonne Radford, Glenn Ficarra, John Requa
Screenplay: Karey Kirkpatrick and Clare Sera, based on the book Yeti Tracks by Sergio Pablos
Co-director: Jason Reisig
Editing: Peter Ettinger
Music: Heitor Pereira
Production design: Ronald A. Kurniawan
Main voice cast: Channing Tatum, James Corden, Zendaya, Common, LeBron James, Danny DeVito, Gina Rodriguez, Ely Henry