Dir: Alberto Rodriguez. Spain. 2016. 123 mins.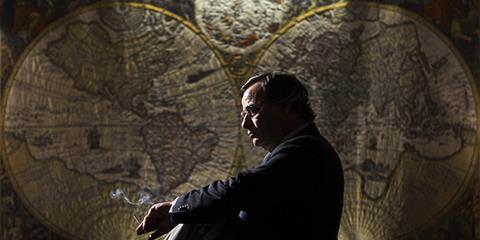 The new film from Marshland director Alberto Rodriguez is an engaging but ultimately routine espionage yarn centring on the mid 1990s Spanish political corruption scandal that helped to bring down the country's Socialist government in 1996. Syriana, Catch Me If You Can, American Hustle and a hint of The Tailor of Panama come to mind as Eduard Fernandez takes the lead as Francisco Paesa - a sly, portly, charismatic wheeler-dealer who, according to the poster "tricked a whole country", outsmarting the Spanish police and secret services for years.
This overlong, over-detailed story never seems entirely sure what it's trying to say.
Though it lacks Marshland's dramatic discipline, this €5 million production should nevertheless post robust results for Warner Bros Spain when released locally on 23 September., although the rakish charm of its protagonist is not enough to propel this genially suspenseful shaggy-dog story overseas.
True, Italian political operetta Il Divo made the inner workings of Giulio Andreotti's psyche and government palatable for international arthouse audiences. But Rodriguez is no Sorrentino, and despite some neat touches (notably Julio de La Rosa's driving, guitar-ledsoundtrack), there's just too much Spanish politico-historical baggage, and too many derivative style tricks, for outsiders to venture past being amused and occasionally bemused spectators. The partial exception may be France, where large parts of the film are set, and where Ad Vitam is releasing some time this autumn.
At its core, Smoke and Mirrors is about a slippery mercenary, part-businessman, part conman, part spy, who takes revenge on the system which used him and then betrayed him. But this plotspring keeps getting lost in the meanders of a story which is narrated by a minor player – Francisco 'Paco' Paesa's pilot sidekick Jesus Camoes (Jose Coronado).
Helped by smatterings of genuine archival TV news footage, we learn about Paesa's involvement in a shipment of arms destined for Basque terrorist group ETA that was engineered to lead the Spanish police to one of their main hideouts; but a promised government reward for services rendered never gets paid. Instead, Paesa is forced to flee Spain after being served up as a sacrificial lamb to the judiciary. His chance to claw his way back comes when Luis Roldan (Santos), director general of the Spanish Civil Guard, and the latter's fesity wife Nieves (Etura), call on the shadowy wheeler-dealer to help them stow away a pot of money Roldan embezelled while in office, plus a couple of houses.
What follows – and it's most of the film – is picaresque in the true Spanish sense of the term, as, for the usual hefty fee, Paesa – who has diplomatic immunity as the ambassador for Sao Tome in Madrid – taps various shady characters, including an Italian 'almost lawyer' called Castorelli (Benavent) to first secure Roldan's money, then help him flee to Paris when the inevitable scandal breaks.
Gradually, the servant becomes the Machiavellian puppet master, while, with Nieves now in a Spanish jail, Roldan is reduced from cocky police chief to snivelling pawn in a game he no longer controls, which will spiral into paramilitary bodyguards, Mossad agents, Singaporean financial institutions and a Laotian detective with a pronounced limp.
Like his glasses, Pasea seems to reflect whatever people project onto him; there are hints that if you took away the web of intrigue he thrives on weaving, you'd find a hollow man underneath. After all, his marriage is failing, mostly because he's never at home, and his one real possession is a fake Modigliani that becomes something of a running gag. But though Fernandez' nuanced performance suggests depths, Smoke and Mirrors is, in the end, just that: all attitude (slow zooms, fashionable slo-mo sequences) papering over an overlong, over-detailed story that never seems entirely sure what it's trying to say.
Production companies: Zeta Audiovisual, Atresmedia Cine, Atipica Films, Sacromonte Films, Telefonica Studios
International sales: Film Factory Entertainment, info@filmfactory.es
Producers: Jose Antonio Felez, Mercedes Gamero, Gervasio Iglesias, Mikel Lejarza, Franciso Ramos
Screenplay: Rafael Cobos Lopez, Alberto Rodriguez
Cinematography: Alex Catalan
Editor: Jose M. G. Moyano
Production designer: Pepe Dominguez
Music: Julio de la Rosa
Main cast: Eduard Fernandez, Jose Coronado, Marta Etura, Carlos Santos, Enric Benavent, Alba Galocha, Philippe Rebbot, Emilio Gutierrez Caba