Dir. Kiki Sugino. Japan, 2016, 96 mins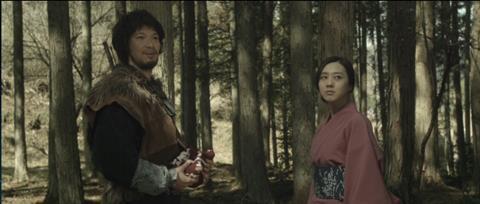 Not content with merely directing and starring in her third feature, Kiki Sugino adds another feather to her cap with Snow Woman: crafting a melancholy ghost story and an impressive addition to Japan's abundant horror output.
It's as though the feature can't ever be fully, firmly grasped, only experienced
Adapting a tale from Lafcadio Hearn's Kwaidan: Stories and Studies of Strange Things — which previously gave rise to the Masaki Kobayashi-directed anthology of the same name that also drew upon the Woman of the Snow narrative — should prove a fruitful move for the filmmaker otherwise known for 2014's duo of Kyoto Elegy and Yokudô. Though its measured pace couldhinder international release prospects after its Tokyo International Film Festival premiere, Snow Woman has definite festival appeal.
The fact that the film's titular character ostensibly floats in and out unexpectedly, immediately making her arrival known but ensuring that the full impact of her presence builds slowly rather than bursts suddenly, aptly captures the sensation of watching Sugino's feature. Although Snow Woman's almost ethereal snowy imagery, gently disquieting mood and enigmatic performances are memorable, this is a film which takes its time to completely seep into willing viewers' minds.
When the tall, raven-haired figure first blows in during the quiet of night while hunter Minokichi (Munetaka Aoki) and his mentor Mosaku seek shelter from a snowstorm, she (Sugino) strikes quickly; soon, with nothing more than an icy exhalation, Mosaku is dead. "I shall spare you as you are young," the bewitching feminine spirit offers, "but if you tell another soul about me, I shall take your life." And so, Minokichi returns home and remains silent about the cause of his frosty loss.
While screenwriter Mitsuo Shigeta (Brake Mode) can hardly be accused of adhering to a formula, convention dictates that such warnings always come with consequences, particularly in stories originally based in age-old folklore. With the concept of a snow woman, or yuki-onna, firmly engrained in Japanese culture as a sometimes ruthless, sometimes merciful force — as also sighted in Akira Kurosawa's Dreams and Takashi Miike's 2005 The Great Yokai War — her reappearance remains a matter of not if, but when.
Accordingly, tension festers as Minokichi meets Yuki (also played by Sugino), spots her conspicuous similarities to the snow woman, keeps quiet, and ultimately marries and fathers her daughter, Ume (Mayu Yamaguchi). Fourteen years later, as Minokichi works in a factory owned by one of Mosaku's brothers (Shiro Sano), Ume befriends the proprietor's sickly son, Mikio. Then, history gradually but decidedly starts to repeat itself.
Predictably, the past can't be shaken in Snow Woman; just as unsurprisingly, in a tale that juxtaposes parallel threads from then and now, as well as traditional with modernity, it's just one of the many haunting aspects that shape the course of the feature. Sugino lets each element float through her patient delivery of the tale, with her elegiac pacing and determination not to spoon-feed viewers akin to slivers of vivid yet slightly surreal dreams blending together.
And yet, in both her twin performances and directorial choices, Sugino remains the film's most haunting presence. As the yuki-onna and Yuki acting against a suitably restrained Aoki, and as a director intent on finding poetry in every stylistic flourish, Sugino positively mesmerises.
There's a precision to her efforts, and an inimitable artistic ability to ensure that Snow Woman unsettles while remaining serene, that makes the underlying narrative feel equally timeless and fresh. In fact, every shot seen and note heard simmers with several layers of duality, proving as immersive as it is elusive. Whether captured in crisp black-and-white in its opening segment or in muted colour thereafter thanks to cinematographer Shogo Ueno, it's as though the feature can't ever be fully, firmly grasped, only experienced. As well as being oh-so-apt for a contemporary take on an ancient ghost story, it's also oh-so-evocative.
Production company: Wa Entertainment Inc, Snow Woman Film Partners
Producers: Kousuke Ono, Daichi Monden
Screenwriter: Mitsuo Shigeta
Cinematography: Shogo Ueno
Music: Sow Jow
Production designer: Masami Tanaka
Cast: Kiki Sugino, Munetaka Aoki, Mayu Yamaguchi, Shiro Sano, Kumi Mizuno, Yoshiko Miyazaki, Takeshi Yamamoto.