Dir.Rafi Pitts. Germany/France/Mexico, 2016. 120 mins.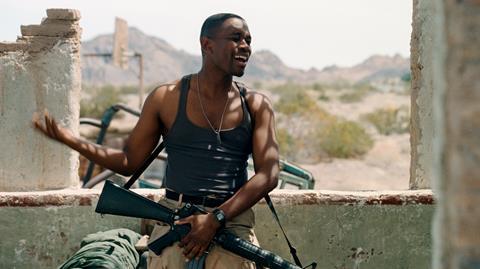 After the tense Teheran-set drama The Hunter, Iranian-born, London-based filmmaker Rafi Pitts takes on the issue of 'Green card soldiers' – foreign nationals who join the US armed forces in order to gain citizenship – in Soy Nero. Split, like his previous feature, into two narrative halves, the first centring on a clandestine US-Mexican border crossing, the second on an US army patrol manning a roadblock checkpoint somewhere in the Middle East, this ravishingly shot film is thematically resonant but often dramatically inert – at least until its impressive final quarter.
The stretched story and cipher of a main character are fragile pegs that strain under the weight of all this thematic baggage
Despite its slow-cinema structure, the mostly English-language Soy Nero might nevertheless turn out to be Pitt's most 'commercial' feature to date, not just because the issue it confronts is ripe for media debate. Technically, it's a splendid package, from Christos Karamanis' limpid cinematography, at its most impressive in the desertscapes of the final Middle Eastern section, to the Western-tinged solo electric guitar soundtrack by avant-garde musician Rhys Chatham.
Its flaws bubble to the surface, however, in the flat main character, Nero, a young Mexican who was raised and schooled in Los Angeles, but deported with his mother back south to Mexico after the death of his father, a non-US-citizen marine who died in action and was given a war hero's funeral. Despite an honest, understated performance by relative newcomer Johnny Ortiz, Nero – who is determined to follow his father's path by enrolling in exchange for citizenship, thus becoming a 'Green Card soldier' – never feels much more than a character written to make a point.
The story of Nero's struggle to get into the States across a heavily militarised desert so he can go and get himself shot at in a heavily militarised desert halfway around the world splits into a kaleidoscope of reflections on family borders, social barriers, men in uniforms and the power they represent or abuse, urban ghettos, conspiracy theories and the absurdity of war. But the stretched story and cipher of a main character are fragile pegs that strain under the weight of all this thematic baggage.
Part one of a story whose locations are flagged by unnecessary onscreen captions deals with Nero's attempts to cross the border between Mexico and California – a border which in one memorable sequence serves as a beach volley net. He succeeds on the second attempt, and after hitching a lift with a Buick-driving conspiracy theorist who rants about wind farms, and a lucky escape from the police, arrives wonderingly at the sumptuous, rock-star Beverly Hills mansion inhabited by his ghetto-smart half-brother, Jesus (Casselberry) and the latter's girlfriend, Mercedes (Frausto).
When this fragile idyll falls apart, we cut to the desert roadblock somewhere in the Middle East – whether Afghanistan or Iraq is never specified – where Nero, now calling himself Jesus (having enrolled in the army, we infer, with his half-brother's ID card), is on checkpoint duty. Also manning the godforsaken outpost in the middle of nowhere are two African American fellow soldiers whose fast-talking banter – about ghettos and gangsta rap, among other things – contrast with the depressed taciturnity of their commanding officer (Cochrane).
It's clear that two deserts, and two frontiers, are being juxtaposed here, clear too that Nero, having evaded the border police when crossing from Mexico one New Year's Eve, has himself crossed another line, morphing from wetback to border enforcer. It's at this point that a film whose improvisational-sounding early scenes often failed to engage, finally begins to pay dividends – just when, paradoxically, its action is reduced to the most minimal of terms.
Production companies: Twenty Twenty Vision, Senorita Film
International sales: The Match Factory, info@thematchfactory.de
Producers: Thanassis Karathanos, Rita Dagher
Co-producer: Nicolas Celis, Pimienta Films
Screenplay: Razvan Radulescu, Rafi Pitts
Cinematography: Christos Karamanis
Editor: Danielle Anezin
Production designer: Malak Khazai, Max Biscoe
Music: Rhys Chatham
Main cast: Johnny Ortiz, Rory Cochrane, Aml Ameen, Darrell Britt-Gibson, Ian Casselberry, Rosa Frausto