A solid reboot which may well surpass the last attempt to retool Spider-Man in 2012.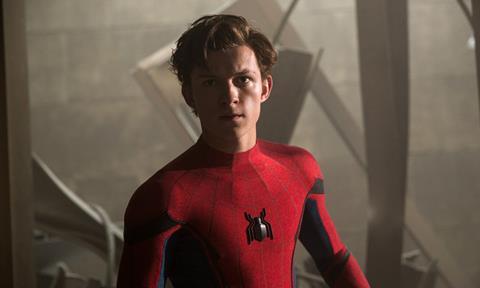 Dir: Jon Watts. US. 2017. 133mins
The sixth Spider-Man movie in 15 years — and the third big-screen iteration of the beloved character — proves to be a fun, likable coming-of-age tale, albeit one weighed down by its air of familiarity and need to adhere to the overarching narrative of the Marvel Cinematic Universe. Tom Holland makes for a believably underage Peter Parker trying to grasp the power bestowed on him, and he's well matched with Michael Keaton as one of Marvel's most fleshed-out villains. But as entertaining and engaging as Spider-Man: Homecoming can be, it remains merely a solid reboot that may leave viewers hoping that later instalments will be a little nervier.
Robert Downey Jr's scenes with Holland have a tough-love poignancy that's rare in the Marvel world
With Marvel MVP Robert Downey Jr. showing up as a supporting player, Homecoming has commercial firepower to go along with Spidey's ubiquitous appeal. Hitting theatres the first week of July, this Sony release will probably surpass the $758 million worldwide garnered by the previous reboot, 2012's The Amazing Spider-Man, which featured Andrew Garfield.
Taking place shortly after Captain America: Civil War, Homecoming follows whiz-kid Peter (Holland) as he tries to keep his identity secret while attending high school. Longing to be part of the Avengers, which Tony Stark (Downey) won't allow because he's so young, the 15 year-old stumbles upon a plan by blue-collar boss Adrian (Michael Keaton) to sell black-market weapons. Tony forbids Peter from serious crime-fighting, but the teen disobeys his mentor and goes after Adrian.
Directed by Jon Watts (Cop Car), Homecoming eschews the Spider-Man origin story and focuses on Peter's learning curve as he begins to test his powers in muscular, somewhat pro forma action sequences. Equipped with a high-tech suit designed by Stark, Peter is anxious to become an Avenger, but his immaturity and inexperience repeatedly demonstrate that he's not emotionally equipped for such a responsibility.
The Spider-Man narrative has long been about adolescent awkwardness, absent father figures, and the need to live up to the ideals of being a superhero. Homecoming addresses these core themes, but because of the many Spider-Man movies that have come before, the film's six credited screenwriters struggle to add new wrinkles to familiar narrative beats while also shoehorning in other Marvel characters.
That said, Downey brings gravitas as an older, wiser Stark who doesn't want Peter repeating his brash mistakes. Taking the young man under his wing, Stark admires the teen's brilliant mathematical mind and rebellious streak, seeing in him the son he never had, but he also worries about Peter's inability to appreciate the lethal dangers that await. The actor's scenes with Holland have a tough-love poignancy that's rare in the Marvel world.
As for Holland, it helps immensely that he actually looks like he could be in high school, projecting a boyish handsomeness mixed with nerdy sincerity. Still, Peter's smart-aleck quips while defeating baddies as Spider-Man can grate. Obviously, Homecoming wants to show him as an unpolished amateur who grows into the role of superhero, but Spidey's early failures are portrayed with such goofy glibness that the transition to higher stakes late in the film isn't executed as seamlessly as one might like.
However, a clever twist about two-thirds of the way into Homecoming deepens the connection between Peter and Adrian so that their confrontations are suddenly personal. As Spider-Man's nemesis, Keaton brings a gritty realism that helps ground the comic-book adventures. Resorting to illegal activities to help support his family, Adrian develops the technology to become the menacing, high-flying Vulture, and Watts makes the struggle between good and evil fairly nuanced. Keaton credibly plays this villain as someone who's actually sympathetic — even if he's determined to eliminate anyone in his way.
The supporting cast is filled with appealing performers, particularly Jacob Batalon as Peter's geeky buddy Ned and Marisa Tomei as Peter's harried Aunt May. Less compelling are Laura Harrier as a classmate who has captured Peter's heart and Zendaya as a caustic fellow student who loves needling Peter's insecurities. And Homecoming's unlikely comic relief comes from Chris Evans, who shows up as Captain America in a series of televised PSAs at Peter's school. The actor gleefully sends up his superhero character's rigidly noble persona — which suggests that even when Marvel movies sometimes fall into formula, they continue to have a good sense of humour about themselves.
Production companies: Columbia Pictures, Marvel Studios, Pascal Pictures
Worldwide distribution: Sony Pictures, www.sonypictures.com
Producers: Kevin Feige, Amy Pascal
Executive producers: Louis D'Esposito, Victoria Alonso, Patricia Whitcher, Jeremy Latcham, Stan Lee, Avi Arad, Matt Tolmach
Screenplay: Jonathan Goldstein & John Francis Daley and Jon Watts & Christopher Ford and Chris McKenna & Erik Sommers, screen story by Jonathan Goldstein & John Francis Daley, based on the Marvel comic book by Stan Lee and Steve Ditko
Cinematography: Salvatore Totino
Production design: Oliver Scholl
Editors: Dan Lebental, Debbie Berman
Music: Michael Giacchino
Website: www.spidermanhomecoming.com
Main Cast: Tom Holland, Michael Keaton, Jon Favreau, Gwyneth Paltrow, Zendaya, Donald Glover, Jacob Batalon, Laura Harrier, Tony Revolori, Bokeem Woodbine, Tyne Daly, Marisa Tomei, Robert Downey Jr.