Body-swap thriller from Yoon Jae-keun get its premiere at the New York Asian Film Festival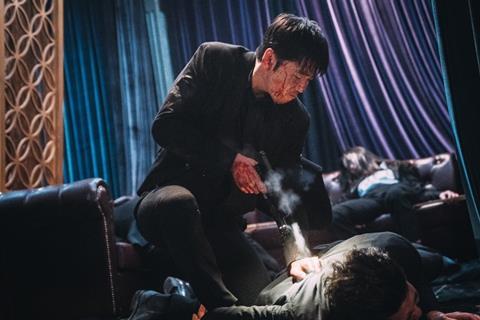 Dir: Yoon Jae-keun. South Korea. 2021. 108 mins
Often a device for broad physical comedy, body swapping sporadically enlivens a humdrum conspiracy plot in Spiritwalker. Fantastical elements aside, it's essentially an amnesia thriller which echoes The Bourne Identity (2002) and Unknown (2011) in that a memory-impaired hero swiftly discovers he possesses handy combat skills. However, writer-director Yoon Jae-keun (Heartbeat) further complicates the protagonist's predicament by having his spirit transfer to another body every twelve hours. It's certainly a nifty gimmick as the audience shares successive bouts of disorientation, but is never developed much beyond that. As such, Spiritwalker is intermittently clever yet ultimately rather disposable despite its overall technical proficiency.
Some sharply-executed 'gun fu'
While its domestic release is in limbo due to the continued disruption of theatrical exhibition in South Korea, Spiritwalker will receive its North American premiere at the New York Asian Film Festival where Yoon will be honored with the Excellence in Action Award. Although it's as slickly engineered as one would expect from the producers who packaged The Outlaws (2017) and The Gangster, The Cop, The Devil (2019), it lacks the sheer verve of those rip-roaring thrillers. Nonetheless, South Korean genre cinema maintains a committed audience internationally so Spiritwalker doesn't necessarily need to attain must-see status in order to deliver decent streaming revenues.
Waking up at the scene of a car wreck, Ian (Yoon Kye-sang) is nursing a gunshot wound and has no recollection of his identity. Skipping out on medical treatment, he discovers that his spirit is not only in someone else's body but that it jumps to another host twice every day. Although these body swaps initially appear to be random, the reoccurrence of faces and places soon makes Ian believe that these hosts are in fact connected.
Finding himself in the middle of a scheme involving a shadowy pharmaceutical company and merciless representatives of the Soeul underworld, Ian sets about getting to the bottom of things. While inhabiting a gangster who operates out of a seedy nightclub, he encounters Jina (Lim Ji-yeon), a gun-toting former colleague who is searching for him but registers his current guise as a threat. Instead, he has to rely on a vagrant (Park Ji-hwan) who actually has some knowledge of 'spiritwalking'.
The body swapping is clearly handled but lacks innovation or performative audacity. Jumps are achieved through polished special effects (an apartment morphs into a coffee shop) with some excellent extended takes as Ian explores new environments, while Yoon Kie-sang plays the lead role throughout with changes in costumes, hairstyles and physicality (one host has an injured leg). His personality never alters, however, and the device is mostly used to generate ticking-clock urgency. The twelve-hour mark predictably tends to coincide with increasingly desperate circumstances (searching for crucial information on a memory card, getting trapped in a sinking vehicle), much like the outlandish cliffhangers in the 'real time' television series 24. This means that Spiritwalker holds cursory attention, although it does so at the expense of any existential quandary on the nature of personal identity that might elevate the film to the next level.
Yoon is mainly focused on staging a run of action scenes which, in terms of South Korean cinema, never come close to rivalling the truly visceral set pieces seen in the likes of The Man from Nowhere (2010), The Suspect (2013) or The Villainess (2017). Still, the close quarter fights and car chases are well-choreographed and tightly edited with Yoon saving the best for last when Ian conveniently enters a body clad in a cool black suit for a nightclub shoot-out. Evidently inspired by the 'Red Circle' battle in John Wick (2014) with regards to set design and staging, this climax features some sharply executed "gun-fu", even if seems over in a flash compared to the escalating mayhem of its trendsetting model.
It would be more involving if the characters were vividly sketched, yet Ian and Jina remain ciphers even after an extended flashback fills in their relationship. Best known for their television output, Yoon Kye-sang and Lim Ji-yeon confidently tackle the physical aspects of their roles but will need more substantial material if they are to breakout on the big screen.
Production companies: B.A. Entertainment, Saram Entertainment
International sales: K-Movie Entertainment, sales@kmovieenter.com
Producers: Billy Acumen, Lee So-young, Kim Hyun-suk
Screenplay: Yoon Jae-keun
Editing: Kim Sun-min
Cinematography: Lee Sung-je
Music: Nene Kang
Main cast: Yoon Kye-sang, Park Yong-woo, Lim Ji-yeon, Park Ji-hwan